Game Rewind: Upset wins sets off new level of party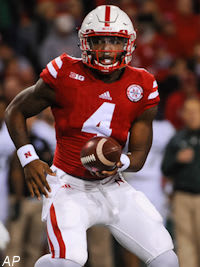 Click
Here
to view this video.
[rl]The clock read 0:00 and
Jack Gangwish
's teammates had already kicked off the celebration on the sidelines. But while the rest of the Huskers went wild following
Connor Cook
's game-ending incompletion, Gangwish frantically glanced around the field searching for a yellow flag, then double-checked the scoreboard just to make sure this was real.
Certainly there was a penalty on Nebraska that would extend the game. Surely Cook's pass had gone out of bounds earlier, giving the Spartans one last crack at a victory.
Not this time. In a season full of Hail Marys, game-winning drives by opponents and back-breaking overtime losses, there would be no heartbreak Saturday night. Nebraska, 3-6 and left for dead, found a way to score the game's final 13 points and upset No. 6 Michigan State 39-38.
And with that the Huskers celebrated like never before.
"It was just a big party with 90,000 people, and even some of the older crowd was getting into it. It was just nuts," linebacker
Josh Banderas
said. "When it comes down to the end like that, we've had so many games not go our way. It was just a relief and such a good feeling for that to happen to us this time."
This is only my sixth year covering the team, but my family has season tickets and I've attended the majority of NU's games over the past 20 years. I've seen some pretty crazy stuff - Alex Henery's 57-yard field goal to beat Colorado in 2008, the Hail Mary victory over Northwestern in 2013 and
Jamal Turner
's game-winner at Michigan State in 2012 certainly come to mind.
Yet I've never seen a team happier than the one celebrating on the sidelines Saturday. Players were standing on the bench dancing. More hugs were exchanged than at a family reunion. Strength coach Mark Philipp let out a few primal screams involving language I would be fired for sharing here.
It was a strange moment, really. This is a team that is fighting to make a bottom-of-the-barrel bowl game. They cannot finish the regular season with a winning record, much less contend for a Big Ten title. This season has seemingly had more disappointment and heartbreak than the previous four combined.
But maybe that's what made the moment so special. Nebraska had gotten close so many times only to be turned away. How fitting it was that it defeated Michigan State in the very manner it has fallen so many times this year.
Tommy Armstrong
threw a pair of horrific interceptions yet led the team to two scores in the final four minutes.
Jordan Westerkamp
got the snot beat out of him but caught nine passes for 143 yards. And the much-maligned defense gave up touchdowns on four straight drives in the second half before getting stops on the final two.
"The biggest thing is that I just feel so good for the players - emotionally and the mental part of it," defensive coordinator
Mark Banker
said. "Winning is a cure to everything. We'll worry about all the details later on."
This win doesn't erase the rest of the heartbreak Nebraska has suffered this season, but it's a start.
Mike Riley
has himself his first signature victory, his first sign of true progress.
But the Huskers don't have to worry about that tonight. They finally came through in the clutch without a break going against them. This celebration has been a long time coming.
On with the rest of the Rewind...
Three defining moments
Michigan State drops its big chance
: One play before he became the hero for delivering the game-winning touchdown to
Brandon Reilly
, Armstrong was very nearly the goat. On the play before the touchdown, Armstrong fired a pass to
Taariq Allen
in double coverage in the end zone. It appeared
Arjen Colquhoun
made the interception, but he dropped the ball when he hit the ground and gave Nebraska new life.
Armstrong's second interception
: Down 24-20, Armstrong led the Huskers down to MSU's four-yard line after a circus catch by
Brandon Reilly
. But after a first-down pass resulted in a three-yard loss, Armstrong tried to squeeze one into Reilly across the middle. He never saw linebacker
Riley Bullough
, who easily picked off the pass. Michigan State followed that with a 10-play, 83-yard drive that momentarily sucked the wind of out Memorial Stadium.
Nebraska responds after halftime
: The Huskers didn't trail until Cook found
Macgarrett Kings
with 17 seconds left in the first half, sending NU to the locker room down 17-13. The late score could have served as a gut punch, but Nebraska came storming out of intermission with a six-play, 69-yard drive that concluded with a Cross touchdown run and regained the lead.
Game balls
Wide receiver Jordan Westerkamp: The receiver missed a good portion of the first half after suffering a brutal hit on a reception. But he came back and submitted maybe his best career game with nine catches for 143 yards. He was again knocked from the contest on NU's final drive, which he started with catches of 28 and 33 yards. Westerkamp's toughness is an inspiration to his teammates, who came through as he recovered on the sidelines.
Running back Imani Cross
: It appeared Cross' days of being an impact player at Nebraska were over, but the senior saved his best career game for when NU needed him most. With starter
Terrell Newby
hobbled, Cross ran 18 times for 98 yards and a touchdown, giving the Huskers' an offense it hasn't had all season.
By the numbers
10
: Field goal makes for
Drew Brown
in 12 attempts between 40 and 49 yards this year. Brown connected on tries of 44 and 43 yards against the Spartans.
146: Rushing yards for Cross coming into the game. The senior had 98 Saturday night.
3.0
: Michigan State's average yards per carry after
Gerald Holmes
had a 43-yard rush on MSU's second play.
9: Interceptions by Armstrong in nine games, including two picks against Michigan State.
They said it
"It's a big recruiting weekend for us right now. If a young man can't step out in that stadium right here with the fans of the University of Nebraska and the way they support people, we'll never get anybody."
- Banker on what this win could do for recruiting on a night when the Huskers had several big targets on the sidelines
"I think he was really into the game the whole way. We had a lot of confidence that we could drive the field. We just needed that last stop and it didn't matter where we were going to get it. We felt great about that last drive."
-
Offensive coordinator Danny Langsdorf on Armstrong's demeanor heading into the final drive
Biggest question/concern: What kind of momentum can this provide?
After what was a disastrous first nine games to Riley's tenure, Saturday's win was just what the doctor ordered. With many of the staff's top recruiting targets on the sidelines and ESPN broadcasting the game, the Huskers put on their best performance of the season. The victory will certainly help recruiting and the national perception of the program, but it should also give Nebraska some confidence it sorely needed. It had gotten to the point where late in games the Huskers were almost inventing new ways to lose, just waiting for the other shoe to drop. To finally come through in the clutch figures to do wonders for their poise moving forward.