Game Rewind: Comeback impressive but not enough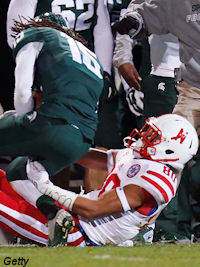 EAST LANSING, Mich. - With six minutes left in the game, Nebraska was dead in the water. The Huskers were down 27-9 and had displayed little offensively to suggest that a comeback was possible.
But then the Huskers got a quick score and a stop, and
De'Mornay Pierson-El
changed the entire outlook of the game with his punt return for a score. The Huskers failed to get the ensuing onside kick, but the defense held again and Michigan State somehow missed a field goal. With 2:15 left, the Huskers had more than a chance to make the final score respectable - they could actually win.
It didn't play out that way.
Tommy Armstrong
marched NU down the field but threw an interception with 37 seconds remaining. So close to completing the comeback, the Huskers fell just short.
The final score is not representative of the overall tenor of the game. Michigan State's defense line imposed its will, limiting
Ameer Abdullah
to 45 yards on 24 carries and likely torpedoing any shot the senior had at winning the Heisman. Prior to its final two drives, Nebraska had just 171 yards on 71 plays, a putrid average of 2.4.
But unlike in years past, the Huskers didn't wilt. In previous years, these losses often turned into blowouts. Nebraska still had the same problems that usually bite them on the big stage, mainly turnovers and costly penalties. But this time, they displayed a fight that has too often been missing in recent history.
The defense refused to give in despite the offense's ineptitude, keeping the Huskers in the game until the offense was finally ready to contribute. Once NU started putting points on the board, this looked like a team that could compete with the Spartans.
But six minutes of good football isn't going to cut it. If Nebraska wants to break down the nine-win barrier and compete for a Big Ten title, it's going to require an all-around effort that wasn't there for much of the game Saturday night. The late push was impressive, but where was that output for the other 54 minutes?
As the Huskers left the field following the game, there were no bowed heads. In previous games like this, many Huskers either kept their helmets on or their eyes on the ground, not proud of the effort they put on the field. This time, they mostly left with their heads held high, and they should. This game had the chance to be a blowout, but Nebraska fought back.
That being said, there are no points given for coming close. A loss is a loss, and this one will stick in the Huskers' craw for some time. The comeback was encouraging, but NU needs to learn how to stick 60 great minutes together to reach its potential.
Five defining moments
Abdullah's goal-line fumble
: Down 17-0, Nebraska got a gift midway through the second quarter when Michigan State muffed a punt. The Huskers recovered and moved the ball to the eight-yard line, but Abdullah fumbled for the first time this season.
Shilique Calhoun
snatched the ball and moved it to the 45, killing NU's best scoring change.
Michigan State's first score
: The defense got off to a great start, forcing an interception and a three-and-out on MSU's first two possessions. But
Daniel Davie
got hurt on the Spartans' next drive, and Michigan State immediately took advantage by throwing deep to
Tony Lippett
.
Jonathan Rose
couldn't stop it and the Spartans struck first blood with the 55-yard score.
Pierson-El's punt return score: The Huskers still had very little chance at winning the game until Pierson-El nearly changed it. Down 27-16 with 3:22 left, the freshman snagged a punt and returned it 62 yards for a score. Pierson-El's return gave the Huskers life, even though it didn't end up being enough.
Lippett's third-quarter touchdown run: Nebraska had just kicked a field goal to make it 17-3 and had some semblance of momentum for the first time in the game. But the Spartans responded with a seven-play, 84-yard drive that concluded with a double-reverse run by Lippett for a 32-yard score. The play sucked a lot of life out of the Huskers.
Injuries galore
: Neither
David Santos
or
Cethan Carter
played at all, and the injuries continued to pile up as the game moved along. Davie and
Kenny Bell
both left and didn't return, leaving big holes in their respective units. Armstrong left the game for one drive after taking a tough shot, though he did return. Nebraska's depth has already been stretched thin, and it's really starting to take its toll.
Game balls
Trevor Roach: The senior had his career high in tackles in the third quarter and ended up with a team-leading 18, including 3.5 for loss. Nebraska needed someone to step up with Santos down, and Roach more than did his part.
Jordan Westerkamp: After Bell left, Westerkamp became the sole consistent part of the passing game. The sophomore dropped one long pass, but he still finished with career highs in catches (nine) and receiving yards (158). Without Westerkamp's second-half effort, there is no comeback whatsoever.
By the numbers
3-7: Nebraska's record in its past seven games against ranked opponents on the road or at neutral sites.
34: Turnovers by the Huskers in their past 15 games against ranked foes. The Huskers had four giveaways against Michigan State.
11
: Completions in 29 attempts for Michigan State quarterback
Connor Cook
. Nebraska held him to 40 percent passing, but his completions averaged 21.3 yards.
3: Third-down conversions for Nebraska in 15 attempts.
They said it
"Obviously we really wanted this one, but football is a game. You'll never know what it's going to throw at you, especially in a game like this where we had a chance in the last two minutes. You've just got to keep remembering that it's a sport and it's a game. You're out there playing. You're not out there doing it like it's your job. That's something I think some guys forget."
Offensive guard Mike Moudy on how NU recovers from this loss
"(The offensive linemen) did a heck of a job. Honestly, I put the lack of a running game on myself. I didn't hit the creases when I needed to, and that's on me."
Abdullah on the Nebraska's struggles on the ground
Biggest question/concern: Can the Huskers ever solve their big-game woes?
Unfortunately, this result isn't all that unfamiliar over the past couple of season. Big games have routinely been the Huskers nemesis, and this was no different. Michigan State grabbed the early momentum and Nebraska seemed powerless to respond until it was almost too late. All the same things that bother Nebraska in these moments cropped up again - turnovers, penalties and giving up big plays. All the Huskers' goals are still intact for this season, but they have a lot of improving to do if they're going to make any real noise this season.