Game Rewind: Armstrong makes his case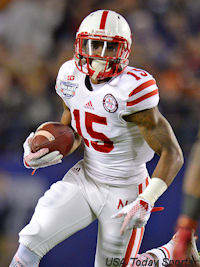 As
Mike Riley
watched the Holiday Bowl from the stands Saturday night, his mind had to be constantly evaluating the team that he was set to truly inherit just hours later. How can Nebraska better contain outside runs? Is there any way to replace
Ameer Abdullah
? What kind of weapon can
De'Mornay Pierson-El
truly become?
Then there's maybe the most important question, one that likely had several different answers depending on the moment in the game - can
Tommy Armstrong
be my starting quarterback?
The 45-42 loss to USC served as a microcosm for Armstrong's first full season under center. Armstrong was at times maddening, missing a host of open receivers, throwing a red-zone interception and tossing at least four other dropped picks.
But he also displayed why Bo Pelini and Tim Beck had such confidence in him. Armstrong set Nebraska bowl records with 31 completions, 52 attempts and 371 yards while throwing for a trio of scores. He also rushed for 41 yards and a touchdown, giving him a school record of 422 bowl-game yards.
Armstrong is at the same time both fascinating and infuriating. As frustrating as his play was for long stretches of the game, the Huskers would have been blown out without him. USC dominated the line of scrimmage, bottling up Abdullah (3.3 yards per carry) and forcing Nebraska to turn to the air. Armstrong completed 18 of his 24 passes in the second half, helping the Huskers nearly erase an 18-point deficit late in the third quarter.
His accuracy remains a major issue. Armstrong missed a number of open targets Saturday night and airmailed several throws that weren't near any receiver. He finished the season with a 53.3 completion percentage, a number far too low for an efficient.
But he developed a great rhythm throwing short, something Nebraska didn't have him do enough this year. Armstrong was 24-for-31 of passes that traveled 10 yards or less as opposed to 6-for-20 on throws of more than 10 yards. He connected on 12 of his 16 fourth-quarter passes, collecting 109 yards in the final period to give the Huskers a chance.
If not Armstrong, then who? It's likely too late in the recruiting cycle to grab a starting-caliber signal caller for next year, so Riley is left with NU's current passers.
Ryker Fyfe
was OK in very limited duty this season, but he's not ready to be a starter. Same goes for A.J. Bush, the redshirt freshman who has great tools and could start in time, but needs more practice reps and seasoning to build his game.
Johnny Stanton
is the most viable candidate. A former Elite 11 participant, Stanton was recruited heavily by Riley while the latter was still at Oregon State. He's barely seen the field at Nebraska, but his reps with the second team increased during bowl practices and he might be coming on. If anyone is to truly challenge Armstrong, it's Stanton.
It's far too early to try and get inside Riley's thinking on this topic, and we likely won't have many answers until next spring, maybe even next fall. But despite a few warts, Armstrong's first true audition in front of his new coach was a strong one. There were moments when the sophomore likely made Beck want to pull his hair out in frustration, but there is certainly something to be said for his leadership and late-game moxie.
USC had started to shovel dirt on Nebraska late in the third quarter, but Armstrong made his case to Riley by pulling the Huskers out of the grave. If nothing else, he proved that he deserves to begin next fall camp as NU's leading man, and if Saturday's performance was any indication, it's a job he will likely end up keeping.
Three defining moments
One second back on the clock
: No Husker fan has forgotten the 2009 Big 12 title game, when the officials put one second back on the clock that allowed Texas to kick the game-winning field goal. In a strange twist of irony, one second was added after a replay showed that
Kenny Bell
went out of bounds with a single tick left on Nebraska's second-to-last play. Armstrong's Hail Mary try on the final snap fell well short, but at least the Huskers were given a shot.
Cotton's fourth-down call
: Interim coach
Barney Cotton
encountered a very tough decision with just more than two and a half minutes remaining in the game. Nebraska faced a fourth and three from USC's 31-yard line. A field goal would tie the game, but kicker
Drew Brown
is just a freshman who struggled down the stretch, and a 48-yard try would have been his career long. Cotton opted to go for it, and Pierson-El was tackled two yards short after taking a forward pitch from Armstrong. Given Brown's inexperience, Cotton likely made the right call, but it's hard not to wonder if Brown could have come through.
Defense's second-half stops: Much credit will be given to Nebraska's offense for the near comeback, and it's deserved. But the defense, which was as limp as a soaked Kleenex for most of the first three quarters, came up huge late. The Huskers allowed just 20 yards in the final period and forced three straight three and outs. It wasn't quite enough, but the Blackshirts didn't fade as they did in previous contests.
Game balls
Tommy Armstrong: Say what you will about his head-scratching throws (none worse than the red-zone pick in the first half) or his at-times brutal inaccuracy. Armstrong put the offense on his back and recharged the unit in the second half, giving Nebraska a chance late.
De'Mornay Pierson-El: Riley has worked wonders with undersized speedsters at receiver before, and Pierson-El's potential has to have him salivating. The true freshman posted career highs with eight catches and 102 yards, and his dynamic ability in the return game makes him NU's most dynamic returning player.
Defensive tackle Maliek Collins
: The Nebraska defense made a lot of mistakes, and Collins had a hand in some of those. But the sophomore is easily the Blackshirts' most disruptive defender, and he had five tackles and a sack (he had 4.5 in the final six games) to pace the defense against USC.
By the numbers
45: Points scored by USC, tied for the most Nebraska has ever given up in a bowl game. Three NU bowl opponents have scored 45 points, two of which have come in the past three years.
269: All-purpose yards by Abdullah. In his final game, the senior rushed for 88 yards, had 61 yards receiving and totaled 120 yards on kick returns. With 7,186 career yards, Abdullah is just one of 11 players in NCAA history with more than 7,000 yards.
2
: Blocked punts by
Kieron Williams
. The freshman barely tipped a first-quarter kick, but he swatted away another try in the third quarter. Nebraska finished the year with six blocked kicks (four punts, two field goals) in the final six games.
2,689: Career receiving yards by Bell, who had 71 against USC. His career total is the most in school history.
Biggest question/concern: Where does Riley go from here?
The final chapter on Pelini's tenure has finally been written, and now the Huskers must move forward under Riley. There are no doubt a lot of things that intrigued Riley while watching the Huskers fall to USC, but there are plenty of areas to shore up as well. Riley must complete his coaching staff - he said he expects to have that done within seven to ten days - and hit the recruiting trail hard. Nebraska has some glaring needs at linebacker and on the offensive line that must be solved. Most importantly, he must win the trust of his players, who saw Pelini as a father figure and fought for him even after his ouster. There is enough talent coming back for Riley to have immediate success in his new job, but the coming months will go a long way towards determining if Nebraska can get over the four-loss hump in 2015.