Game Rewind: Armstrong gives NU a chance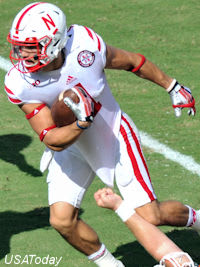 [rl]
MIAMI GARDENS, Fla.
-
Tommy Armstrong
couldn't bear to watch Miami kicker
Michael Badgley
attempt what wound up being the game-winning 28-yard field goal in overtime of Nebraska's 36-33. He sat on the bench next to
Alonzo Moore
and watched on the opposite JumboTron, not saying one word through the Hurricanes' entire overtime possession.
When Badgley connected and the Miami players stormed the field, Armstrong didn't move. He stayed stationary for 33 seconds. Defensive coordinator
Mark Banker
and receiver
Brandon Reilly
came and patted him on the shoulder. The quarterback eventually rose and began exchanging hugs with the Hurricanes congregating around the Huskers' bench, then departed for the locker room.
Not once did Armstrong hang his head. And he had no reason to.
Yes, it was Armstrong's interception in overtime that essentially sealed Nebraska's fate, allowing Miami to attempt a short field goal for the win. But the original play, like so many others before it in the second half, had broken down, and Armstrong needed to improvise. So he tried to hit pay dirt again, escaping to his right after the initial call was blown up by Miami's defense. Instead of running for a short gain or throwing the ball away, Armstrong flung it to the end zone for
Taariq Allen
, but
Corn Elder
picked it off.
"I didn't really see the corner. I under threw (Allen)," Armstrong said. "That's on me."
OK, maybe he deserves some blame for that one play. But without Armstrong's gun-slinging gumption, Nebraska would never have erased a 27-3 second-half deficit and this game would have remained a deflating blowout.
"He had a valiant comeback and made a ton of plays for us," offensive coordinator
Danny Langsdorf
said. "And he was trying to make another one. You feel bad for him, because I thought he played a heck of a game."
Armstrong threw for 244 yards and four scores after halftime, including 184 yards in the final quarter. He piled up 204 total yards in the fourth quarter alone, helping to move him to fourth on Nebraska's all-time list, passing Jerry Tagge, Jammal Lord, Joe Ganz and Tommie Frazier in the process.
It was Armstrong was spun out of a sure sack with NU down 24 points early midway through the third quarter and find
Jordan Westerkamp
for a 22-yard touchdown.
It was Armstrong who scrambled for a 16-yard gain on third and 13 on Nebraska's final drive, setting up his game-tying touchdown pass to
Stanley Morgan Jr.
a few plays later.
And it was Armstrong who refused to blame his teammates, who dropped four passes and committed 12 penalties, for NU's early offensive struggles.
"He is a great leader, a great captain," Morgan said. "I'm glad to have him as a captain he drove us down the field. He made that possible."
Others deserve credit as well. After a miserable first half, the defense stiffened in the second half and finally made
Brad Kaaya
uncomfortable. The receivers, Westerkamp and Morgan in particular, both made spectacular grabs on their touchdown catches.
But it was Armstrong that kept this game from going off the rails. Without his efforts, Nebraska likely loses this game by three scores, giving the beginning of the
Mike Riley
era a much more sour feeling.
Just ask
Al Golden
why his team went from having a comfortable lead to being a position where his job may have been on the line. Golden emerged from Miami's locker room to go to his postgame press conference, wearing a sweat-stained white dress shirt and a toothy grin that suggested he'd just escaped the hangman. Moments later, he discussed the player whose efforts nearly put some significant heat on the coach.
"Give so much credit to Armstrong," Golden said. "He just played all over the place. He got out of the pocket, was 10-15 yards deep sometimes, ran around and just made plays… the stamina, endurance he had, the mental toughness. I'm giving him credit. Yes there are things we have to fix, but give that kid a lot of credit. He's a warrior."
Armstrong wasn't perfect Saturday night. But he can keep his head held high after this one.
On with the rest of the Rewind...
Three defining moments
The overtime interception: The original play called for Armstrong to throw a short pass to a tight end on the left, but the Hurricanes sniffed it out and flushed Armstrong out to his right. Allen streaked across the field and maybe a perfect throw by Armstrong could have found him in the right corner of the end zone. But Elder was sitting in a zone and picked the ball off easily, essentially ending the game.
Miami's first two drives: Nebraska got hit right in the mouth as just about everything that could go wrong on Miami's first two offensive series did. The Hurricanes went 65 on five plays for a touchdown on their opening drive, then marched sixty yards in four plays for their second score. Kaaya completed five of six passes and threw for both scores. These drives set the tone for the first half, which ended with Miami leading 20-3.
Armstrong's pick late in the first half
: Nebraska was finally showing some signs of life, and getting a score before the half would have cut Miami's lead to 10 and given the Huskers some good vibes going into the locker room. But Armstrong and Morgan didn't appear to be on the same page on a throw from the 12-yard line, and the pass was intercepted by
Artie Burns
. A touchdown or even a field goal there would have given Nebraska some momentum heading into the locker room.
Game balls
Jordan Westerkamp: The receiver not only led the team with five catches and 95 yards, but he also injected some much-needed life into the punt-return game. Nebraska returned just one punt for five yards in its first two contests, but Westerkamp ripped off returns of 24 and nine yards to help the Huskers establish some field position.
Stanley Morgan Jr.: He didn't play like a freshman, especially in the second half. He set career highs with four catches and 78 yards, then scored the game-tying touchdown while being interfered with on NU's final drive of regulation.
By the numbers
49
: Yardage of
Drew Brown
's second-quarter field goal that got Nebraska on the board, bettering his previous career long of 44.
1981: The last year in which Nebraska started 1-2.
379: Passing yards for Kaaya, who now has 738 in two career games against Nebraska.
1: Sack by Nebraska's defense in 43 Kaaya drop backs. The Huskers have just six sacks through three games, and their inability to generate any kind of pressure with the front four is a major issue.
They said it
"We're never out of the game. That's what we're preaching on the sideleins - we're just one play away. I'm proud of the guys. We fought our ass off and we're going to keep fighting. That's just the way the cookie crumbles sometimes."
"It's tough. To battle like we did and come back and get so close. But it shouldn't have got to that point. We had way too many mental mistakes and penalties. It's frustrating. We came all the way back, but at the end of the day it just wasn't enough."
Biggest question/concern: Can the passing defense rebound?
Daniel Davie
became a punching bag for armchair quarterbacks across the state after a rough outing against South Alabama, and Miami clearly targeted him at the beginning of this contest. But the Huskers continued to struggle after Davie was removed, and
Byerson Cockrell
,
Chris Jones
and
Joshua Kalu
all took turns at being on the wrong side of a highlight play. The Huskers simply have to get more pressure on the quarterback, but the secondary needs to do its part as well.