Game rewind: Abdullah again helps Huskers escape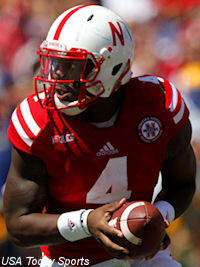 Following
Corey Cooper
's game-sealing interception as the clock expired,
Ameer Abdullah
sprinted toward the north end zone, yelling and pointing at the fans. As he turned to go to the locker room, he ran into
Josh Mitchell
, who promptly gave the running back a prolonged bow.
The rest of Memorial Stadium would likely do the same thing given the opportunity.
Abdullah again rescued the Huskers from defeat, something he's made a habit of over the years. The play call was the same one that bailed out Nebraska against Northwestern last year - the Huskers sent four receivers on fly routes to open the field up for Abdullah. Again, the senior caught the ball short of the first down, but again he battled his way through a slew of would-be tacklers to make the play.
The big question is why Abdullah didn't get the ball more. Nebraska's offensive line didn't get much push at all, and McNeese State's scheme gave the linemen some fits. Abdullah only had 54 yards on 17 carries and struggled to get going, but as the offense completely bogged down NU went away from its bell cow. Abdullah had a total of eight touches after halftime.
Offensive coordinator
Tim Beck
has a very creative mind, so it was surprising to see Nebraska fail to find different ways to get Abdullah the ball. He's an excellent pass catcher and is shifty in the open field - a few screen passes would have kept McNeese State's blitz-heavy defense honest.
It's easy to play arm-chair coordinator after the fact, but Abdullah is simply too talented to be featured so little, especially with quarterback
Tommy Armstrong
struggling so badly. Sometimes the best player just needs the ball in his hands.
On with the rewind...
Five defining moments
Three-and-out on McNeese State's final complete drive: The Cowboys got the ball back with 2:40 remaining in a tie game, and the Blackshirts were bleeding yardage. But here they made a stand, keeping McNeese State three yards short of a first down. The Huskers got the ball back with 1:14 left, allowing enough time for Abdullah's heroics.
Armstrong 40-yard pass to Westerkamp
: The budding connection continued to add to its highlight reel. Midway through the first quarter, Armstrong floated a beautiful seam pass to
Jordan Westerkamp
to tie the game 7-7. If Westerkamp hasn't surpassed
Kenny Bell
(who left the game on the second drive and didn't return) as the Huskers' top receiver, they're at least 1A and 1B.
Armstrong's pick six: The Huskers had driven to McNeese State's two-yard line early in the second quarter and appeared ready to take a commanding 21-7 lead. But Armstrong made a poor decision, floating a swing pass to Westerkamp. The throw was picked off and returned 98 yards for a score by Aaron Sam. Instead of a 21-7 lead, Nebraska was left with a 14-all tie.
Three straight third-down drops by McNeese State: McNeese State's first three drives of the second half ended when a Cowboy receiver had a pass bounce off his hands. All three would have resulted in first downs, and a pair of drops by running back David Bush could have been huge gains. Although the Husker offense was sluggish in the third quarter, McNeese State's miscues kept it from gaining any ground.
Foltz's punts
: The punter doesn't often get the credit he deserves, but
Sam Foltz
absolutely deserves a tip of the cap today. He had punts downed at the two, five and 10-yard lines in the second half, routinely swinging the field position battle.
Game balls
Abdullah: Statistically, this might be Abdullah's worst game since he became the starter. But the senior contributed 96 yards receiving and added a rushing touchdown. Oh, and his final catch was fairly impressive.
Foltz: The sophomore punter is known for his booming leg, but he made an impact with his accuracy Saturday. He averaged 51.2 yards per punt (with a long of 61) and four times pinned McNeese State inside the 20-yard line, routinely putting the Cowboys in tough field position.
Nickelback/gunner Joshua Kalu
: Kalu was a demon on special teams, twice making tackles on the punt returner that helped pin McNeese State deep. He also made a great third down play, staying in front of fleet-footed quarterback Daniel Sams to force an impletion and a punt.
By the numbers
52
: Yards on five punt returns by freshman
De'Mornay Pierson-El
. Nebraska had a total of 70 punt return yards all last season.
131: Rushing yards by Armstrong, a career high and the most a Nebraska quarterback has had in a game since 2012. Armstrong's passing was shoddy, but he was excellent on the ground once again.
10:04: Nebraska's time of possession in the second half, compared to 19:56 for McNeese State.
1: First down on Nebraska's final seven offensive possessions. Technically Abdullah's touchdown doesn't count as a first down.
They said it
"We didn't block, we didn't throw, we didn't catch, we didn't get open… everybody at one time or another took their turn doing what they did. It's not hard. It doesn't matter what play you call. If you execute, the ball is going to move. We didn't execute. McNeese shut us down."
-Beck on if he would make any adjustments to the game plan looking back
"When you have a great player, that's what he's supposed to do. I know in his mind that's how he thinks. He just never gave up. I could see how he had a great attitude throughout the game. It was tough sledding and he didn't get many yards rushing. He just kept fighting and battling and blocking and doing all the little things that a champion would do."
"I just think we didn't really show up to play. We might have thought that McNeese State wouldn't be able to handle us. We have to totally respect McNeese State - they totally came out and brought it. We were lucky to get away with one today."
-Westerkamp on Nebraska's mindset coming into the game
Biggest question/concern: How can the Huskers avoid these letdown games?
The above quote from Westerkamp says it all - at least a few of the players overlooked McNeese State. It's hard to blame them - although the Cowboys are an excellent FCS program, the talent they have is a cut below. After a dominant opener, the Huskers likely figured they could walk all over their overmatched foes. But when McNeese responded to NU's opening punches, the Huskers looked a bit shell-shocked, a response that has happened too often in recent years. Nebraska will be more talented than many of its remaining opponents, but mindsets like the one it had Saturday will lead to upsets.