Fullback McNitt has earned the respect of his Husker teammates
When you think about the fullback position at Nebraska, very few players have ever been offered a scholarship out of high school.
Instead, it has always been more of a walk-on role where an in-state player with athletic ability and upside develops into it.
For Nebraska, that's exactly what happened with junior Kearney native Luke McNitt.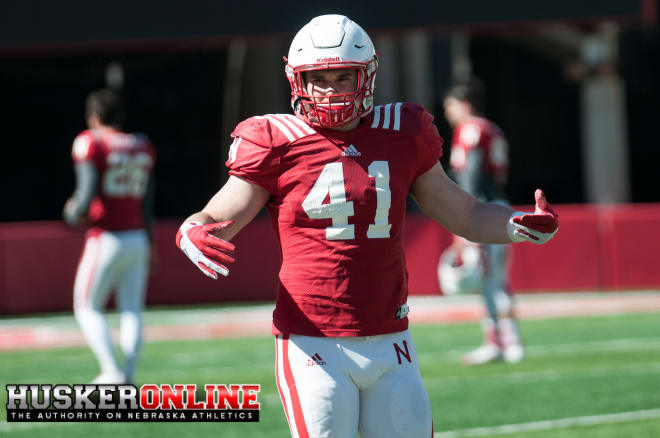 The former Nebraska athlete of the year finalist with a state champion in both the shot put and the discus, along with being an All-Nebraska quarterback at Kearney. He signed with Division II Nebraska-Kearney out of high school, and after starting at QB his true freshman year he decided to transfer and walk-on to NU as a tight end.
McNitt sat out the 2014 season due to NCAA transfer rules and took his redshirt year and played on special teams as a tight end in 2015. With the departure of Andy Janovich to the NFL, the 6-foot-2, 240 pound McNitt moved to fullback this spring and will go into next week's season opener against Fresno State as the starter.
Over the last three years in Lincoln McNitt has developed the reputation as Nebraska's "weight room warrior," and many think he will emerge as another potential weapon on this 2016 Husker squad.
"I still say McNitt," senior linebacker Josh Banderas said when asked what new face will breakout this season for Nebraska. "I know we are a different kind of offense where maybe we don't use that fullback a lot, but if he gets in the game, he's gonna make plays."
What's interesting was McNitt really wasn't on the coaching staff's radar until they saw him last spring making plays on the scout squad for special teams.
From there his stock rose and his versatility as an athlete caught the eye of running backs coach Reggie Davis.
"I hadn't watched him a whole lot, so I found out that he was tougher than I thought he was," Davis said of McNitt. "I knew he was a good athlete, played QB in high school and I had seen him run some routes and catch the ball, so I knew he could do that part of it.
"But the physical part of it I didn't know how well he would make that transition, but he's done a good job with it. A pleasant surprise to me."
It was somewhat a gamble for McNitt to make the move to fullback, knowing there were two veteran backs in front of him in Harrison Jordan and Graham Nabity, but it appears it's a decision that's paid off.
"I definitely saw it as a huge opportunity with Andy (Janovich) leaving and not many others had any experience," McNitt said. "I mean there's a couple of guys there. I got to see the opportunity (Janovich) got last year and it was fun to be able to come into that position right away."
McNitt has also gained the respect of all the fellow running backs he's been blocking for this August.
"He's also pound for pound one of the strongest guys on the team, so he does everything pretty well," sophomore Devine Ozigbo said. "I don't know if I can give him a strength, but I think he's an all-around good fullback right now."
That strength is more the blue collar attitude he brings to the table each and every day. It's what this program was built on.
There's no question the former Division II starting quarterback is ready to make an impact this fall for the Huskers.
"I take a lot of pride in that," McNitt said of his blue-collar attitude. "I think it started back in high school the coaches back there really instilled that work ethic into us at Kearney. I definitely like to show up everyday and motivate other guys and get them going as well."