Fueled by Elliott's impact, Williams stepping into lead role on defense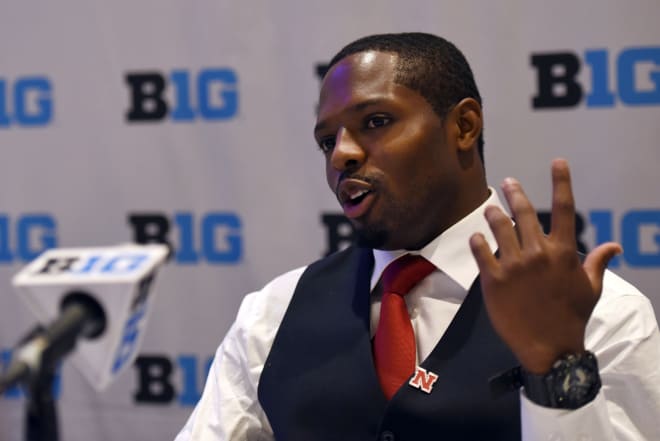 CHICAGO - It was a sight that in all of Mike Riley's years of coaching football was still one that made him do a double-take.
During one afternoon this past spring, Riley walked past the Nebraska athletic dining hall and saw 63-year-old safeties coach Bob Elliott and junior safety Aaron Williams sitting at a table and enjoying lunch together.
What struck Riley the most was how much it said about Elliott's ability to connect with players three times his younger, and how close Williams had already become with a position coach he'd only known for a couple months.
"It was a great marriage between Aaron Williams and Bob Elliott," Riley said. "That gave me more and more insight into who Bob Elliott was. He was a great relationship as I saw it take place - I would walk into the dining hall and I'd see those two guys, a 63-year-old defensive backs coach and Aaron Williams, having lunch together.
"That was a fun, fun picture for me. I know Aaron garnered as much from Bob as he could in that time, and I know that (Elliott's death) hit Aaron hard."
Even though their time together was short, Williams gleamed about all the knowledge and insight he was able to gain from Elliott during Big Ten Media Days.
He also admitted that, less than a year after losing his friend and teammate Sam Foltz, dealing with the loss of another member of his football family has been extremely difficult.
"It was a big loss," Williams said. "It's still a tough loss. I think about him every day. He's told me some stuff, and I will never let it go."
Before his passing, Elliott offered up some very lofty praise for the Atlanta native. For someone with more than 38 years of experience, it served as one of the telling quotes of the spring.
"I will say this: Aaron Williams is as smart of a player that I have ever been around," Elliott said back in March. "So he's grasping things that I never dreamed that a safety could grasp this quickly. I really feel good about him. He's going to be a pleasure to coach."
Given the recent attrition Nebraska's secondary has suffered with potentially season-ending injuries to cornerback Chris Jones and safety JoJo Domann, Riley said having someone with Williams' acumen to lead the defense would be invaluable.
"I have appreciated Aaron Williams from the beginning," Riley said. "He is really a smart, intelligent, aware football player. He is fearless. He's a really good person, he's a really good teammate. That's why as a younger player he's here (in Chicago).
"He's a guy that everyone in Nebraska would want me to put front and center in front of the nation. He's a football player, and I love him to death. He will be real important."
Williams, who enters the season with 26 games played and 14 starts under his belt, classified himself as a leader by example. But if he needed to step up as a voice in the secondary, he was more than willing to do so.
It's hard to say how much two full seasons working with Elliott could have done for Williams and his development, but now he's ready to take all he learned from his former friend, coach, and mentor and use it to the fullest.
"When I was growing up, people I used to look up to, I would look at how they go about their everyday life," Williams said. "So you tell me to do something and then you're not doing it, I wouldn't look at you as a leader, I'd look at you as a hypocrite. I just live by that. So if I'm telling someone to do something, I've got to make sure that I'm doing it."