FSU vs. Nebraska report card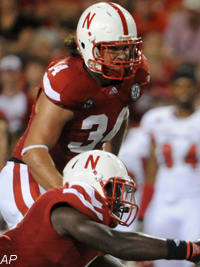 The final grades are in for Nebraska, as the Huskers improved to 2-0 after a shaky 42-29 victory over Fresno State.
Lots of questions remain for NU as they move into next week's game against Washington.
Rushing offense: C
Nebraska's ground game lives and dies by the big runs from quarterback
Taylor Martinez
. The Huskers failed to establish any kind of consistent running attack, but they did manage explosive runs of 38, 46 and 57 yards from Martinez to get what they needed. The concerning thing remains Nebraska's efficiency to run the football on early downs, which has forced several quick three and outs. In all, NU had 11 possessions that lasted under 2 minutes and their longest possession of the game was just 3:24. This offense has to figure out how to consistently gain chunks of yards on the ground and not just rely on explosive runs from Martinez. They got by another day with that formula today, but we all know you need more than that to win down the stretch.
Passing offense: C-
It was a tale of two halves for the pass game. Martinez was 4-of-13 with two interceptions in the first half, but finished the game 6-of-8 in the second half to give the Huskers what they needed in the passing game. Martinez was able to connect on the deep ball to
Kenny Bell
,
Jamal Turner
and
Kyler Reed
to finish with 219 yards. He delivered a nice TD pass to
Quincy Enunwa
in the corner of the end zone and put nice touch on the ball to get the score. You still have to be concerned though with the way Martinez started the game out. 4-of-13 with two interceptions is going to get you beat most nights. Thankfully Enunwa took away one of those interceptions by causing a fumble on the return. My final thought is where the heck is
Brandon Kinnie
? He had zero catches tonight and just has two for 7 yards on the season. Martinez has to find a way to get him going, as his veteran leadership is needed in the offense.
Rushing defense: D-
Fresno State may have laid down the blue print for the rest of the Big Ten on how to attack this Nebraska defense on the ground. The Bulldogs took advantage of NU's aggressiveness up front and really dominated the line of scrimmage with sound execution. Fresno running back
Robbie Rouse
had 36 carries for 169 yards. Nebraska's defense was credited with no tackles for loss, which I honestly can't ever remember a game where that happened. Rouse's 36 carries were the most an opposing back has had against NU since Heisman Trophy winner
Ricky Williams
had 37 carries in Memorial Stadium in 1998. This allowed
Pat Hill
to play the game at his pace and tire down Nebraska's front seven.
Passing defense: D
The bootleg and quarterback waggle plays by Fresno quarterback
Derek Carr
caused Nebraska problems all night. Carr kept NU off balance, as he wasn't sacked by the Blackshirts once. What's scary is Wisconsin quarterback
Russell Wilson
is faster than Carr and has a stronger arm…I wonder what he was thinking after watching this game? Carr finished with 254 yards passing and one touchdown, but most importantly he had zero interceptions. He also exposed the match-up of speedster
Devon Wylie
in the slot on walk-on cornerback
Justin Blatchford
in the nickel. It was not a good move to have Blatchford in space on a speedy slot with 4.4 speed. This is where Dejon Gomes and Eric Hagg are really missed right now.
Alfonzo Dennard
can't return soon enough.
Special teams: B+
Freshman
Ameer Abdullah
appears to be a future star in the making, as he finished with a school record 211 kickoff return yards, including a 100 yard kickoff return for a touchdown that broke the game open.
Brett Maher
also continues to be a great weapon punting, as he finished with a 50.8 yard average on five attempts. What brought the grade down tonight was Wylie's 67 yard punt return for a touchdown that put Fresno up 7-0. It was the first punt return for a score NU has given up since 2001 when
Wes Welker
of Texas Tech ran one back against the Huskers.