Frost has a unique connection to small-town Nebraska
If there is one thing I've learned about Scott Frost over the last several months, it's that he has a unique connection to so many across small-town Nebraska.
Over the off-season, I travel different parts of the state to either talk about the program or interview prospective up and coming prospects.
This year I learned quite a bit about Frost. While I was in McCook in February, I learned that when Frost was in junior high, his parents Larry and Carol would race from the varsity football practice so that they could coach and watch Scott in his lower level junior high games.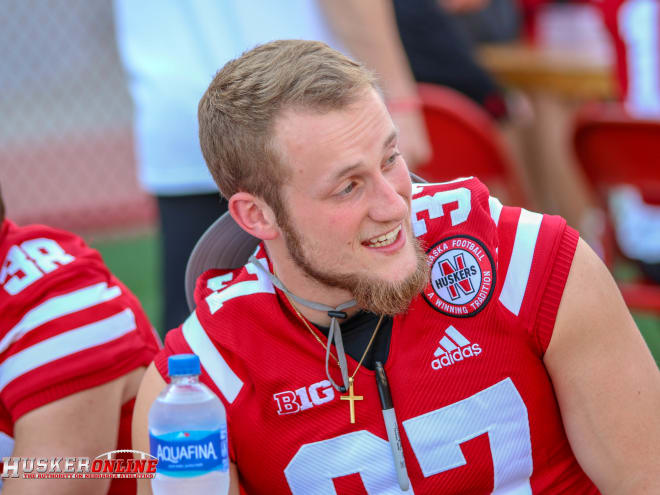 When Frost was in O'Neill as a young boy, somebody in Humphry two weeks ago showed me a picture of him in their yearbook as a 7 or 8-year-old water boy. Earlier this off-season Frost signed that picture and asked: "Where did you get this?" The woman simply replied: "It's my high school yearbook."
However, most identify Frost for his time at Wood River, since that is where he played his high school football. From York head coach Glen Snodgrass to current Nebraska Football Chief of Staff Gerrod Lambrecht to Derek Apfel, an owner of multiple funeral homes across Central Nebraska, they all had ties to Frost when he was at Wood River. You would never know Wood River was a Class C school because I've met so many people the last several months with ties to Frost there.
This takes me to current junior Nebraska running back Wyatt Mazour. He was one of three walk-ons who earned a scholarship this past week from Frost.
Mazour grew up in Albion and played for Boone Central High School, a team that Frost used to play against growing up. When they met the first time in December, Frost immediately perked up when Mazour told him he played for Boone Central.
"We were all waiting to introduce ourselves to Coach Frost, and I introduced myself, and he was like: 'Boone Central right?' Then he said he played Albion when he was in high school," Mazour said. "Coach (Arnie) Johnson talked to me about that, and I didn't know how it went, and he said Albion was winning in the third quarter, and then all of a sudden they came back and beat us. So, I couldn't argue with him about that."
Flash forward eight months, and Frost awarded Mazour a scholarship at the position on NU's team with arguably the most depth.
He thinks that highly of the small-town legend Mazour and, in a lot of ways, him earning a scholarship will have a ripple effect across small-town Nebraska. How many 5-foot-9 running backs playing this season in small towns across the state will look at Mazour as an inspiration? I'm sure when he chose to walk on at NU, he had his doubters behind the scenes.
The biggest thing is Frost gave him a fair shake. That's all you can ask. In the spring of 2017, I had a few families of walk-on players on the defense tell me former defensive coordinator Bob Diaco didn't even include their names on the depth chart. He wouldn't meet with them. All these young men wanted was an honest conversation about where they stood. They wanted a chance. Both these players ended up quitting during the spring of 2017.
Frost is not going to treat non-scholarship players like that and, in fact, he's quite the opposite.
"I love this staff," Mazour said. "I love coach Frost and Coach (Ryan) Held, my position coach. You can tell that they are real family people here with every player. They really want the best for you and they care for you. I've talked to Coach Frost about a lot of things, and he's always just like, 'oh yeah, sure I can do that.' It's just awesome to have that feeling that they appreciate you.
"For me, I always have felt like I've showcased my talent, and I was always like 'what more can I do?' They have been saying since they came here 'may the best man win.' They recognize talent, and I appreciate that. That's all I wanted.
"Now that I've recognized that, and the way they've treated me, I'm going to give them everything I've got on every single play."
Oh, and that small-town connection everyone in this state seemingly has to Frost, well, Mazour has one too.
"I think his mom grew up where my girlfriend's mom was born," Mazour said. "They kind of have a little connection there too. It's awesome just to have that connection of a small-town feel. In a small town, it's a totally different thing just because of exposure."