Friday notebook: QB battle continues after second scrimmage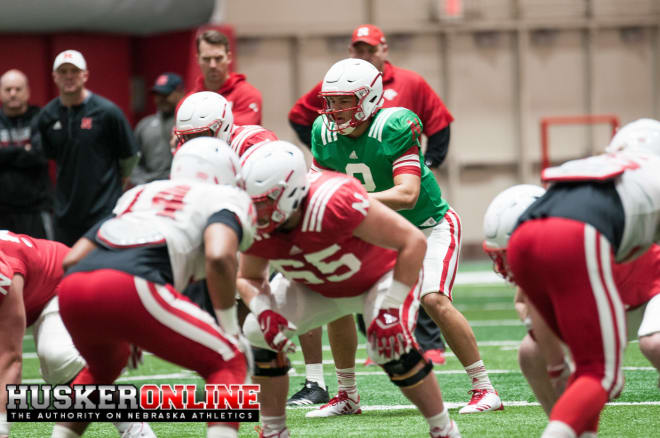 Nebraska held its second major fall camp scrimmage on Friday inside Memorial Stadium on Friday morning, and now just over two weeks away from the season opener on Sept. 1, one of the team's biggest questions remains unanswered.
While the two camp scrimmages thus far were supposed to provide some clarity for the potential Week 1 depth chart, head coach Scott Frost said he hadn't decided whether redshirt freshman Tristan Gebbia or true freshman Adrian Martinez would be the Huskers' starting quarterback vs. Akron.
"They kind of take turns having really good days, and both of them are continuing to get better," Frost said. "Both of them are operating the offense well, and we're going to continue to let it play out from here forward…
"That being said, if we had a play a game today both guys deserve to play. So we'll see how we manage it."
Frost said Martinez probably had a better overall day than Gebbia on Friday, but he added that wasn't entirely all on the quarterbacks.
He noted Gebbia had three bad snaps that weren't his fault and killed drives, and other times the receivers did their jobs better when Martinez was throwing the ball. Frost also said Gebbia had the better practice the day before on Thursday.
Frost said he would finalize a decision on the first depth chart in the next few days, and the team would begin their game prep for the Zips starting Friday of next week.
That means a decision on the starter should be coming sooner than later, but it also doesn't rule out the possibility of both QBs seeing the field in the opener. However, given his own experiences as a quarterback, Frost said the goal is to find one guy to run the show this season.
"I was a quarterback, and if you would've taken me off the field for half the series' I wouldn't have felt comfortable out there and like I was in a rhythm," Frost said.
Though a final decision for the starter is nearing, it's becoming more and more likely that the competition between Gebbia and Martinez could continue past the first game.
Until one player finally emerges and locks down the role as the clear No. 1, Frost said two factors would weigh as heavily as anything through the remainder of the evaluation process.
"It really comes down to who's going to operate our offense the most efficiently," Frost said. "We have enough weapons on offense I think that if we have a quarterback play well and efficiently and get the ball to the right guy on time, we can be pretty dangerous on offense.
"The other big key is we've got to take care of the ball and not turn it over, and we had a couple of those today that I didn't like."
- Robin Washut
Frost happy with scrimmage, but wants more 'juice'
Looking beyond just the quarterback position, Frost said Nebraska's second big fall scrimmage was an overall improvement from the first regarding all-around execution.

"Things are starting to take care of themselves and figure themselves out, and guys are starting to show us they can do it," Frost said. "It's good to see a lot of progress… This one was a little better than the first one; still not quite where we want it. I'd be surprised if it was where I wanted it right now."
Frost wasn't sure how many plays the team ran on the day but said the Huskers got in "a ton of reps" and he saw positives on both sides of the football.
Frost said the defense "had its way with the offense" at the beginning of the scrimmage, and part of that was because they intentionally started the offense in poor situations like backed up against their own end zone.
But it also had to do with defensive coordinator Erik Chinander calling plays like it was a game and brought a heavy dose of pressure and pre-snap movement.
While the general takeaways were positive across the board, Frost did have one complaint about his team's scrimmage.
"The one thing I want to see out team keep doing is when they hit the turf in Memorial Stadium, I want to see juice," Frost said. "It's on when you hit the turf, and it should mean more when we're out there.
"Sometimes it's tough to get that juice when you've been practicing for two weeks, and we're scrimmaging right after three straight days of practice and walk-thrus, but I want to see more energy right away when the guys hit the field. It was better today than the first one, but I want it to feel like game day when we're out there."
- Robin Washut
More than 100 former Huskers take in Friday's practice
A group of well over 100 former players took in Friday's scrimmage in Memorial Stadium. Players from all different eras were in attendance, and after practice, Frost invited them to a special lunch in West Stadium.

Having former players around his team is going to be something Frost said he plans to continue to do because they are a big part of everything.
"Jason (Peter) and Grant (Wistrom) were in here the other day talking. Steve Warren was here last night," Frost said. "The message is the same: When you are a part of this Nebraska brotherhood, you are not just playing for yourself and your team. You are playing for all the guys that came before you and after you. I want that connection to be back.
"We'll have all those guys up at lunch. I can't wait to go up and see them. There was a bunch of guys here from my team, so it's always special to go up and see that group."
Saturday will also mark Frost's first Fan Day, as over 10,000 fans are expected to be in Memorial Stadium from 6:30 to 8:30 pm.
"Every day in Nebraska is Fan Day," Frost said. "If I go to Walmart to get new diapers, I'm going to see fans, and it's awesome. 99 percent of the time people are great and it's awesome to see them. I look forward to that environment tomorrow, and I think our players are excited about the enthusiasm around the state about Husker football."
- Sean Callahan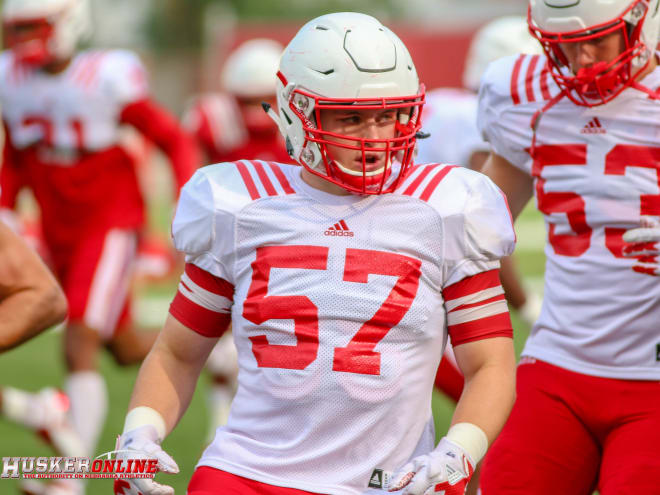 No walk-on scholarships handed out yet
Classes officially begin at Nebraska on Monday, which typically means a handful of walk-on players earn scholarships.

Frost said on Friday he's still not ready to announce any walk-on players he's putting on scholarship just quite yet.
"I can't wait to put my first walk-on on scholarship," Frost said. "It's going to be a happy day for me when I see that come to fruition, and I see our plan for walk-ons take that next step.
"But we aren't going to hand them out. Guys have to earn them, and they are going to have to be out on the field and do things the right way and represent Nebraska the right way. We'll see if we'll have any come up right away in fall, but I expect some of these guys to get there sooner rather than later."
- Sean Callahan
Quick hits
***Frost said running back Tre Bryant suffered another injury setback with a minor ankle sprain that held him out a few days this week. Frost said Bryant was able to do a lot more on Friday and would definitely be a factor in a limited role to start the season.

***Frost said ideally they will have two players that they trust at every position on defense to rotate during games, saying they want it to be like line changes in hockey.
***Frost said the staff has put a lot of emphasis on special teams, not only playing starters on the kick and return units, but also finding guys who embrace roles as full-time special teams players.
***Overall Frost said he thinks the team is "miles ahead of where we were in January" and "a lot better than where we were at the end of the spring." He said he can't wait to test how far the Huskers have come against an actual opponent.