Friday notebook: Huskers hold game day rehearsal
With this week signifying the unofficial closing of Nebraska's 2017 fall camp, the Huskers are making sure that everyone, including the coaching staff, is getting ready for the season opener vs. Arkansas State on Sept. 2.
Along with going through multiple situational scrimmages with the first-team offense and defenses and ending with a full scrimmage with the backups and younger players on Friday morning, NU also gave its staff a bit of a game day trial run.
Both offensive coordinator Danny Langsdorf and defensive coordinator Bob Diaco worked from the coaches' box during the practice, while the rest of the staff operated from the sideline as if it were a game.
Head coach Mike Riley said even though the opener was still two full weeks away, there was plenty of work left to be done for the players and coaches alike.
"We did a lot of stuff today," Riley said. "We tried to put some game components in it. We put the coordinators in the box, did all the stuff that we would normally do on the boundary to have sideline organization.
"Normally we wait until next week to do that, but we incorporated it into this weekend, which is good, because it wasn't necessarily real clean. There's a lot of stuff we can work on."
Riley said he was most disappointed with the overall play clock management, substitution issues, and procedural mistakes that came from trying to get plays called in a game simulation.
"We not only had a lot of football, we had some good procedural stuff that has to be worked on," Riley said.
Because so many game day operations were going on, Memorial Stadium was essentially locked down during Friday's practice. The doors leading onto the field were shut, and all of the West Stadium windows were covered aside from the coaches' box.
It should be noted that Diaco will be the first Nebraska defensive coordinator to ever call games from the press box this season.
Riley said his philosophy is generally to leave it up to his coaches to determine if they want to call games from upstairs or the sideline, and Diaco immediately made it clear that he preferred being in the box on game days.
"I definitely talk to them about it and leave it to them, in some regard," Riley said. "Coach (Mark) Banker liked the sideline, and Coach Diaco immediately asked me about being in the press box. So I think that's good.
"I suggested to Danny a while back that the press box is the most sane place to call a game. You've got all the stuff in front of you and it's easily accessible. You're not affected when the weather's inclimate either. Within our deal, it's a discussion."
Decisions coming on walk-on scholarships, freshmen redshirts 
Some fairly big roster decisions await Nebraska's coaching staff this weekend, as Riley said he his assistants would likely finalize both the walk-ons who will be placed on scholarship and the true freshmen who will and won't redshirt this season.
Riley said NU could give out as many as eight scholarships to current walk-ons, and that's something he and the staff have already discussed several times this fall.
Riley said that final list should come out early next week, potentially on Monday when the fall semester officially begins.
"We've met on it three or four times and had our list in front of us, but have not finalized it," Riley said. "We should have something for you obviously next week… We have to be careful numbers-wise and people-wise. We've got to do the right thing."
Riley added that there's also been no final decision yet on the redshirt statuses of all Nebraska's true freshmen, but said there is a list of guys that they think will not redshirt.
"Again, those decisions will come over the weekend as we head into these two weeks before the game," Riley said.
Stoltenberg working his way back, while Thomas continues to shine
Given his history with injuries in the past, it was understandable that fans were starting to grow a bit nervous after two straight reports this week that Mick Stoltenberg was held out of practice.
After Stoltenberg was again sidelined on Friday, Riley finally gave an update on the junior nose tackle's status.
Riley said Stoltenberg has been held out this week while going through concussion protocol, but the 6-foot-5, 305-pound native of Gretna, Neb., was well on his way to returning to action next week.
"He is, I would say, definitely improving," Riley said. "If he stays the course, he should be back practicing with the Huskers on Monday."
Maybe the one silver lining to NU not having its starting nose tackle available this week has been the opportunity it's created for other younger defensive linemen in practice.
In particular, true freshman Deontre Thomas has capitalized as much as anyone. He took Stoltenberg's place with the first-team defense on Thursday, and Riley said the Mustang, Okla., native could "absolutely" be a factor this season.
"Really quick," Riley said of Thomas. "Good change of pace there for the Huskers with Mick and then Deontre. Good change of pace."
Butler, Anderson easing depth concerns at cornerback
When senior Chris Jones suffered his knee injury earlier this summer, the immediate concern wasn't just about who would step up and replace him on the starting defense, but also who would fill out the rest of the depth at cornerback.

Nebraska may have found two players to help with the latter issue in redshirt freshman Tony Butler and third-year sophomore Avery Anderson.
Riley said he's been very pleased with the development of both players, who each moved from safety to cornerback this offseason in an effort to bolster the depth at the position.
Riley noted that Butler was one of the more impressive defensive players during Friday's practice.
"I've been really excited about the growth of Tony Butler, which we really needed," Riley said. "With Chris not being there and the way the defensive backfield is pretty thin … we needed another couple guys to surface there…
"Tony was moved from safety to corner, and what I'm saying is that looks like a positive move."
Anderson spent last season as a reserve safety before moving to corner this spring. While he is often left out of the public discussion regarding NU's cornerback depth, Riley said the former four-star from Surprise, Ariz., has really flourished since changing roles.
"Avery started elevating himself in the spring and continued to do that in fall camp," Riley said. "He's in that mix. It's made that position - it's made us feel better about it."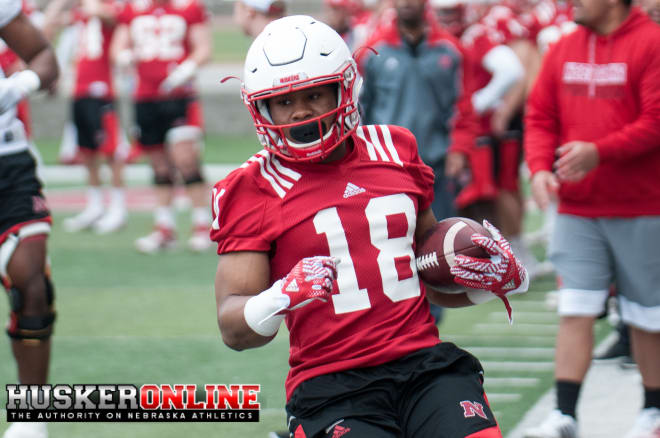 Quick hits
***Running back Tre Bryant was back at practice after sitting out on Thursday, though he was not live for contact. Riley said they've made sure to be careful with Bryant and his knee.
***Riley said some of the offensive standouts on Friday were receivers Stanley Morgan and J.D. Spielman.

***Riley said Morgan looked like everything the staff hopes he will be this season, and Spielman again showed off his playmaking ability despite making some early mistakes.
***Receiver Bryan Reimers did not go live again on Friday, but he did do some individual work.