Friday notebook: Starting QB to be named this weekend
For those expecting an official announcement on Nebraska's starting quarterback following Friday's final fall camp practice, the wait is going to have to continue for another day or two.
Head coach Scott Frost said that while he and his staff had "a pretty good idea" of who their No. 1 QB would be for the season opener vs. Akron next weekend, they weren't ready to make the news public just yet.
Frost said he still wanted to meet with both redshirt freshman Tristan Gebbia and true freshman Adrian Martinez individually before making any public announcement, but he expects to reveal the news by the end of the weekend.
"We wanted to make sure we were sure on everything before we did it, and we definitely don't want to announce anything before we talk to the two kids involved. Both guys are doing really good things. It's been back and forth. We're going to need both of them, and I'm sure both of them are going to play. But we'll probably have conversations with them this weekend and make an announcement then…
"Certainly we're going to announce it when we're ready to announce it, not when people wanted us to. We'll make sure that the information gets out in an efficient manner."
This isn't the first time in Frost's coaching career that a quarterback competition has drug out up to the start of the first game week. Back when he was an assistant at Oregon, Frost remembers battles between Nate Costa and Darron Thomas and then Marcus Mariota and Bryan Bennett both going up until the end of fall camp.
Frost was also an observer of a fairly significant QB race as a redshirt transfer at Nebraska in 1995, when Tommie Frazier and Brook Berringer went head-to-head all the way through fall camp.
Despite some general similarities, Frost noted that there was a distinct difference between that situation and the one with Gebbia and Martinez.
"One of the biggest differences is that I'm not sure Tommie and Brook were best friends. The guys in (this) quarterback room are friends," Frost said. "It's been really friendly. It's been hard because at times one guy's looked better than the other but other times the other guy's looked better. They kind of take turns having great days.
"They have different strengths, so it's a little bit of comparing apples to oranges within the same offense. I think both guys would be perfectly capable of operating our offense well. Really what it's going to come down to for whoever plays is being efficient and taking care of the ball, making good timely decisions and not making mistakes."
- Robin Washut
Trio of walk-ons earn scholarships
While there was no news on the quarterbacks, Frost did have some special announcements to make following Friday's practice.

With the Huskers' scholarship roster now finally set, the coaching staff was able to award three scholarship to walk-on players for the 2018 season.
Senior wide receiver Bryan Reimers, junior running back Wyatt Mazour, and junior linebacker Jacob Weinmaster all joined NU's 85-man scholarship total.
"Those three guys kind of epitomize the walk-on program to me," Frost said. "They came in here and sacrificed, in particular, Jacob, who's paying out-of-state tuition to be here. All three of them have earned spots on special teams, which is usually your first start to getting on the field is being able to contribute on special teams.
"All three of those guys have been selling out to try to be some of those guys, and they've worked their way up the depth chart. Those guys come to work every day. There's hardly anybody on the team that works harder than those guys, and we're happy to have them on the team."
Earlier this fall Frost mentioned that one of the things he was looking forward to the most about his first season as Nebraska's head coach was handing out scholarships to walk-ons for the first time.
Following Friday's session, Frost game his normal post-practice talk to the players and then called out each player individually to announce they had earned scholarships.
The ensuing cheers from the rest of the Husker players were everything Frost had hoped.
"It's fun to see the team get excited for their brothers," Frost said. "That's the best part; when you announce it and the team goes crazy and gets excited for something good happening for one of their teammates. That's what makes it special. The team was elated when they heard all three names, and it put a smile on my face."
- Robin Washut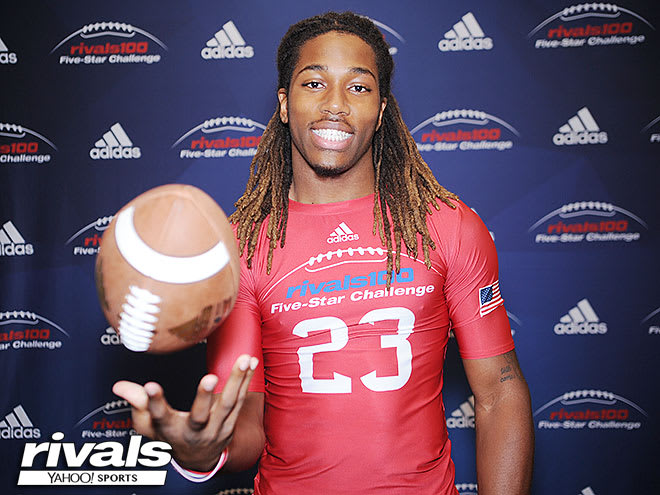 Watt ruled ineligible, will enroll in junior college
One player who officially won't be part of Nebraska's program this season is Dominick Watt, as Frost announced that freshman wide receiver had been ruled ineligible by the NCAA after his recent ACT scores were flagged.

Watt has already signed a National Letter of Intent in a junior college for the 2018 season.
Frost said they would continue to keep in contact and recruit Watt, and hopefully, he would be able to join NU in a couple years.
"We fought to the end for him, but it looks like Dom's going to go to junior college," Frost said. "He signed an NLI with one of those schools and we're certainly going to keep track of him. We'd love to get back in the mix of recruiting him later on."
"Certainly everything has to go the right way, but we recruited him for a reason, and we'll try to stick with it."
- Robin Washut
Quick hits
***Asked about Thursday's situational scrimmage, the final scrimmage of fall camp, Frost said he saw some "flashes" of how good his team could be when it's clicking on all cylinders. There's still plenty of work left to do, but Frost was very encouraged by how good NU looked at times.
"I started to see flashes of what it's supposed to look like in that scrimmage," Frost said. "The defense was flying around a lot better than I'd seen it. The offense - when we execute well, we have plenty of talent to be really dangerous. At times it showed and at times it didn't because of little mistakes, but the effort was great, the intensity was great, and I was really happy to see some of the signs of some excellence coming out of these guys."
***Regardless of who is the starting QB, Frost said they would mold the offense around either player's strengths.
***Frost said overall he feels pretty good about the depth at some positions but admitted they're still thin at other spots after the starters coming out of fall camp. Frost said he felt much better about the depth in the secondary than he did in the spring.