Friday Night Lights delivers
When over 3,000 fans showed up last year for Nebraska's final Friday Night Lights Camp in Lincoln, the NU football staff's wheels were spinning.
They realized they found something special. They created a June college stadium environment for a summer football camp like never seen before.
Head coach Mike Riley and his staff figured out away to convince top level recruits to come to Lincoln and compete, while allowing the greatest fan base in college football the opportunity to be a part of it.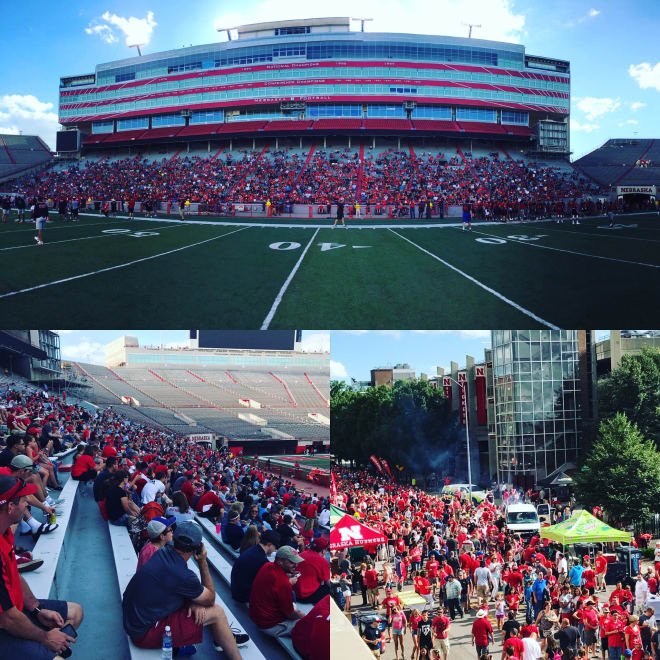 After looking at last year's event, NU looked at ways they could make things bigger and better.
They added a separate FanFest beforehand with free food, soft drinks, snow cones, music and games as a lead-in to Friday Night Lights. Vendors like Runza, Chic-fil-A, Mr. Goodcents, Kona Ice, Fairbury Hot Dogs, Amigos, Pepsi and Valentino's all donated their time and food to take part in the FanFest. Chic-fil-A went through their 500 sandwiches in 15 minutes. The free food was gone in less than an hour. It got to be so crowded, you could barely make your way down Stadium Drive.
At that point you knew the stage was set for a special evening, and that's exactly what happened. In all, a University of Nebraska official said just under 7,000 fans made their way into Memorial Stadium, as they used a crowd clicker to keep track of people filing in.
As the 14 four and five star recruits in attendance came into the stadium to take part in the camp, they were speechless. To put it in perspective, Friday's crowd in Memorial Stadium was nearly 2,000 fans bigger than what the Class A state championship game drew between Omaha North vs. Bellevue West. It was also bigger than what 94 different teams drew for their spring games in 2017.
"Almost every player I talked to, none of them experienced anything like this," Riley said. "It really makes it fun to be a part of it."
And that's the genius of Friday Night Lights. Nebraska has discovered something that lets their fan base make a legitimate impact on recruiting.
After the camp ended on Friday, the Big Ten Network's Howard Griffith told one of my colleagues at HuskerOnline "he's never seen" anything like what he saw on Friday. Griffith was at the camp with his son Houston Griffith, who is a Rivals100 cornerback out of IMG Academy in Florida.
After the camp ended, five-star Harrisburg (Penn.) linebacker Micah Parsons made this tweet about his experience at Friday Night Lights.
Nebraska love is really different!!

— BLESSEDMVP (@Micah_parsons23) June 24, 2017
As last year's camp ended, I remember asking myself "how could they make next year's event better?" It's safe to say Riley and his staff accomplished that task, and I'm sure they'll find a way to do it again next year.
"I'm really proud of the people that are with me, because for them a night like a year ago created a think tank for them about how to grow it," Riley said. "We keep searching for ways to do this better and I like that, and I like that energy from our team.
"I think we have to do that from the football end of it and the evaluation and recruiting end of it. That has to be something we're kind of pushing the envelop on and keep making it better. I'm proud that we have gone that route and the work our guys have done that way."