Fresno State keys to victory and official score predictions
The countdown to kickoff is here, as Nebraska will open the 2016 season on Saturday against Fresno State.
As we get closer to Saturday's game against the Bulldogs, here are the keys to a Husker victory, along with the HuskerOnline expert score predictions for Saturday.
NU comes into Saturday as a 28.5 point favorite over FSU.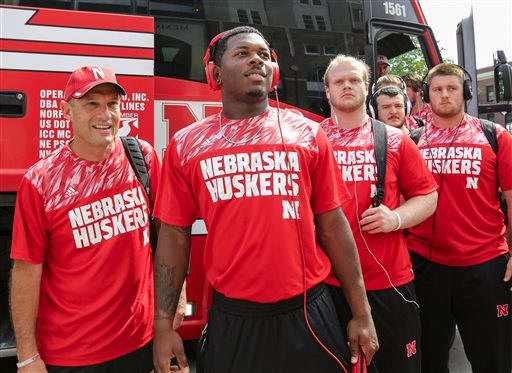 Keys to victory: Fresno State vs. Nebraska 
KEY 1: Be the bully
One of most important things for Nebraska today is to establish themselves as the aggressor and show Fresno State right away why they are in the Mountain West. In 2015 Power 5 schools were 21-3 against the MWC, and there's no reason why that should change on Saturday.
KEY 2: Put Tommy Armstrong in favorable situations
A big part of this entire season for Nebraska will be to putting quarterback Tommy Armstrong in situations where he can succeed. That means giving him support on the ground, and also letting him do damage with his legs. I expect Armstrong to be a much more effective runner in 2016.
KEY 3: Limit coverage busts
With both safeties Nate Gerry and Antonio Reed out on Saturday, the Huskers are going to be very short handed on the back end of their defense. There's going to be a lot of pressure on both Keiron and Aaron Williams to make plays. They need to limit their mistakes and coverage busts on Saturday.
KEY 4: Handle Fresno's up-tempo pace

One of the things Fresno State wants to do on Saturday is run a no-huddle hurry-up offense. It will be important for the Husker defense to be ready for this, as they want to snap the ball within 1o to 15 seconds of the play clock starting.
KEY 5: Keep emotions in check
On top of being the season opener, Saturday will also be the first time Husker nation has gathered since the death of punter Sam Foltz. There's no question it's going to be an emotional moment in Memorial Stadium when NU chooses to honor Foltz before kickoff. NU has to keep their emotions in check and not let that effect their play out of the gates.
Expert take: Fresno State vs. Nebraska 
Sean Callahan - HuskerOnline Publisher
The key to this game early will be how Nebraska adjust to Fresno State's new coordinators on offense and defense. The Huskers just need to come out and be a Big Ten bully and win this game up front. Fresno will break a few plays, but the Huskers still win pretty handily.
Nebraska 45 Fresno State 20
##############################
Robin Washut - HuskerOnline Senior Writer
I see Nebraska having to knock off some rust early on, especially offensively. But as the running game starts to wear down Fresno State's mediocre front seven and the offensive line gets comfortable with all of the Bulldogs' blitzing, this one shouldn't be close.
Nebraska 55, Fresno State 24
##############################
Nate Clouse - HuskerOnline Lead Recruiting Analyst
I think Nebraska will get off to a little bit of a slow start and the game is closer at halftime than some may expect. The Huskers get the ground game going in the second half, including some big designed runs by Tommy Armstrong. NU pulls away in the fourth quarter, but doesn't quite cover the spread.
Nebraska 45 Fresno State 21
##############################
Mike'l Severe - Omaha World Herald Bottom Line
Fresno state's QB Chason Virgil is kind of a gunslinger. If he gets hot I could see the Bulldogs having some early success. But I expect NU to have a big night in the run game vs FSU pulling away in the 4th quarter.
Nebraska 45 Fresno State 17
##############################
Andy Kendeigh - KETV Channel 7 Sports Director
This is a classic "it's not you, it's me" game. Fresno State's schemes and talent won't give the Huskers many issues Saturday. The only one that can beat Nebraska is Nebraska. It will be emotional night at Memorial Stadium as Husker nation remembers Sam Foltz which will end in smiles. Big Red rolls into the new year.
Nebraska 55 Fresno State 21
HuskerOnline Week  1 expert score predictions 
Week 1 
Sean Callahan
Robin Washut 
Nate Clouse 
Mike'l Severe 
Andy Kendeigh 

Fresno State @

Nebraska

Nebraska

45-20

Nebraska


55-24

Nebraska

45-21

Nebraska

45-17

Nebraska

55-21

LSU vs. Wisconsin

LSU

27-10

LSU

31-20

LSU

35-24

LSU

27-14

LSU

21-10

UCLA @

Texas A&M

UCLA

45-37

TAMU

48-42

TAMU

31-28

UCLA

31-28

TAMU

31-27

Oklahoma @

Houston

OU

41-34

OU

39-35

OU

48-31

OU

41-27

OU

31-21

Southern Cal vs.

Alabama

Alabama

30-17

Alabama

27-17

Alabama

35-20

Alabama

27-17

Alabama

31-17

Notre Dame @

Texas

Texas

27-24

ND

24-21

ND

35-30

Texas

21-20

ND

24-20