Freshman Spielman not leaving much debate over immediate role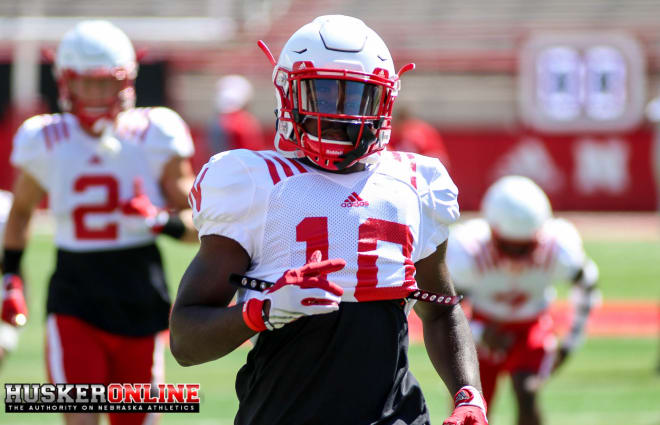 A month ago there were questions over whether incoming freshman JD Spielman would physically be able to play this season after suffering a knee injury back in May.
Now, it looks like the electric true freshman has given Nebraska little choice but to throw him into the mix right away.
After being cleared to practice just before the start of fall camp, the 5-foot-9, 180-pound native of Eden Prairie, Minn., has impressed his new coaches and teammates more and more every day since.
In fact, head coach Mike Riley and offensive coordinator Danny Langsdorf have both stated publicly that Spielman very well may have forced his way into immediate playing time with his performance this fall.
"We're force-feeding Spielman because we think he's a really good football player," Riley said. "He can play in the return game. I think in our prototype of years past, he's the perfect flanker… He can probably do a lot of things for us. He's just a ball player. I don't think he knows where he is, he just comes out here and plays hard.
"He's got some ability. We probably would have liked to redshirt him, but I think he might do too many things."
Spielman's chances for playing time in 2016 increased even more following the departure of fellow freshman wide out Derrion Grim, who unexpectedly decided to transfer earlier this week.
Spielman is already competing for the Huskers' kickoff returner roll, which comes as little surprise considering the 2015 Minnesota Gatorade Player of the Year racked up 475 total kick and punt return yards during his senior high school season.
But he's also made a serious push to earn a spot in NU's loaded wide receiver rotation. As Riley mentioned, Spielman's skill set fits right in with some of the play-making flanker receivers the staff has had over the years.
"He runs well, he's a guy who can stretch the field, he's a good route runner out there at that flanker position, which usually has a lot of space," Langsdorf said. "It needs speed because you've got some ground to cover down the field or to get on the defender. He's a good fly-sweeper, he's strong with the ball, he'll block.
"I think there's a lot of things that he's shown us that he is willing to do, and it's looked pretty good. He's definitely in the conversation."
Maybe the most readily available comparison to what Spielman could become down the road is junior wide out/return specialist De'Mornay Pierson-El.
Nebraska showed a brief snapshot of what a player of that ability could be in its offense with Pierson-El, as he tallied 12 catches for 111 yards and a touchdown in just five games before suffering a season-ending knee injury.
Even Pierson-El sees a little bit of himself in Spielman, which is why he's taken his new protege under his wing.
"That's my teammate and my little bro, and I love him to death," Pierson-El said. "He's coming in and he's a ball of energy. He's making plays. Sometimes he's lining up wrong, sometimes he might run the wrong route, but I mean he's making that at 100 miles an hour, and that's what you want.
"Everything will start to slow down now that we are out of camp. I just think he's at a transition phase right now to where everything will start clicking. He's right on track."