Freshman Harris remains out with unknown illness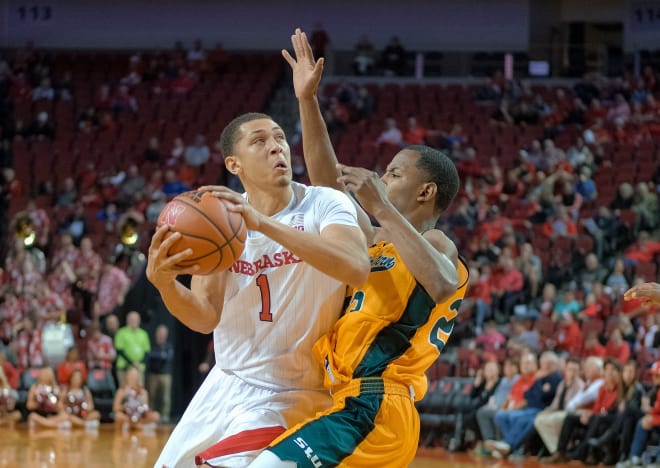 Nebraska was unexpectedly without a big piece of its already-limited depth going into Saturday's win over Creighton, as freshman guard Amir Harris was a late scratch from the lineup.
Harris was forced to miss Saturday's game due to an unknown illness, and while the Huskers were able to get by the Bluejays without him, it's unclear when the 6-foot-6, 205-pounder will be ready to return to action.
During his radio show on the Husker Sports Network on Monday night, head coach Tim Miles gave an update on what Harris was dealing with.
"We'll find out exactly what he's got," Miles said. "I think he's got a blood test going tomorrow or the next day. It was an illness; some viral thing going on. At first, it was expected that it might be mono, might be strep throat, whatever it is. College kids get sick."
Until Nebraska figures out exactly what is plaguing Harris, he won't be around the team for precautionary reasons in case his illness is contagious.
"That's the scary part, that he's contagious," Miles said. "You just want to be careful."
Harris will get a full week to recover before the Huskers' next game vs. Oklahoma State in South Dakota on Sunday, but they need himself back and healthy as soon as possible. Not only does NU need all the bench depth it can get, but Harris has also shown plenty of potential.
"Amir Harris is an elite athlete. NBA scouts have come in and asked about him in terms of how quick and athletic he is," Miles said. "He can be an elite defender, there's no doubt. We've just got to find his niche with scoring and some of those other things."
Miles did have some good roster news to report, saying freshman forward Karrington Davis was able to walk without a protective boot or crutches for the first time on Monday since rupturing his Achilles' tendon just before the start of the season
"He was walking today, how about that?" Miles said. "It was his first steps without a brace or anything like that. He was just kind of tip-toeing down the sideline while the other guys were going up and down (the court in practice), and he was kind of wibbly-wobbly. It was kind of cute actually to see a 6-6 guy walking like a toddler. But he's doing and coming along pretty well."
Miles explains how Oklahoma State in Sioux Falls came to be
Speaking of that game vs. Oklahoma State, Miles gave a little background on how Nebraska ended up setting up the neutral-site contest at the Sanford Pentagon in Sioux Falls, S.D.
Miles said the Huskers had been trying to schedule another home-and-home series with a former Big Eight/Big 12 Conference foe ever since its successful reunion with Kansas the past two years.
But after some discussions with Oklahoma two years ago and then Kansas State last year, nothing was able to get finalized. So NU took a different approach by looking into a single-play neutral-site matchup.
With Miles' connections in South Dakota and a relationship with the Sanford Pentagon ownership, Nebraska got the ball rolling right away with Oklahoma State. Both teams technically sacrificed a potential home game to make it work, but Miles said Nebraska would be getting "upwards of around $100,000" from the game.
Even better, the Huskers were able to get the benefit of a "neutral site" while likely still playing in front of a heavy home crowd.
"I think it's a pro-Husker town," Miles said of Sioux Falls. "The times I've been there, they love their Huskers football and now basketball, I hope… It'll be a great thing. It really will be."