Five NU storylines going into Big Ten Media Days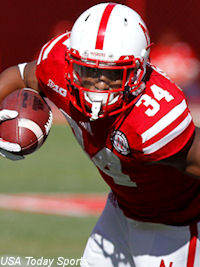 CHICAGO
-New head coach
Mike Riley
will begin his first conference media days session as Nebraska's head coach Friday, and while the Huskers aren't the Big Ten's main attraction, the new face of the program will certainly be a critical storyline.
New sheriff in town
Riley is one of three new head coaches this season, joining Michigan's
Jim Harbaugh
and Wisconsin's
Paul Chryst
. While Harbaugh will garner the lion's share of the headlines and Chryst takes over a team that's experienced more recent success, Riley will certainly draw some attention.
He may not have the national cache of
Urban Meyer
or the salesman personality of
James Franklin
, but Riley's friendly nature and calm demeanor should help him get off to a strong start with the media, especially considering the at times prickly nature of his predecessor. His down-to-Earth nature and knowing smile makes him an easy coach to deal with.
But ultimately Riley will be judged by his answers, and he'll face plenty of questions about how he intends to translate his limited success at Oregon State to better things in Lincoln. Can he make the transition from a small-school environment to the national stage at his age? Most of the main questions he'll be asked have already been answered to local reporters, but this will be one of the national media's first opportunities to get to know NU's new head man.
Riley's summer evaluations
The last time Riley spoke with the local media was during Nebraska's satellite camps in mid-June. Since then he's had more time to take a look at his roster, evaluate the pieces and try to figure out where they all fit.
Riley is unlikely to divulge too much critical information, and what transpires in fall camp will go a long way toward determining who plays and how much once the season begins. But Riley has had more time to break down film and get a feel for some of his new players, and this will be his first opportunity in some time to share his thoughts on the squad.
How will the offense function without Abdullah?
Ameer Abdullah was more than the offense's rudder over the past two seasons - he was the sails and the mast as well. Replacing one of the school's most statistically productive players will be no easy task, and how well Nebraska moves on from the second-round NFL draft pick will go a long way toward determining how successful this season is.
Riley will surely be questioned about the quartet of
Terrell Newby
,
Adam Taylor
,
Imani Cross
and
Mikale Wilbon
and how the carries will be distributed. But the onus also falls on Armstrong, who simply must become more accurate to help keep defenses from stacking the box. Westerkamp and the receiving corps will also be depended to step up without Kenny Bell in tow any longer.
Roster attrition
Rosters typically experience a bit of overhaul as a new coach molds his culture, but a high number of Huskers were either dismissed or chose to move on this offseason. Linebacker David Santos, kicker Mauro Bondi, safety LeRoy Alexander, quarterback Johnny Stanton and receivers Glenn Irons, Kevin Gladney and Jariah Tolbert have all left the program since spring practice concluded.
Many of the aforementioned names come as little or no surprise, but they do leave the Huskers thin at a few positions, particularly linebacker. Riley probably won't have much to say about seeing so many players leave the program, but he will be asked about it.
Can the Blackshirts get back on track?
Nebraska ranked ninth in the Big Ten in points (26.4) and eighth in yards allowed (383.7) last season. Those poor numbers played a major factor in NU's second-place finish in the Big Ten West. New defensive coordinator
Mark Banker
will be charged with improving the unit and getting things back on track in 2015.
Gerry is the defense's lone representative, and he will undoubtedly be asked many questions about the Huskers' more free-flowing defense, which will focus more on attacking the ballcarrier than playing an assignment. On paper, the new scheme sounds great, but how well the Blackshirts respond early on will be telling.
[rl]