Five burning questions heading into Iowa week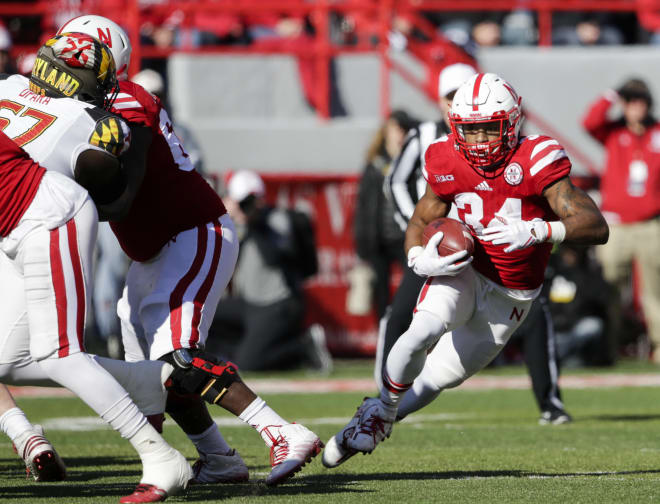 1. Will Tommy be healthy?
For the third week in a row, all eyes will be on senior quarterback Tommy Armstrong when Nebraska returns to practice on Monday.
After missing the Maryland game and his Senior Day with a hamstring injury, will Armstrong have enough time on a short week to get healthy enough to return to his starting spot under center for Friday's game at Iowa?
Head coach Mike Riley seemed a little more optimistic about Armstrong's chances after the game than he did going into last week, but he still said he expects senior Ryker Fyfe to be the No. 1 quarterback for the first practice at least.
Only time will tell whether Armstrong will be ready to take on the Hawkeyes, but in a game where Nebraska has a chance to reach 10 wins for the first time since 2012, you can bet he's going to do everything in his power to make it back.
2. Can Fyfe do it again?
While Nebraska may be holding on to hope that Armstrong will be able to return this week, there's also a very real possibility that Fyfe will have to make his third career start when the Huskers travel to Iowa City.
After his performance against Maryland on Saturday, though, that prospect doesn't seem nearly as concerning.
Fyfe was better than most anyone would have predicted in a 28-7 win over the Terrapins, completing 62 percent of his his passes for 220 yards and leading NU to touchdowns on four of his first six drives of the game.
The Grand Island, Neb., native obviously wasn't perfect, and the fact that he was facing a struggling Maryland defense certainly helped his cause.
But for a guy who had a four-interception loss at Purdue in his only other start lingering over his head for the past year, Fyfe was able to rebuild some major confidence both in himself and from his team with how well he played on Saturday.
3. How will the special teams handle their biggest test yet?
Nebraska's much maligned special teams were the subject of ever more criticism following the win over Maryland, as the Huskers added a few more blunders to an already disappointing season performance.
A blocked field goal, poor kickoff coverage, inconsistent punting and allowing a fake punt for a first down made many fans question even more what exactly is going wrong with NU's special teams.
The concern over the third element grows even more considering the test Nebraska will face in that regard this week at Iowa.
The Hawkeyes boast some of the best special teams units in the Big Ten this season, ranking first in in kickoff returns (25.2 yards per return), second in punt returns (12.0, one touchdown) and third in punting (38.3 net).
Most importantly of all, it's still unclear whether junior kicker Drew Brown will be available to play after suffering a head injury while making a tackle on the opening kickoff. Riley said Brown would go through concussion protocol this week, so he's likely questionable at best right now.
4. Can the defense answer the call again?
Not only did Fyfe post the best outing of his career in Saturday's win over Maryland, Nebraska's defense came up with one of its best performances of the season as well.
Aside from a 92-yard pass in the fourth quarter, the Blackshirts completely smothered Maryland's offense to the tune of just 207 total yards (nearly half coming on one play) and only 11 rushing yards on 25 carries.
Looking ahead to this week, the Huskers have another opportunity for a big day from their defense. Will the Blackshirts be able to answer the call again?
The Hawkeyes rank no higher than eighth in in the Big Ten any major offensive statistical category, averaging 27.9 points (8th), 359.1 total yards (12th), 179.9 rushing yards (9th) and 179.2 passing yards (12th) per game with a passing efficiency rating of 125.7 (8th).
5. Will the Huskers get their big break?
If Nebraska can pull off a victory on Friday, it would officially double its season win total from last year and mark the program's biggest two-year turnaround since winning three games in 1961 to nine in 1962.
Depending on what happens in another Big Ten game on Saturday, a win could have even bigger implications.
Wisconsin (9-2 overall, 6-2 Big Ten) owns the head-to-head tie breaker over the Huskers after its victory in Madison back on Oct. 29, but if NU were to beat Iowa and the Badgers were to fall at home to Minnesota, Nebraska would clinch the West Division title and a berth in the conference championship game.
Unfortunately, the odds don't necessarily suggest that's a very likely scenario.
Wisconsin has won its past 11 meetings with Minnesota and 18 of the past 20 dating back to 1995. The Badgers are also 4-1 at Camp Randall Stadium this season, with their one loss coming in overtime to No. 2 Ohio State.
The Golden Gophers, on the other hand, are just 2-2 in true road games this year, with their wins coming at lowly Maryland and Illinois.