Five burning questions heading into Illinois week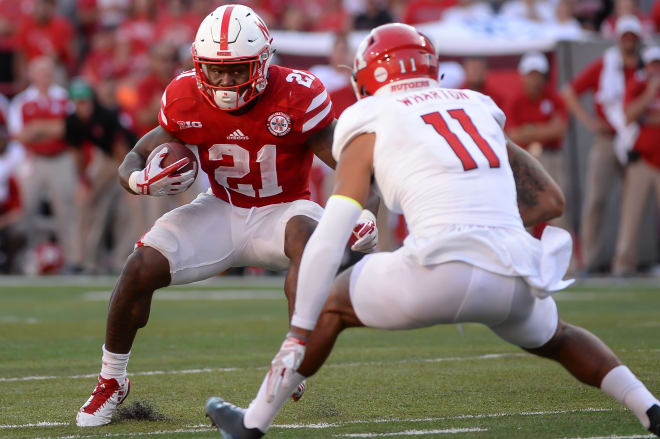 1. What will Nebraska do at running back?
Nebraska came into this season making it a point to have sophomore Tre Bryant be the No. 1 workhorse at running back, and it started off being a pretty good plan.

But after two straight 100-yard efforts by Bryant to open the year, he hasn't seen the field since re-injuring his knee late in NU's loss at Oregon.
The Huskers' clearly struggled with the same one-back approach against Northern Illinois, but had an impressive day on the ground when both Mikale Wilbon and Devine Ozigbo carried the load in Saturday's win over Rutgers.
The balance between Wilbon (14 carries for 79 yards and a touchdown) and Ozigbo (24 carries for 101 yards) gave Nebraska the one-two punch it needed in its running game.
After the win, head coach Mike Riley said he and his staff would have a serious discussion on how to handle the running back duties going forward. Will they stick with the committee approach? Or will Bryant return to take over the primary role?
2. Will Morgan be back?
With Stanley Morgan sidelined due to a neck injury, Nebraska was without far and away its top receiving threat against Rutgers, and it definitely showed in the lack of production through the air.

Morgan had been quarterback Tanner Lee's go-to target, and his 18 catches for 299 yards marked the most and second-most totals through the first three games of a season, respectively, in school history.
To make matters worse, Morgan's backup at the 'X' receiver spot, Bryan Reimers, was also sidelined on Saturday with an injury, leaving the Huskers with former walk-on Gabe Rahn making his first career start.
Nebraska's offense needs all the help it can get right now, and having it's best wide receiver in the mix again would be a huge boost.
3. Will the o-line changes stick?
Injuries have once again taken their toll on Nebraska's offensive line, and they forced the Huskers to do some major shuffling of their starting lineup against Rutgers.
The top-two right tackles on the depth chart were both ruled out going into the game in senior David Knevel and redshirt freshman Matt Farniok. That left Brenden Jaimes to become just the fifth NU true freshman offensive lineman to start a game.
Not only that, starting center Cole Conrad was a late addition to the injury report last week, which vaulted sophomore Michael Decker to take his place on Saturday.
Despite so many missing pieces from the original top group, the Huskers actually played pretty well up front, especially compared to their dismal performance last week vs. Northern Illinois.
It's unclear what the statuses of Knevel, Farniok or Conrad will be this week, so there's a chance Nebraska might opt to stick with its new o-line group against Illinois.
4. Can the defense keep it up?
For as bad as Nebraska's defense was through the first game and a half of the season, Bob Diaco's group has made a pretty impressive turnaround over the past 10 quarters.
Since getting blitzed for 42 points in the first half at Oregon, the Blackshirts have gotten better and better by the week and just put up their best outing of the season against Rutgers.
Yes, Northern Illinois and Rutgers' offenses don't exactly pose the same test as others on the schedule, but the fact is that NU's defense has completely shut down its opponents for two games in a row now.
Nebraska gets another favorable matchup this week at Illinois, which ranks dead last in the Big Ten in scoring offense (21.7 points per game), total offense (290.0 yards per game), rushing offense (110.3 ypg), pass efficiency (102.2), and third-to-last in passing offense (179.7 ypg).
Another stout defensive showing this week could be what the Huskers need to improve to 2-0 in conference play.
5. Will the short week be a factor?
Riley has made his stance against playing games on short weeks very clear, but Nebraska must now prepare for the first of two such predicaments this season when it travels to take on Illinois on Friday night.
Riley's biggest beef with weekday games is the lack of preparation time a team gets, as everything in the schedule will be moved up a day and the staff will try to cram five days of teaching into four.
But what really puts NU in a bind this week is how beat up its roster is across the board right now. The Huskers were down multiple starters on Saturday, and now they have one less day to heal and get back to practice.
There's no question that having another day of rest, treatment, practice and film study would be incredibly valuable for the Huskers, but they'll have to play the schedule they've been dealt.