Final take: Maryland might just be what NU needed going into Iowa
COLLEGE PARK, Md. - Nobody is going to pretend like Nebraska's win over Maryland on Saturday changed the narrative of this 2019 season.
However, what their 54-7 win did do is set the stage for at least a meaningful Black Friday showdown in Lincoln vs. Iowa.
NU finally played a game on Saturday where they clicked in all three phases. The defense forced turnovers, sacks and three outs. The special teams controlled field position and Matt Waldoch looked better than any Husker kicker all season.
Meanwhile, the offense wasn't necessarily at it's best, but they were efficient and most importantly limited their mistakes. It was a slump buster kind of day, giving Nebraska their first win since Oct. 5.
"All three phases did some good things," NU head coach Scott Frost said. "We haven't done that a lot this year. We are overdue to get some breaks. I know we got some tipped balls and some turnovers. Those things can happen when you are on a role. I was really happy with the team and the enthusiasm they had, playing for each other and playing together. I think that was the difference."
The Huskers had a season-high in points (54) and quarterback sacks (6), as well as tying a season-high in forced turnovers with four.
It by no means was the prettiest day for Frost's offense, but considering the circumstances, it was one of their more efficient. Junior running back Dedrick Mills and wide receiver JD Spielman battled sickness all week, and even during parts of Saturday's game.
Starting wide receivers Wan'Dale Robinson and Kanawai Noa didn't even make the trip to College Park.
What mattered though was this team still came to fight. They didn't back down, and they delivered a knockout blow to an opponent, which hasn't happened in a while for the Big Red.
"I've seen it coming for a long time," Frost said. "When you get on a roll and you get some momentum, it seems like it just keeps going that direction. I think our guys need a few of these to have that confidence that these kinds of things can happen."
The biggest thing is a lot of these Husker seniors realize things are coming to an end, and they played like that on Saturday.
"It was a huge confidence builder for us," senior defensive lineman Darrion Daniels said.
"There is just a lot of guys who are trying to value the last few moments with each other. Our days are numbered and our days are limited. The older guys just want to spend as much time with each other as we can. We just want to do as much as we can in the short amount of time we have left. Today was just the outcome of that. Everybody just wants to be around each other and make the best of the little bit of time we have left."
And they are going to need all the confidence they can get going into their Black Friday game with Iowa.
The Hawkeyes have only allowed more than 20 points to an opponent once all season, and that was a 24-spot put on them by Wisconsin.
"We are playing a really good team Friday," Frost said. "I've had a chance to watch Iowa. They are one of the best teams in the league. We are going to do everything we can to get ready for a really good team. The win today gives us a chance."
Now on to the breakdown...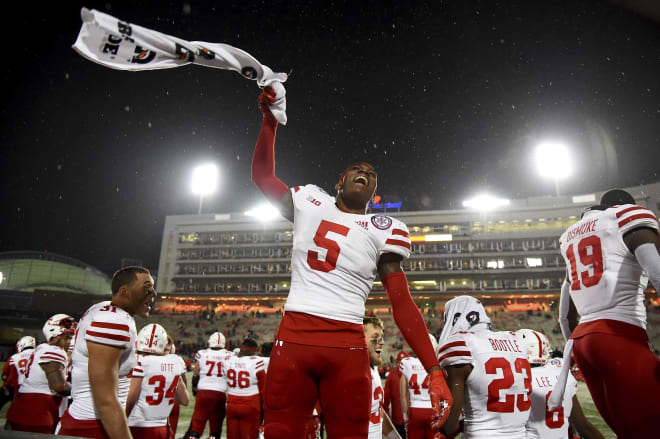 What I saw on Saturday 
***The crowd at Capital One Field on Saturday was probably a 50-50 split between Husker and Terp fans. Most of Maryland's main booster tailgate lots were less than half full and many were occupied by Nebraska fans.
It's the only Big Ten stadium NU has not played in, and 2019 is the lone trip the Huskers will make to College Park on the released conference schedules through 2025.
***Kicker Barrett Pickering didn't make the trip to College Park on Saturday because of the concussion protocol. Pickering was involved in a collision on a kickoff coverage play last week vs. Wisconsin. However, you can argue in his place, walk-on kicker Matt Waldoch from the club soccer team looked better than any kicker all year. Waldoch made solid contact on his kicks and all three of his field goals were no doubters.
***Running back Dedrick Mills was really battling sickness all week and left the game for the locker room to get more fluids in the second quarter. It was that type of week for the Big Red. Freshman outside linebacker Garrett Nelson was sick as well and seen wearing a medical mask at the team's arrival on Friday. Frost said after the game Nelson was diagnosed with influenza B.
Back-up quarterback Luke McCaffrey didn't start practicing during the week until Thursday. Wide receiver Kanawai Noa and running back/wide receiver Wan'dale Robinson both didn't travel to College Park as well.
Frost said that McCaffrey's move to wide receiver on Saturday was obviously a temporary one.
***Finally some of the bad breaks we saw all year not go Nebraska's way did on Saturday. The touchdown pass to JD Spielman was a perfect example of that. The pass easily could've been picked by two Maryland defenders, but instead bounced right into the hands of Spielman.
***Nebraska went out of their way on Saturday to make sure they maximized the reps of freshman running back Rahmir Johnson. Johnson had 18 carries for 55 yards. We even saw Jaylin Bradley and Brody Belt get some carries.
***NU's defense set the tone right away on Saturday forcing a fumble on Maryland's first offensive play. Carlos Davis forced the fumble and Marquel Dismuke recovered it. We haven't seen the Huskers defense make very many impact plays like that all season.
***Of the young players that came in the game late, I thought freshman linebacker Luke Reimer showed the most promise. Reimer was flying around making plays. He has a bright future in the program.
The final grade out
Rushing offense: B
Nebraska had an efficient 305 yards on 57 carries. No running back had a run longer than 13 yards and no player had a run longer than 20 yards other than Adrian Martinez. I thought McCaffrey's running late was probably the highlight for NU's rushing offense. He's a difference-maker with the ball in his hands.
Passing offense: B
Martinez finished 16-of-25 for 194 yards. He was shaky at times early, but he had good protection and time to make his reads. The tip ball to Spielman ended up being a big break for the Huskers.
Rushing defense: A
Before Maryland starting running back Javon Leake had a 58-yard touchdown on Nebraska's second and third unit defense, the Huskers held the Terps to under 100 rushing yards on the day. They finished with 149 on 31 carries.
Passing defense: A
Maryland played four different quarterbacks that when a combined 7-of-21 for 57 yards. They were maybe the worst collection of QB's I've seen in the conference in a while. Their receivers weren't getting open at Nebraska got great pressure on them. The Terps long pass play of the day went for just 12 yards.
Special teams: A

Nebraska controlled field position with some great punts from Isaac Armstrong and they limited any returns by Maryland with short squib kicks. However, maybe the biggest boost came at placekicker. Walk-ons Matt Waldoch and Harrison Martin were perfect on their kicks. Waldoch struck the ball better than any kicker all year. He could end up being the starter next week vs. Iowa.
Sean Callahan can be reached at sean@huskeronline.com and he can be heard each day at 6:45 am and 5:05 pm on Big Red Radio 1110 KFAB in Omaha during the football season. He can also be seen on KETV Channel 7 in Omaha during the fall and each week he appears on NET's Big Red Wrap-Tuesday's at 7 pm.