Final take: Rock bottom 2.0
I don't think very many people expected Nebraska to come into Saturday night's Ohio State game and win as a 17-point home underdog.
However, I do think it was a reasonable expectation for the Huskers to play a game that delivered promise for the future. A game that showed growth within the program under head coach Scott Frost in two years.
Instead, the Buckeyes came into Lincoln and boat raced the Big Red 48-7. If last year 56-10 loss at Michigan was "rock bottom," Saturday night's loss to No. 5 ranked Ohio State was "rock bottom 2.0."
It was once again a sobering reminder of just how far NU has to go to be a top-flight program like Ohio State.
"We didn't get it done tonight," Frost said. "We keep preaching turnovers and we can't turn it over three times in the first half, again, especially against a team like that.
"We're all disappointed. I thought we had a puncher's chance if we came out and played a really good game, and we didn't, so that's the result. I told the team that we can't doubt for a second where this is going, what we are doing to get it there, the improvements we've made so I want the guys to go to bed tonight and put this behind them and be looking forward to a week from today. We have another chance to come out and play in front of these great fans."
It doesn't get much lower than what we saw on Saturday. This ranks right up there with 2017 Ohio State, 2007 Oklahoma State and 2007 USC as one of the lower moments we've seen in Memorial Stadium in the modern era. Never once did you feel the Huskers were in this game.
First-year Ohio State head coach Ryan Day's team put on a clinic in the first half, holding the ball for 18:43 and converting 7-of-8 third downs. The Huskers failed to force a single first-half punt. Before you could blink your eyes it was 38-0.
The Nebraska offense was even worse. Adrian Martinez threw more completions to Ohio State than his own team in the first half. Martinez was 2-of-8 for just 10 yards passing at halftime, throwing three interceptions. On NU's seven first-half possessions, they had three interceptions and four three-and-outs. Their offensive line was getting whipped upfront and their wide receivers weren't winning at the line of scrimmage.
It was one of those halves where a lot of people probably were halfway to York before the third quarter started. It was that bad, and probably something most Husker fans feared going into Saturday. You knew NU's turnover problems from the first four games might come up and bite them eventually. It swallowed them on Saturday.
"This game is not going to define this team," Martinez said. "It won't. We're going to learn from it. We're going to have 24 hours just like always to mourn or rejoice about it. Whatever the case may be, and we're going to get back to work. It's going to be a lesson for us. That's a really good team there. Got to take care of the football. The things we preach, we have to go out there and execute those things."
With ESPN College GameDay in town for the first time since 2007, there was obviously an excitement this week, but also a fear of another brand-damaging game on the big stage.
Frost and this team still have 7 games left to change that narrative, but Saturday was once again a reminder of how big the gap is between NU and the top tier of college football.
"You're never as far along as you want to be," Frost said. "I'm sure if you ask them, they're not as far along as they want to be. That's just coaching. If you lose your drive to get better and you're satisfied with where you are, you're not going to get any better.
"Obviously, I wish we were undefeated and have won every game by 100 points, but that's not where we are. We're clawing, we're scrapping, we're grinding, we're trying to get better on the field and off in every possible way that we can so that when we get more opportunities like this to play top-five teams in the country, that we do better."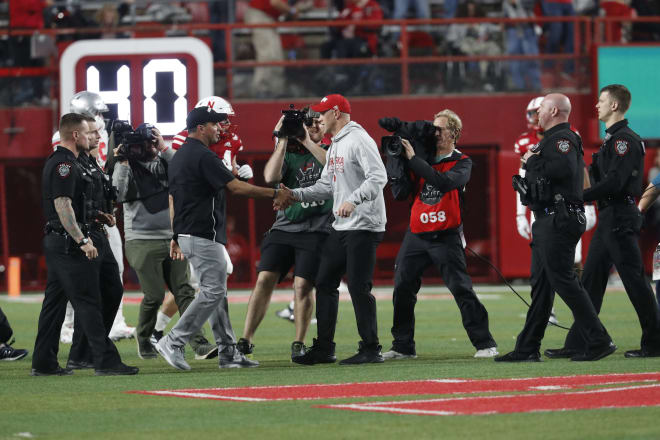 What I saw on Saturday 
***Don't get me wrong, Nebraska couldn't have played much worse on Saturday, but give Ohio State a ton of credit. That was one of the more complete teams the Huskers have faced since joining the Big Ten Conference in 2011. They look like a top-4 team right now.
***The way NU approached kickoffs on Saturday was a good example of the talent gap between the Huskers and the Buckeyes. OSU did a great job of kicking the ball high forcing your return man to make a decision, and their coverage team gets down the field so fast getting a kick return on them is next to impossible.
***At halftime usually the coaches sprint out of the box to the elevator on the sixth level where we sit. Saturday was one of the first times I can ever remember seeing the Husker coaches not running to the elevator. Halftime adjustments weren't going to make much of a difference on Saturday.
***I liked the wrinkle Frost came out with in the I-formation. It gave the Huskers their only spark of the night, and I feel Dedrick Mills runs better when Martinez is under center. He's not nearly as good of a runner out of the shotgun. That makes sense because at Georgia Tech and Garden City Mills was very effective as a runner when the QB was under center.
***Running back Maurice Washington still looks like he's bothered by the leg injury he suffered at Illinois last week. Once he took a good shot to the leg on Saturday, he wasn't the same.
***Junior college transfer defensive lineman Keem Green saw the first action of his career on Saturday late in the third quarter. He has a redshirt, so he can play in up to four games this season.
Wide receiver Kade Warner also got on the field for the first time this season after suffering an injury during training camp.
***After seeing Justin Fields on Saturday, I can see why Tate Martell took the first bus out of town. Fields looks as good as any Buckeye quarterback in recent years. He's playing like a guy we'll see in New York. What's crazy is another former Buckeye quarterback Joe Burrow may also be in New York as well.
***The one positive of the night came in recruiting. The Huskers locked up a commit from top 2021 offensive lineman target Teddy Prochazka. He's the third consecutive high-profile tackle NU has landed over a three-class span from 2019 to 2021.
The final grade out
Rushing offense: F
The only spark Nebraska got in the run game came when they went into an under center I-formation. Other than that, the Huskers failed to do anything on their early-down runs when it mattered. Washington had just four carries for 9 yards. Mills added 67 on 11 carries.
Passing offense: F
Martinez had three interceptions on his first seven passing attempts of the game. He was off the mark all night. The first catch by a non-running back didn't come until the late third quarter. NU's long pass on the night was only 10 yards.
Rushing defense: F
The Buckeyes rushed for 368 yards on the ground. JK Dobbins broke through arm tackles all night and finished for 177 on 24 carries. When Fields wanted to run, he was nearly unstoppable. They made it look effortless at times.
Passing defense: F
There were coverage busts downfield, but some of it was just perfect throws being made by Fields. OSU was an efficient 15-of-21 for 212 yards and three touchdowns. They were nearly perfect on third down throwing situations.
Special teams: F
Nebraska got a block in the back on their opening kickoff that set the tone for the entire night. They picked up another later in the game. Isaac Armstrong's punts also had poor hang time and distance, as he averaged just 35.2 yards per punt. NU didn't force their first punt by Ohio State until under 14 minutes left in the fourth quarter.
Sean Callahan can be reached at sean@huskeronline.com and he can be heard each day at 6:45 am and 5:05 pm on Big Red Radio 1110 KFAB in Omaha during the football season. He can also be seen on KETV Channel 7 in Omaha during the fall and each week he appears on NET's Big Red Wrap-Tuesday's at 7 pm.