Final take: Frost's 'fear of no failure' set the tone for the second half
Call it a "fear of no failure," or a "fear of the field goal," the way Nebraska head coach Scott Frost attacked the final 44 seconds of the first half set the tone for the rest of the game.
Leading 23-5, the Huskers had the ball on their own 13-yard line. Most coaches in that situation would run the clock out and head to the locker room, especially when your top two kickers are out with injuries, and your third-string kicker had three kicks blocked on Saturday.
Frost had different plans. He wanted to send a message to his team that they weren't "throttling down" and heading to the locker room. They were going to attack the final 44 seconds and go for points.
The plan could've backfired in Frost's face, but instead, the final result was an 87-yard scoring drive in 39 seconds that put the Huskers up 30-5 and laid the foundation for NU's 44-8 victory over Northern Illinois on Saturday.
"We preach to the guys and maybe I needed to get the lesson from outside and from my assistant coaches last week," Frost said. "We preach a desire to excel and a fear of no failure all the time and if we want the players to be that way, we need to be that way as coaches. That means calling what we need to call, rolling the dice, letting them play, being aggressive. That's the way I want our team to think and if we get the ball back with 40 seconds we want them to think score. For them to do that, we need to do that."
It's a completely different approach than how Frost attacked the overtime period last week at Colorado. With a chance to win the game, Frost said he played it safe with two straight run calls to prevent a potential interception.
If the Huskers are going to take this season to the next level, they are going to have to attack every game as they did on Saturday.
NU's offense had it's up and down moments on Saturday. Those final 39 seconds showed that Frost still had plenty of faith in his offense, despite the fact they had some early bumps in the road. That 23-5 score should've been much worse, but Nebraska's early mistakes kept the game closer than it really was.
"I think last Saturday we had the chance to put the game away," sophomore quarterback Adrian Martinez said. "I think we came out today and offense wanted to prove something, and then in the second half wanted to finish the game. I think we did that and that is what I mean by mindset. I think that is half the battle, and our guys approached it the right way today."

With the win on Saturday, now the focus turns to Big Ten play. The Huskers open up next week at Illinois, before defending Big Ten champion Ohio State comes to Lincoln.
"I think we needed those first three games just to get ready," senior defensive lineman Carlos Davis said. "Last year we missed a game and we were kind of behind, so I think now we are ahead of the game, and we are ready. We are ready for Big Ten play."
"I think tonight was a great building block heading into Big Ten," Martinez said. "I think the rest of the guys realize that it is time for conference play. Just keep chugging along, I wouldn't say our mindset even changes. Like I said earlier, keep on building off what we have been doing in practice and games each week and we are going to be the team we want to be."
Now on to the breakdown...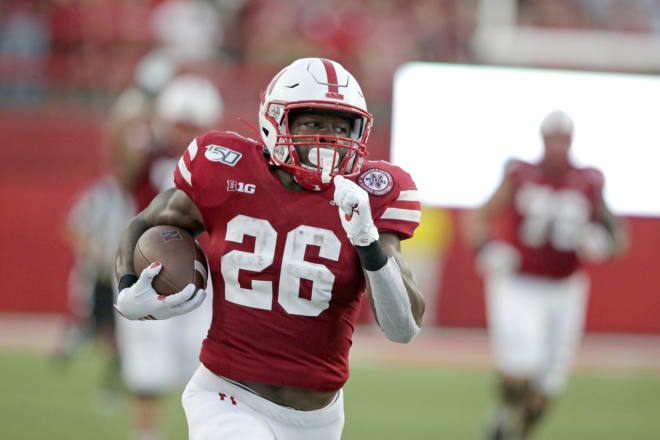 What I saw on Saturday 
***Nebraska's defense continues to be the story of this young season. They controlled Northern Illinois upfront, and that set the tone for the entire game. The longest gain the Huskies had in the first half was 17 yards. They had three plays longer than 20 yards on Saturday, none longer than 28.
***Nebraska had nine plays of 20 yards or longer on Saturday. Before that, they had eight in the first two games combined.
***It was good to see guys like Kanawai Noa, Dedrick Mills and Mike Williams all get going on Saturday. This offense is going to need them if they are going to take a step forward. Noa's touchdown catch before halftime was arguably one of the bigger plays of the game.
***Adrian Martinez just seemed off at times early in this game. In the first half, he struggled running the football but was able to make up for it with some big plays to close out the second quarter. The more other guys that can get involved in this offense, the easier it's going to be for Martinez to run.
***The situation at kicker becomes more concerning by the day. I can't remember a game ever where Nebraska had three different kicks blocked. I also can't remember one where they blocked two punts. Saturday was one of oddest days you'll ever see in the kicking game.
I was glad to see Lane McCallum get a chance on Saturday. His high school kicking background speaks for itself, and his multisport background at Norfolk is very similar to several of the great kickers and punters Nebraska has had in the past.
***Nebraska probably won't give redshirt freshman Isiah Stalbird a scholarship this year, but after blocking two punts and being a key special teams player, he's definitely on the shortlist for the future. He's got a heck of a career ahead of him.
***Sophomore tight end Austin Allen was in the right place three times on Saturday. He picked up two blocked punts and also recovered a key fumble by tight end Jack Stoll that eventually led to a scoring drive.
***The injury to defensive back Cam Taylor-Britt is very concerning. Frost said at halftime on the Husker Sports Network "it may not be as bad as they originally thought." Taylor-Britt appeared to suffer a right shoulder injury.
***The injury to left tackle Brenden Jaimes is also a big concern. He left the game with a leg injury and Broc Bando was forced to step in for him.
***Redshirt freshman cornerback Braxton Clark recorded an interception in his first real action of the season on Saturday. They need more of the young defensive backs like Clark to step up and make plays.
***True freshmen Rahmir Johnson, Myles Farmer, Bryce Benhart and Darien Chase made their Husker debuts on Saturday.
The final grade out
Rushing offense: B+
This was the best day by far Nebraska has had on the ground in 2019. NU went for 238-yards rushing, and Dedrick Mills is the first running back to go for over 100 yards on Northern Illinois in 18 games. Mills did have a costly fumble though, and Martinez struggled on some of his early plays in the QB run game.
Passing offense: B
This was not Adrian Martinez's best day, but he still made some very clutch throws when it mattered. I thought particularly his touchdown pass to Noa and his third-down pass to tight end Jack Stoll were game-changing moments.
Rushing defense: A
For the third time this season Nebraska has held their opponent to under 100 yards rushing. Returning 1,000 yard running back Tre Harbison had just 30 yards rushing on 12 carries. This continues to be the overall strength for Nebraska in 2019.
Passing defense: B
Nebraska's pass rush was disruptive at times on Saturday. I also thought cornerback Lamar Jackson played an outstanding game, leading NU with four of their 10 pass break-ups.
Special teams: C
Nebraska blocked two punts on Saturday, but they also had two field goals and one extra point blocked. The kicker situation continues to be a question, and this played a major factor in the overall grade. The coverage in the return game was outstanding, as NIU's long punt return was 4 yards and their long kick return was 17 yards. NU's only penalty of the game came on special teams as well.
Sean Callahan can be reached at sean@huskeronline.com and he can be heard each day at 6:45 am and 5:05 pm on Big Red Radio 1110 KFAB in Omaha during the football season. He can also be seen on KETV Channel 7 in Omaha during the fall and each week he appears on NET's Big Red Wrap-Tuesday's at 7 pm.