Final Take: Bring on the Ducks
Yes everybody expected Nebraska to start the year off 2-0, but after last season's roller-coaster ride nothing should be taken for granted.
A few things jump out to me about the Huskers as you break down these first two games. No. 1, the offensive balance. Last week NU rushed for nearly 300 yards and this week they threw for 412. They have the ability to take what the defense gives them, and today it was the pass. Last week it was the run.
No. 2, turnover margin. Nebraska is +7 on the season in turnover margin. They haven't finished a season in the positive side for turnover margin since 2009.
As the Huskers await Oregon in Lincoln next week for an ABC national television game, these are some nice things to hang your hat on.
"I think it is great to be 2-0 for sure, going into this game," head coach Mike Riley said. "I think it is an exciting time. The one thing about it that you all know, being around here, the more you win, the more exciting the next game gets. Of course this one being who they are and what they mean nationally and where we want to go, this is exciting."
For Riley and his staff, next week is more than just a big game. Oregon is a team that really overshadowed their accomplishments at Oregon State. The Ducks got the best of Riley at OSU, and for the six full-time assistant coaches on the staff that came with him, this is a game they've been circling on the calendar since being hired in December of 2014.
"We really preach that one week at a time," offensive coordinator Danny Langsdorf said. "Of course we have history with this team, but until now we haven't thought about them, and being 2-0 and getting to host them will be really good. It will be a great atmosphere and huge game for our guys in the national spotlight."
Senior quarterback Tommy Armstrong also knows what next week means to the program.
This match-up with Oregon is the type of game that can swing the entire season and take things to another level.
"This is a big week for us coming up," Armstrong said. "We know it's going to be hectic. We know it's going to be a lot of eyes on us, definitely how we handle the situation. Like we always tell each other, we've just got to make sure we stay focused. Let the outside things just be there. We can control what happens in this facility and practice, how we study film. We can't get caught up in a big time game (atmosphere).
"We've got to focus on us. That's what it is all about this year, is focusing on us getting better each and every week. This is going to be a big task for us. I think we're ready for it. Definitely you know (facing) these guys going into conference. Set us up for a great conference play."

Now on to the post game grade out...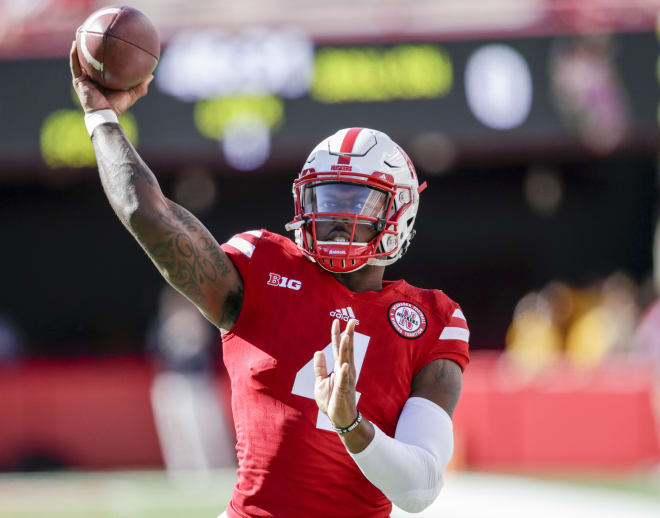 WHAT I SAW SATURDAY 
***Nebraska gave sophomore running back Devine Ozigbo the start at running back. It was well deserved after his play a week ago.
***It was clear to me how much Nebraska missed both safety Nate Gerry and wide receiver Brandon Reilly last week. Gerry had two picks and led the Huskers in tackles, while Reilly added another big play element to this offense.
***We are finally starting to see the famous "Mike Riley screen game" come to life. Riley has always been known for his screen game, and I think we got a good taste of that on Saturday.
***The self-inflicted wound penalties are really starting to become an issue. It hasn't come back to bite Nebraska yet, but as they get to the Power 5 stretch of the schedule that has to improve.
***Yes Armstrong threw a bad interception on a forced ball in the end zone, but lets give credit where credit's do. It's hard to be too critical about a 20-of-34 performance that went for 377 yards and three touchdowns. And how about back-up Ryker Fyfe. He threw a beautiful touchdown pass to walk-on Gabe Rahn.
***I was worried about how this defense would hold up without Mick Stoltenberg in the middle, but they sure answered the bell. Wyoming came right at them, and the Huskers completely shut down the inside run.
***You can just sense the excitement in Riley and offensive coordinator Danny Langsdorf's voice for this upcoming week's game against Oregon. This is the type of game that can really swing the season.
THE FINAL GRADES 
Rushing offense: C+
Wyoming really did all they could to take away Nebraska's running offense. Mike Riley said the coaches box counted at least 30 middle blitzes where they took away the inside game. I think Saturday showed why offensive balance is important.
Passing offense: A-
Other than the one "Oh Tommy" interception, the passing game was near lights out on Saturday. The Huskers threw for 412 yards and four touchdowns, as two different wide receivers went over 100 yards receiving. Armstrong finished just 5 yards short of having a career passing day in yardage. He also became the school's all-time leading touchdown passer passing Taylor Martinez now with 57.
Rushing defense: A
Wyoming came into Lincoln thinking they could run the ball against the Huskers. I thought the Blackshirts sent an early message that inside runs weren't going to be there by shutting down three consecutive third-and-short attempts by the Cowboys. NU held the Mountain West's leading rusher in Brian Hill to just 49 yards on 17 carries - his worst performance in nearly a year. Without him, their offense was very one-dimensional.
Passing defense: A-
Nebraska forced five interceptions on Saturday, the most in a game since 2010. NU is now +7 in turnover margin on the season, after forcing six total on Saturday and two last week, while only losing one. The only thing you can really be critical about is allowing Josh Allen to throw the touchdown pass on fourth-and-long before halftime. Also Nate Gerry really pulled his weight by getting two interceptions and leading the Huskers with 7 tackles.
Special teams: D
This has been a real concern for me through two games. Caleb Lightbourn averaged just 31.3 yards on three punts and his hang time was very low. Wyoming was able to get a 25 yard return on one of those low punts. However, the worst moment of the day happened when Lightborn called his own number on a fake that wasn't supposed to be happen. The Huskers also failed get a punt return on Saturday. The two positives were Jordan Nelson's 45 yard return and Drew Brown's 29 yard field goal.
Sean Callahan can be reached at sean@huskeronline.com and he can be heard each day at 6:45 am and 5:05 pm on Big Red Radio 1110 KFAB in Omaha during the football season. He can also be seen on KETV Channel 7 TV in Omaha during the fall and each week he appears on NET's Big Red Wrap Tuesday's at 7 pm.