Final take: When in doubt, give it to Rex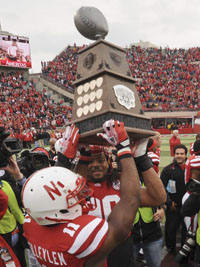 When quarterback
Taylor Martinez
hurt his ankle in the first half of Friday's 20-7 win over Iowa, I imagine head coach
Bo Pelini
's conversation to running back
Rex Burkhead
went a little something like this: "Take us home Rex."
After a 12 game grind in NU's inaugural season of the Big Ten Conference Pelini went back to the player who helped him get critical wins over Ohio State, Michigan State and Penn State.
NU rode Burkhead out on Friday for a school record 38 carries and 160 yards. There was nothing fancy about the game plan. It was classic Burkhead.
"He's a warrior," offensive line coach
Barney Cotton
said of Burkhead. "He's got a stallion's heart.
"He's the guy that you want to stand in the alley with. He's the guy that you want to give the ball to when you need 2 and he'll get you 3. He's that guy. He may not be the fastest or the biggest or the prettiest, but he's that guy."
Burkhead finished the season on Friday with 261 carries for 1,268 yards. As Burkhead limped out of the postgame press conference I told him to go take a nap and get some rest over the next month.
"I think I may go take two naps," Burkhead joked.
It's been that type of year for the Plano warrior who has meant everything to first year offensive coordinator
Tim Beck
and his up-tempo system.
In a lot of ways you can say the way Burkhead chewed up the clock today helped Nebraska's defense more than anybody.
In losses to Northwestern and Michigan we saw what an absent Burkhead from the box score did to NU's defense. It put them on the field for more plays than they could handle, which ultimately led to Nebraska unraveling in both situations.
As you begin to wrap up your Thanksgiving weekend be thankful for No. 22, because it's hard to even imagine what type of season this would've been without him.
What I saw on Saturday
***Pelini basically told senior cornerback
Alfonzo Dennard
to go make some money today. Dennard was outstanding, holding Iowa wide receiver
Marvin McNutt
to just 29 receiving yards, by far his lowest output of the season.
***What can't you say about senior linebacker
Lavonte David
and what he's meant to this program? David came up with another game changing fumble strip in the second half after Iowa's tight end was called for an offensive pass interference penalty for pushing off. I'm glad David will get a chance to play his final game most likely in his home state of Florida.
***Wide receiver
Kenny Bell
had a solid bounce back game with five catches for 93 yards. Bell also drew a couple of penalties that were game changing moments as well.
***Speaking of bowl games, the Outback was the only bowl in Lincoln for Friday's game. More than likely NU will either go to the Outback or Capitol One Bowls depending on what happens in other action around the Big Ten tomorrow and next week. I don't see NU falling past the Outback Bowl. The Florida bowl games are salivating for the chance to get 30,000 Nebraska fans to travel south.
The final grades
Rushing offense: A
It was a record breaking day for Burkhead, finishing with 160 yards on 38 carries. Nebraska ran for 222 yards on 61 carries. It was by no means a flashy day, but it was a very efficient performance by Burkhead and NU's guys up front.
Passing offense: B
Operating on a bad ankle, Martinez finished 12-of-22 for 163 yards and a touchdown. Martinez's TD pass to
Kyler Reed
on third down right before halftime was huge because it put the Huskers up 10-0 going into the locker room. The Huskers finished an impressive 10-of-21 on third down conversions on Friday.
Rushing defense: A
Nebraska did a great job of neutralizing Iowa running back
Marcus Coker
, who finished with just 87 yards on 18 carries. Coker had a couple of nice runs early, but he was a non-factor in the second half.
Passing defense: A+
Coming into today McNutt led the Big Ten in receiving yards, but he was completely shut down by Dennard. McNutt had a season-low 29 yards receiving and
James Vandenberg
finished 16-of-35 for 182 yards.
Special teams: B
After a shaky start for
Brett Maher
, he finished things strong on Friday. Even with his shanked punt for 16 yards, Maher managed to average 41.9 yards on seven punts, placing four inside the 20 yard line. Maher also was perfect on two field goal tries and Iowa's longest kickoff return was just 23 yards.
Sean Callahan can be reached at sean@huskeronline.com and he can be heard each day at 6:50 am and 4:50 pm on Big Red Radio 1110 KFAB in Omaha during the football season. He can also be seen on KETV Channel 7 TV in Omaha during the fall and each week he appears on NET's Big Red Wrap Tuesday's at 7 pm.