Final take: Still looking for more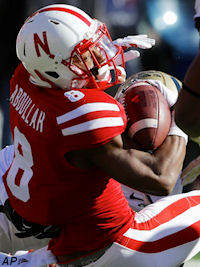 Click
Here
to view this video.
On paper if you were to see Nebraska beat Purdue by 21 points on Saturday to improve to 8-1 for just the second time since 2001 you would think the Big Red Machine was off and rolling.
However, if you look deep inside NU's 8-1 start and particularly their play over the last two weeks you would know there are still a lot of questions going forward.
On Saturday we saw just what this offense looks like without Heisman Trophy candidate running back
Ameer Abdullah
. The offense lacked identity at times, and made costly mistakes that would get them beat in big games going forward.
Quarterback
Tommy Armstrong
was the first to recognize that and immediately pointed it out in the post-game press conference.
"We got a win, but if we play a team like Wisconsin or Iowa upcoming, it's not going to be pretty," Armstrong said after throwing for two interceptions and leading the offense to a season-low 297 total yards in Nebraska's 35-14 victory.
It wasn't pretty by any means, but luckily head coach
Bo Pelini
's defense and special teams played lights out for most of the day controlling field position, blocking punts and holding Purdue to just 2-of-16 on third down and 1-of-6 on fourth down conversions.
The offense on the other hand wasn't so pretty. On their final six possessions NU's longest drive was three plays for 9 yards. They had three, two, three, three, one and two play drives to close the game. It was a buzz kill ending for the offense and it dominated the talk of the fan base on social media and message boards following the game.
"If we keep playing like this we are going to lose one of our games," Armstrong said. "It's unacceptable. I'm embarrassed by just being able to come up here and know that we won, but with the way that we played we should've lost. It all starts off with me. I didn't have my offense the right way. Our defense played a heck of a game. They got stops here and there when they got stops. It sucks. It sucks game planning for a whole week and thinking that we are doing a great job and then go out there and have moments here and there were we are unstoppable and then moments where things are just going downhill."
People obviously aren't upset with an 8-1 start, but I think it's the fear of what's to come. Husker fans have seen the meltdowns happen in November too much over the last few seasons and they fear another one could be coming if the offense doesn't get things shored up over the bye.
"To be honest with you, I don't know if I'm ever really happy," Pelini said. "I always know that there's that much more out there for us. I watch the film and I know what I want to see. Myself and the coaches and hopefully the football team, I hope they feel the same way. You have to get a little bit of a sense of being a perfectionist and knowing that you have to keep pushing if you really want to reach your potential.
"I think that's a challenge we have over this last month. And that's what we need to carry us through. We've got a heckuva challenge ahead of us in the next couple of weeks, as with the other two opponents we have coming in. You just have to keep getting better. Believe me, I saw some really good things out there today. But there's still a long way to go for us."
Now on to the post game grade out….
What I saw on Saturday
***The good news is Abdullah's knee injury doesn't appear to be anything long term. With 14 days to rest you would think he would be good to go for Wisconsin. You just hope it's nothing like what Rex Burkhead went through in 2012.
***On a day where NU's offense struggled, Pelini turned to his special teams to make plays. To see the Huskers go after punts the way they did was a thing of beauty. It was something that's been missing here for quite some time.
***Sophomore
Nathan Gerry
is making plays like an All-Big Ten safety. He has four interceptions now in five Big Ten games. His ability to ball hawk is something the Huskers haven't had a free safety in quite some time.
***A big concern on Saturday was NU's struggles inside the 5 yard line. The fact they don't have the ability to go under center around the goal line and just sneak it in with their quarterback is a big concern going forward.
***The biggest play of the day for the offense was no doubt Armstrong's 29 yard touchdown run on fourth down. Purdue had an all-out blitz on and Armstrong was able to make his guy miss and take it the distance. That's just a football player making a play.
***There probably couldn't have been a better game for four star running back recruit
Kendall Bussey
to be at on Saturday. Hopefully Bussey saw the questions the Huskers have at running back going forward after Abdullah.
***It was very interesting to see 2014 recruit and now Milwaukee Brewer
Monte Harrison
at Saturday's game. Harrison was on the sidelines during pregame warm-ups and attended the game as "a friend of the program."
The final grades
Rushing offense: D+
Nebraska rushed for just 179 yards on 51 carries, led by Armstrong's 70 yards, including his 29 yard touchdown run on fourth down.
Imani Cross
added 66 yards and
Terrell Newby
added 42 yards. The biggest thing the day lacked after Abdullah went down was explosive plays. Cross's longest run was just 10 yards and Newby just 9.
Passing offense: F
This was arguably the worst Nebraska's passing offense has looked this season. Armstrong was 8-of-21 for 118 yards and two interceptions. The best throw of the day was his opening touchdown pass to
De'Mornay Pierson-El
. After that it was all downhill as things looked out of sync for most of the afternoon.
Rushing defense: B+
It was a solid day for Nebraska's rushing defense, holding Purdue to only 124 yards rushing. Purdue running back
Akeem Hunt
had just 66 yards on 21 carries, and most importantly his long run was only 11 yards.
Passing defense: A
This was probably the strongest part of the day for Nebraska.
Austin Appleby
was just 18-of-46 for 216 yards, but most importantly NU was able to get to him with four man pressure packages. The Huskers produced nine quarterback hurries, two interceptions, three sacks and 11 pass break-ups. The pass defense looked dominating at times and Pelini called just a handful of blitzes throughout the game.
Special teams: A-
The Huskers blocked two punts in the first quarter and got a 42 yard punt return from Pierson-El to set the table for NU's special teams play. The only things you could be critical of were a missed 46 yard field goal by
Drew Brown
and one shanked punt by
Sam Foltz
.
Sean Callahan can be reached at sean@huskeronline.com and he can be heard each day at 6:50 am and 5:05 pm on Big Red Radio 1110 KFAB in Omaha during the football season. He can also be seen on KETV Channel 7 TV in Omaha during the fall and each week he appears on NET's Big Red Wrap Tuesday's at 7 pm.
[rl]