Final take: So whats next
Click
Here
to view this video.
[rl]Iowa's game plan on Friday was pretty simple. They played fundamental sound football and they did what you would expect a 12-0 team to do.
They put the ball in the hands of Nebraska quarterback
Tommy Armstrong
and dared him to beat them. They dared him to take risks, and they made him pay for his mistakes.
Armstrong tossed four interceptions, giving him nine over NU's final three games this season. That was more than enough to seal the deal for the Hawkeyes (12-0, 8-0) in their 28-20 win over Nebraska (5-7, 3-5) in Memorial Stadium.
"If it's anybody's fault its mine," a dejected Armstrong said after the game. "Our defense played well. Our receivers caught well. Offensive line blocked well, put us in great positions to win the game. I just didn't take care of the football.
"I gave them seven points and put them in great position to win the game. It's something I gotta fix and honestly like I said, if you want to put the blame on anybody, the team played well and I just didn't."
He's started 32 games over his Husker career now at quarterback. He's 14-10 the last two seasons. Riley and Langsdorf did their best to build around his strengths, but it just hasn't worked.
Early enrollee and incoming freshman
Patrick O'Brien
now becomes the story going forward. Will he be good enough to push Armstrong? Can he play in this offense with the consistency Riley and Langsdorf want, or is Armstrong still their best option going forward in 2016?
This will be a topic of discussion from December to August.
The next matter of business will be watching how this weekend plays out and if NU gets invited to a bowl bid at 5-7. It's almost a lock if there aren't 80 bowl eligible teams the Huskers will get an invite.
I'm mixed on going to a bowl game, because I'm not sure what it can prove at this point. For example, what would a win over a Mountain West team or a MAC school do at this point? What is the difference between 5-7, 6-7 or 5-8? Not much in my book - they are all seasons that fell short.
However, I also get the players deserve the chance to go if they are invited. It is a reward for the time and work they put in.
Riley continues to keep an open mind about it, we should have a clearer picture where things stand on Sunday.
"I told them, we don't know what is going to happen," Riley said on what's next. "This team fought all year; there was never a game where they didn't compete in. I appreciate that about them. There is a lot of things there we wish we could get back, there's a few plays here and there, but that's not life. I think it will all help us as we go forward. Whatever it is, whatever happens with this team… there is enough stuff here where we will be excited about working on it in the near future."
Now on to the post game breakdown….
What I saw on Saturday
***The call to eject
Nate Gerry
on the targeting penalty was a game changer. Not having him hurt on both of those
Jordan Canzeri
runs.
***What makes Iowa tough is they don't beat themselves. The feed off your mistakes and Nebraska made just too many of them.
***I really question the decision by quarterback
Tommy Armstrong
to throw deep on fourth-and-1 when he had a wide open tight end in the flats. I guess I question even more why NU didn't try to run it in that situation.
***Did fullback
Andy Janovich
have the day off on Friday? I sure would've like to have seen him get a few touches in this game on short yardage runs.
***The four interceptions and overall decision making by Armstrong really makes you question what will happen at quarterback in 2016? How will things be handled with
Patrick O'Brien
when he gets here in January. One would think he's going to get a heck of a look to push Armstrong this spring. Riley and
Danny Langsdorf
don't strike me as coaches that want to live another season off back foot throws and bad decisions at quarterback. This offense won't work with that kind of inconsistency.
***How about this stat - Iowa ran just 18 plays in the entire second half. 44 total offensive snaps. The Hawkeyes didn't convert one third down and they still had control for most of the game. It was the second fewest plays in college football by a winning team this season. Turnovers are killer.
***I said going into the game if Nebraska threw the ball over 35 times it was going to be very hard to beat Iowa. Armstrong finished with 45 throws in the game. On a day like Friday with freezing temps and strong northern winds, you aren't going to win throwing it that much.
***You really have to credit Iowa for the season they've had and the way they've done it. Nobody could've saw this coming in today's society where coaches get fired left and right. You have to give Iowa's administration credit for backing
Kirk Ferentz
and letting things get to this point. This is a team that knows who they are and they know how to win.
The final grades
Rushing offense: C-
Nebraska got 137 total rushing yards, but failed to produce a run longer than 12 yards on Friday. Iowa's run defense was as good as advertised and NU was going to need more than 137 yards to win this game.
Passing offense: F
Not a whole lot you can say other than you aren't going to win very many games by throwing four interceptions, including one that was returned for a touchdown. I also really question the decision by quarterback
Tommy Armstrong
to throw a deep fade vs. hitting a wide open
Cethan Carter
in the flats for a sure first down on fourth down. It was a gamble NU chose to go for that vs. kicking a field goal to make it an 8-point game. It was even a bigger gamble for Armstrong to go for it all on fourth-and-1. Obviously you could also question the decision not to run as well in that situation.
Rushing defense: C
Other than the two big runs by
Jordan Canzeri
in the third quarter, Nebraska played solid run defense. Holding Iowa to just 153 yards was more than a solid enough effort to win this game. I thought losing
Nate Gerry
was also big on both Canzeri runs, because more than likely he would've had a better angle or at least is fast enough to run him down.
Passing defense: B+
The Huskers held Iowa to just 97 passing yards, and got good pressure on quarterback
C.J. Beathard
. This was probably one of the stronger areas of play for Nebraska on Friday. However, the reality is Iowa didn't need to pass much. Holding the Hawkeyes to 0-of-9 on third downs is still very impressive.
Special teams: B-
Kicker
Drew Brown
finished the season by making 10 straight field goals in Big Ten play and was a very impressive 20-of-26 on the year.
Sam Foltz
also had a decent day punting into the wind. My only complaint was Iowa did get solid field position off almost every kickoff return, which allowed them to pin NU deep when they punted.
Sean Callahan can be reached at sean@huskeronline.com and he can be heard each day at 6:50 am and 5:05 pm on Big Red Radio 1110 KFAB in Omaha during the football season. He can also be seen on KETV Channel 7 TV in Omaha during the fall and each week he appears on NET's Big Red Wrap Tuesday's at 7 pm.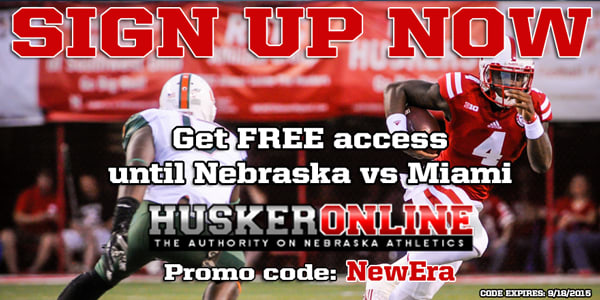 Click
Here
to view this Link.