Final take: Saturday was more than a 15th practice
Technically Saturday was just the 15th practice of spring football for Nebraska, but it was obviously much more than that.
A big part of college football is "winning the off-season" and finding ways to create excitement and momentum in your football program.
When you look at what the Red-White spring game has become, that's exactly what it does.
Between the 78,312 in attendance on Saturday, the 80 degree "postcard day," Bob Diaco's new defense, quarterback Tanner Lee dropping touchdown passes into buckets and the most high profile recruits ever on campus at once, you really couldn't have drawn it up much better.
"I am energized at this very, very moment about this weekend in total," head coach Mike Riley said. "It is so much fun. We are now seeing young men really understand and see what this place is about and what it can be and having our vision that I have. It's exciting.
"There's been a lot going on, and I thought the football today was great, so I am really pumped up about all this. It's a great, great feeling right now. Like I said it really has to do with the continued educating of these guys that are out there that are difference-makers that feel it. They can feel this whole idea that we have and what's going to take place."
I'm sure other Big Ten fan bases will scoff at Husker fans for making such a big deal about a spring game Saturday.
However, since 2004 the Red-White game has become the single biggest early recruiting advantage for Nebraska, and that once again was the case on Saturday as the commit total from the weekend is already at three, and that should continue to grow.
You really have to credit Nebraska for what they've made their spring game Saturday into. It's a celebration....a celebration of the greatest fans in college football.
Red-White game balls 
QB Tanner Lee: It's not easy to live up to the hype, but through 15 spring practices Tulane transfer quarterback Tanner Lee did exactly that. His overall body of work was impressive, and he capped it off with the best throw we saw all spring to wide receiver JD Spielman.
LB Luke Gifford: Junior linebacker Luke Gifford made a nice run for a starting job this spring. You can argue after Saturday, he made a strong case for a starting job at outside linebacker.
TE Tyler Hoppes: Nebraska wants to involve the tight ends more in their offense, and senior Tyler Hoppes appears poised to have a big season in 2017. He had four catches for 66 yards on Saturday.
RB Wyatt Mazour: I'm not saying sophomore Wyatt Mazour is going to win a starting job in 2017, but he sure showed people on Saturday he could play football. Mazour finished with 141 all-purposes yards on Saturday. By the time his career is up, there's a good chance he could make an impact at NU.
Mother nature: After a dicey outlook all week on the weather forecast, mother nature came through with what Mike Riley called a "postcard day" on Saturday. Temperatures topped out at 80 degrees, as the weather conditions couldn't have been much nicer.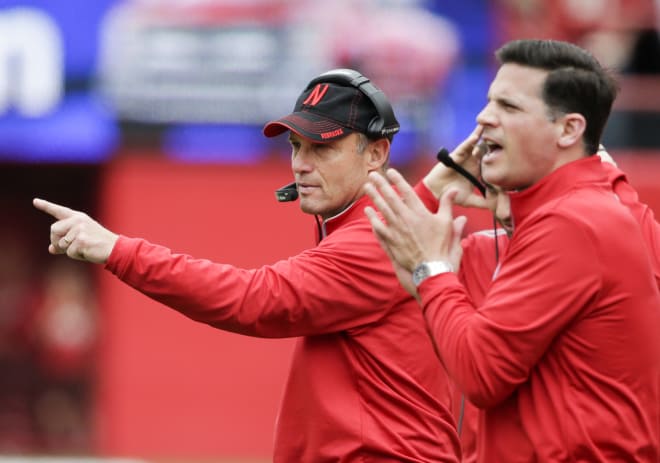 Three post spring concerns 
1 - How do you handle the quarterback announcement?
Riley is going to be very delicate with how he handles the quarterback announcement between Tanner Lee and Patrick O'Brien.
How and when Riley decides to make the starting quarterback announcement will be a big part of this off-season.

2 - Can the Huskers generate a consistent pass rush?
One thing we still don't know about this defense is if they have the type of personnel to generate a consistent passing rush in the 3-4?
In order for this 3-4 defense to work, that is going to be a very important piece to the puzzle.
3 - Will the leadership be there in 2017?
After graduating a senior class of nearly 30 in 2016, developing new leaders on this football team will be an important part of their success going forward.
I see guys like Lee, Stanley Morgan, De'Mornay Pierson-El, Chris Weber, Joshua Kalu and Chris Jones all being players that can step up in leadership type roles in 2017. This summer will be big in the overall development in establishing that leadership.
Sean Callahan can be reached at sean@huskeronline.com and he can be heard each day at 6:45 am and 5:05 pm on Big Red Radio 1110 KFAB in Omaha during the football season. He can also be seen on KETV Channel 7 in Omaha during the fall and each week he appears on NET's Big Red Wrap-Up Tuesday's at 7 pm.