Final Take: Putting a wrap on the Red-White game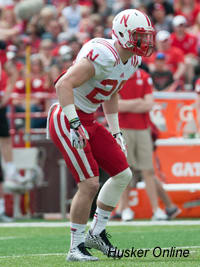 Click
Here
to view this video.
It's hard to take much out of Nebraska's Red-White game on Saturday, because in all reality it was a show for the fans.
The day started out with head coach
Bo Pelini
playing off his FauxPelini Twitter handle entering Memorial Stadium with his cat during the Tunnel Walk.
Then the crowd was greeted with a special teams drill where Director of Football Operations
Jeff Jamrog
even read off linebacker
Josh Banderas
and running back
Ameer Abdullah
's Twitter handles to the crowd of 61,772. After that Pelini challenged wide receiver
Kenny Bell
to a throwing competition.
In the second half members of Nebraska's Scarlet Dance Team called plays on a 70 yard scoring drive. Finally, during a punt-pass-kick competition within the game former Husker offensive lineman Jeremiah Sirles proposed to his girlfriend - former NU soccer player Emma Stevens.
The game itself was more a show, where the football played second fiddle to some of the fun going on between the plays. Going in we knew that though. With stars like Abdullah not playing, this day was more for the fans.
Ever since 2004 the Red-White game as Nebraska has become more of a marketing spectacle and celebration for the fans. There's nothing wrong with that, because to keep these big spring game crowds you have to make it fun.
Nobody wants to just watch a straight practice with second and third string players. I commend Pelini and his staff for trying to come up with ways to make the day more entertaining.
I also want to thank Pelini for opening spring practice to the media, because without that access it would be very difficult to know much about this team.
There's no doubt the pieces are in place, but there are still obviously some questions that need to be answered before you can say this is a team that can contend for a spot in the Big Ten title game.
Red-White game balls
Tommy Armstrong
: All throughout spring I felt like Armstrong established himself as the guy and he carried himself with the swagger of a starting quarterback.
Imani Cross
: So many people were ready to hand over the No. 2 running back job to
Adam Taylor
and
Terrell Newby
this spring, but Cross responded and is not going away folks. He looks stronger and faster than a year ago.
Brandon Reilly
: I've been a fan of Reilly since his days at Lincoln Southwest, and he continues to develop and look like a future player in this offense.
Zaire Anderson
: Coming out of the spring he looks like Nebraska's top linebacker and the player we thought he'd be coming out of junior college.
Nathan Gerry
: The South Dakota native used
Corey Cooper
's injury to his advantage and has clearly asserted himself into the rotation at safety.
The jury is still out
Kicker:
Pretty much the door is wide open for freshman
Drew Brown
to come in and win the job because junior
Mauro Bondi
did not show any consistency.
Defensive line depth: Nebraska is as good as anybody in the Big Ten with their starting four on the defensive line, but they don't have an established second group. In order for this defense to make it through the rigors of Big Ten play they need to establish more depth on the defensive line from now until Aug. 30.
No. 2 quarterback:
Early on this spring I thought
Ryker Fyfe
pulled ahead for the No. 2 quarterback job, but I felt like
Johnny Stanton
closed that gap by the end of spring. This race remains a dead heat and my guess is we won't know who NU's No. 2 is until the season opener.
Center:
Senior
Mark Pelini
is an established veteran at center, but does he have the physical size to go 80 to 100 snaps per week in the Big Ten? Junior
Ryne Reeves
has battled injuries this spring, so it's hard to know where NU's center position is at coming out of spring ball.
[rl]