Final take: Purdue delivers a knockout blow to Nebraska's 2021 season
Nobody thought we'd be here, nobody wanted to be here, but the reality is we are here.
Nebraska sits at 3-6 in Scott Frost's fourth season with games against Ohio State, Wisconsin and Iowa remaining. NU hasn't beaten OSU since 2011, the Badgers since 2012 and the Hawkeyes since 2014.
Frost's fourth season in Lincoln has officially hit the "so what's next" mode following its 28-23 loss to Purdue. When first-year Athletic Director Trev Alberts took this job in July, my guess is he didn't expect to be in this spot on Oct. 30.
We all know Alberts has been faced with tough decisions over his athletic administration career, and now he's seemingly faced with another one. NU Chancellor Ronnie Green and President Ted Carter believed enough in him to commit nine years and $40 million of fully guaranteed money to him through the 2026 season. He's still owed $20 million after this season. My guess when Ronnie Green bumped Frost from seven to nine years in November of 2019 he wasn't expecting 3-6 on Holloween in 2021.
This is a hard day for Nebraska football. The school went all-in on Frost to rebuild its football program. Nobody envisioned this day four years ago. Nowhere in that script were bad losses to Illinois, Minnesota and Purdue - all games NU was favored to win this season.
There also came a point this season where the moral victories felt acceptable in close losses to teams like Oklahoma, Michigan State and Michigan.
Obviously, that tune has changed. Saturday's game vs. Purdue was a microcosm of the last few years. You saw moments of what this can be, but then you saw moments of why Nebraska has not made a bowl game since 2016.
Nobody hurt more during Saturday's post-game press conference than senior linebacker JoJo Domann.
I don't know Sean, I thought you'd have something to say," Domann said to me after the game as he searched for words. "I just know this hurts. It's hard to put into words right now. Honestly, I need to sleep on this. You play to win the game. You know? You've seen the guy here say it, that's why we're out there. It hurts. I'm in pain right now. I don't really have the words to describe it."
Even Frost didn't know what to say to his team after this one.
"Magic speeches aren't going to change this," Frost said. "To be honest with you, today I left the locker room and had the captains address them. We have great captains. We've got good character kids. I know guys like Austin Allen and JoJo (Domann) are going to want to finish and finish the right way. We need a little more of that. So the guys will keep working, but it's disappointing."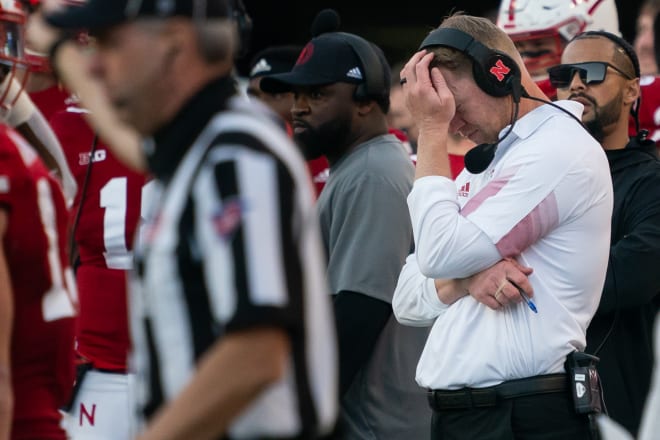 What I saw on Saturday 
***The Huskers once again won the coin toss and get the ball to start the second half. The only problem is they could not take advantage of it. NU missed a wide-open pass to Samori Toure that probably should have been caught that would have made the score 24-14 at the half. Instead, it stayed 17-14 and NU failed to do anything to start the third quarter. Advantage gone.
***We heard Memorial Stadium boo quarterback Adrian Martinez after his third of four interceptions on Saturday. Frost said after the game he never thought about sitting Martinez.
***Defensive tackle Damian Daniels left the game with a shoulder injury but came back in. It's something evidently he's battled the last few weeks.
***We saw why George Karlaftis is a future NFL first-round draft pick on two plays. He changed the game. He had a 6-yard tackle for loss on first down and forced Martinez to throw a pick with his pressure on second down.
***We saw Nebraska go under center on the opening drive with a QB sneak, but then saw them doing it from the goal line and Martinez fumbled the snap for a 3-yard loss, but scored on the next play on a zone read. It was the first time we've seen them under center like that all season.
***Chase Contreraz won the kicker job this week in practice and did his job on Saturday. Also, to Connor Culp's credit, he came in and executed the onside kick perfectly late in the fourth quarter.
***Nebraska's two best runs of the day came on the same drive from Jaquez Yant who went 33 and 18 yards. We also saw Yant take a direct snap vs. Purdue. That's what was frustrating about Saturday. You could see what this offense can be, and then they continue to have lapses as we saw in the third quarter.
***I spotted former Bill Callahan offensive line coach Dennis Wagner near the fence during pregame warm-ups. He was Greg Austin's position coach and Austin came and said hi to him before kickoff. I wonder what Austin's former coach thinks of NU's line play?
***Memorial Stadium was full on Saturday. How many other schools in the country would fill their stadium to watch a 3-5 football team play Purdue? Say what you want to say about Nebraska's on-field struggles, the fan support still remains top-notch. I think that's what makes this even harder if you are Frost. People want it to work so badly.
The final grade out 
Rushing offense: F
Nebraska ran the ball as well as anyone has at times against Purdue in the first half. However, the third quarter was a different story. NU had nine carries for just 9 yards and a total of 10 attempts for 16 rushing yards in the second half. This was after going 19 carries for 115 yards in the first half.
Passing offense: F
Quarterback Adrian Martinez finished 14-of-29 for 269 yards and four interceptions. On top of the rushing game struggles, this changed the entire game. It was arguably the worst game of Martinez's career, considering the context of what it meant to the season and his head coach who's believed in him for four years to be the starter.
Rushing defense: C-
Purdue had 126 sack adjusted rush yards on Saturday. This was more than enough to win for the worst rushing offense in the Big Ten. They averaged 3.2 yards per attempt on true rushing attempts with long runs of just 11 and 14 yards in the game. That gave Jeff Brohm the balance and the ball control he needed with his offense to be in winnable second and third downs.
Passing defense: D
Purdue had a long pass play of just 21 yards on Saturday, but it was death by paper cut. Aidan O'Connell was 34-of-45 for 233 yards for two touchdowns. He lived on 6 to 10 yard throws all day. The pressure also did not get to him with the four-man rush. Most importantly, the Huskers failed to force a turnover on Saturday after O'Connel threw four picks vs. Wisconsin.
Special teams: C
Nebraska went with a new kicker today in Chase Contreraz. He made his only field goal attempt and both extra points. William Przystup had one outstanding punt, but had a couple of shanks as well. Special teams were solid at times but no better than average on Saturday for Nebraska.
Sean Callahan can be reached at sean@huskeronline.com and he can be heard each day at 6:45 am and 5:05 pm on Big Red Radio 1110 KFAB in Omaha during the football season. He can also be seen on KETV Channel 7 in Omaha during the fall and each week he appears on NET's Big Red Wrap-Tuesday's at 7 pm.