Final take: NU got their moneys worth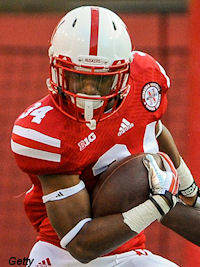 Click
Here
to view this video.
Nebraska paid Southern Miss over $2 million to play in Memorial Stadium on Saturday, and it was worth every penny.
After giving up 602 yards and edging Wyoming by 3 points last week, the Huskers got a confidence boosting performance in every sense of way by taking down the Golden Eagles 56-13.
This was the absolute perfect prescription for not just NU, but the fan base as well. With UCLA coming into Lincoln next week, Saturday's game with Southern Miss had to have this type of feeling.
"It was extremely important," defensive coordinator
John Papuchis
said when asked how important it was for the Huskers to have a strong showing. "We wanted some momentum. We wanted some positive feel in our building in terms of what we are defensively.
"There's still a lot of improvement that needs to be made, but I think there's some significant progress from week one to week two and you can build on that on that momentum. If we do a good job as coaches, each week we should get incrementally better."
Before Saturday night, Nebraska's defensive had given up 1,831 yards over their last three games dating back to 2012. On Saturday the Blackshirts limited Southern Miss to 284 yards of total offense, including 162 over the final three quarters. Heading into the fourth quarter the Golden Eagles had just 9 yards rushing and finished Saturday with 62 yards on 27 carries.
However, maybe the most impressive stat of the night is the Blackshirts forced Southern Miss into four interceptions, including two that were returned for defensive touchdowns. It was these types of plays that set the tone for Saturday and gave the Huskers the momentum they needed heading into UCLA week.
"We all have a tremendous amount of pride and nobody likes to go out and perform poorly, whether you are playing or coaching," Papuchis said. "So yeah, there's some of that hurt that you carry. But bottom line is when you are in the fire you don't have time to feel sorry for yourself. You either get better or you don't. That's all there is to do. I didn't spend a lot of time licking my wounds, because I know this is part of the journey this team is going to take."
Sophomore defensive end
Randy Gregory
was one of the defensive stars for the Huskers on Saturday, finishing with four quarterback hurries, which totally disrupted Southern Miss's passing game.
Gregory said last week's win over Wyoming was an eye-opener for everyone, and it carried over to their preparation heading into this week.
"I know myself I did a better job of watching film outside of practice and outside of meetings," Gregory said. "I think we all did collectively and I think it showed on the field and it showed in practice. Whenever we messed up a play in practice we ran through it again. Overall our preparation for the game was just over the top - it was phenomenal."
On to the post game breakdown and grade out….

What I saw on Saturday
***As I reported in Friday's Tunnel Talk, sophomore linebacker
David Santos
was stripped of his Blackshirt on Thursday and freshman
Josh Banderas
got the start in his place. I thought Banderas played very well and clearly looks like the guy for the future going forward at Mike. He carries himself like a veteran player already.
***Joining Banderas as new starters on the defense on Saturday were Gregory and freshman
Nathan Gerry
. It looks like all three of these players will be fixtures in the defense going forward.
***Quarterback
Taylor Martinez
showed no signs of pain on his shoulder, and other than missing wide open touchdown pass to tight end
Cethan Carter
, he had a very solid day.
***After having just one tackle for loss last week against Wyoming, Nebraska finished with 12 on Saturday, including three from cornerback
Josh Mitchell
.
***It ironic to see Martinez connect with wide receiver
Sam Burtch
on Saturday for a 26 yard touchdown. If you remember last week, it was Martinez's pass to Burtch that got intercepted in the fourth quarter and it completely turned around the entire second half.
***Freshman running back
Terrell Newby
looked solid for the second week in a row, but had a freshman moment with his second half fumble.
****Loved seeing quarterback
Ron Kellogg
get a shot in the third quarter with the top offense. It was a nice reward for all of his hard work.
***Quarterback
Tommy Armstrong
impressed with his running ability. He runs the zone read very naturally and looked very comfortable for his first ever career playing time.
The final grades
Rushing offense: A
Nebraska rushed for 285 yards on 46 carries, including a game-high 114 yards on 17 carries by junior running back
Ameer Abdullah
. Not a lot to be critical about with the running game. Loved seeing
Tim Beck
go for the fourth down in the third quarter.
Passing offense: A-
It was an efficient day for the passing game. The only thing you can be critical of was Martinez missing a wide open
Cethan Carter
for a touchdown. In a big game, you can't afford to miss a throw like that.
Rushing defense: A
Heading into the fourth quarter Southern Miss had just 9 rushing yards and finished the game with 62 yards on 27 carries. NU only allowed one run longer than 20 yards and it was a night and day better performance from last week.
Passing defense: A+
The Husker secondary had four interceptions and returned two for touchdowns. Southern Miss only passed for 222 yards. What I like the most though was NU tackled in space and communicated much better on defense.
Special teams: A
Punter
Sam Foltz
had a long punt of 60 yards and finished with a 46 yard average. Wide receiver
Kenny Bell
added a 63 yard kickoff return.
Sean Callahan can be reached at sean@huskeronline.com and he can be heard each day at 6:50 am and 4:50 pm on Big Red Radio 1110 KFAB in Omaha during the football season. He can also be seen on KETV Channel 7 TV in Omaha during the fall and each week he appears on NET's Big Red Wrap Tuesday's at 7 pm.
[rl]