Final take: Nebraska took down the monster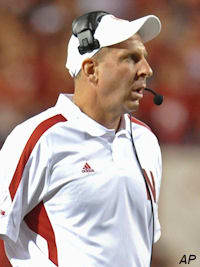 The big game monster that Nebraska fans have become familiar with over the last few seasons decided to show its ugly face in Lincoln again on Saturday night.
The monster that's haunted the Huskers so much in the past didn't waste any time making his presence felt in the first quarter, as NU fumbled the ball two times on their first four plays to help the Badgers jump out to a 14-0 lead before fans could even get settled in their seats.
Then the Huskers answered with an 83 yard kickoff return only to settle for a field goal and Wisconsin answered with another touchdown to make it 20-3. It was the worst possible start Nebraska could've had against a struggling Badger team that had zero confidence on offense coming into Saturday's game.
Twitter was a mess. The message boards were a mess. Nebraska fans were preparing for the worst. Then all of a sudden something happened. The Huskers decided to take on the monster.
In the second half NU outgained Wisconsin 317-90 in total yardage. After falling down 27-10 in the third quarter the Huskers answered with a 38-yard touchdown run from quarterback
Taylor Martinez
and never looked back going on a 20 point scoring run to pull out a 30-27 victory.
"You know what, it's a 60-minute game. There are none," head coach
Bo Pelini
said when asked what the turning point was for his football team was on Saturday night. "There are momentum swings, there are always turning points in football games. You've got to stay the course, you've got to play every play and try and outlast it. It's a fist fight. It's not one play or one series or one quarter, you've got to stay the course.
"I thought our guys did that and we proved that today. No one panicked, everyone stayed together, kept making adjustments. It's a team game. It's the ultimate team game, ultimate team sport. Our football team did enough to win the football game, and I'm proud of them."
In some way Saturday's rally mirrored the Huskers 21 point comeback against Ohio State from a year ago.
Pelini reminded his team of that in the locker room at halftime when they were down 20-10.
"We've been in tougher positions than that before," Pelini said. "The situation we were in, a lot of it was self-imposed. If we just fixed us--which I say all the time. I know you guys get sick of hearing it, but we've got to fix us. If we do our thing and we're not our own worst enemy--we did some things that were out of character for us in that first half. It could have cost us. It didn't. Down the road it will.
"We've got to get some things fixed; we've got to keep getting better. We did enough to win the football game tonight. I'm happy about that. I'll have joy tonight, but the way I'm wired, I'll go back and look at what we have to do to get better going forward."
Badger head coach
Bret Bielema
was obviously disappointed with his team's second half performance, but he was very complimentary of NU's comeback and the composure they showed.
"Well you know every game in this conference matters whether it is divisional or not," Bielema said. "They all come into play.
"For us to get as far as we want to get, you have to be able to play four-quarter games. You can't play three quarters or three and a half quarters. It is a four-quarter game and obviously they all matter."
What I saw on Saturday
***Senior linebacker
Will Compton
came to play on Saturday. Compton finished with 10 tackles, including three tackles for loss, two pass break-ups, one sack, one hurry….and one dropped interception that ended up not costing the Huskers.
***You also have to tip your hat to senior linebackers
Alonzo Whaley
and
Sean Fisher
. They came up big with some big run stops, as the Badgers never could get their ground game going. In all NU's three starting linebackers finished with a combined 26 tackles, and six tackles for loss.
***The turning point to me on Saturday came after trash talk artist
David Gilbert
forced a fumble on Martinez that led to a Badger touchdown to make the score 27-10. Martinez answered with his 38 yard touchdown run on the next possession. If that bounce back drive doesn't happen, I don't think Nebraska makes their second half comeback. It shows you how far Martinez has come to keep his composure and to take what the defense was giving him, instead of forcing throws into coverage. He was determined to score that touchdown.
***Wisconsin did more pre-snap motioning and shifting then they've done all season. At times it looked like a Chinese fire drill with the amount of wide receivers, running backs and tight ends that were moving at one time. This gave Nebraska a ton of fits, but they were able to adjust to it in the second half.
***Smart move by
Terry Joseph
to stick junior cornerback
Ciante Evans
on Wisconsin wide receiver
Jared Abbrederis
in the second half. He was absolutely killing Nebraska until Evans took over the match-up.
***It was good to see sophomore defensive tackle
Chase Rome
back on the field Saturday. With junior
Thad Randle
banged up, the Huskers are going to need Rome next week at Ohio State.
***The most surprising stat of the night for me were Wisconsin back-up running backs
James White
and
Melvin Gordon
only had a combined three carries for 0 yards. I expected them both to see more touches.
The final grades
Rushing offense: B-
Nebraska had six fumbles on Saturday and they were very fortunate to only lose two of them. Their first half mistakes almost cost them the game, but NU kept their composure to finish with 259 yards rushing on 46 carries. Martinez ran with a determination we've never seen from him before in a tight ball game. His 38 yard touchdown run sparked the Huskers second half comeback.
Passing offense: B+
Martinez finished 17-of-29 and completed some clutch touchdown passes to
Rex Burkhead
and
Kyler Reed
to finish with 181 yards. Most importantly he was only sacked once and had zero interceptions. Martinez has thrown 11 touchdown passes on the year to just one interception.
Rushing defense: A
Wisconsin ran the ball 41 times for 56 total yards. Running back
Montee Ball
had 32 carries for 99 yards, but NU limited him to just 2.8 yards per carry. They got the best defensive push up front we've seen all season and the defensive line controlled the line of scrimmage against a team that's been known for great offensive line play.
Passing defense: C
The play action pass and deep ball killed NU in the first half, but the Huskers made some solid adjustments in the second half. The disturbing thing though was NU had guys in place to make plays, but they lost nearly all of the 50-50 balls. Abbrederis finished with 142 yards receiving, but was a nonfactor late in the game when Evans started to guard him.
Special teams: C-
The poor field position NU got on the first two kickoff returns dug an early hole for Nebraska and
Stanley Jean-Baptiste
's roughing the punter penalty led to a touchdown. Wisconsin also did a good job of controlling the field position with solid punting from
Drew Meyer
. Nebraska probably lost this phase of the game on Saturday, but luckily they were able to overcome their early special teams mistakes to pull out a victory.
Brett Maher
made three-of-four field goals, and
Ameer Abdullah
gave them a 83 yard kickoff return.
Sean Callahan can be reached at sean@huskeronline.com and he can be heard each day at 6:50 am and 4:50 pm on Big Red Radio 1110 KFAB in Omaha during the football season. He can also be seen on KETV Channel 7 TV in Omaha during the fall and each week he appears on NET's Big Red Wrap Tuesday's at 7 pm.
[rl]