Final take: Nebraska still not there yet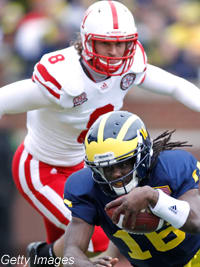 ANN ARBOR, Mich. - Nebraska has been hovering between the 9 and 10 win mark the last four seasons and they've been craving to reach the 11 or 12 win neighborhood.
During Saturday's 45-17 loss at Michigan I think you once again saw why NU can't take that next major step as a program to get out of the 9 win neighborhood.
The Huskers had way too many self-inflicted wounds through turnovers, penalties or special teams mistakes to even think about winning this game on Saturday. Quite simply teams that win conference championships and play in BCS bowl games don't do that.
Let's not kid ourselves, 9 win seasons are great and if
Bo Pelini
wins next week against Iowa he will accomplish that for the fourth year in a row, which hasn't happened at Nebraska since 2001.
However, at Nebraska it's about championships and getting to BCS bowl games. The Huskers have gotten sniffs of that each of the last three seasons, but for the third year in a row NU will find itself at a middle tier bowl.
"You can't play that way on the road and win a football game," Pelini said. "You talk about the penalties and the turnovers, all the things that we preach. All the things we've been doing well, we didn't do well today and that's your result. It's as simple as that."
The frustrating thing for Nebraska is there were several moments in Saturday's loss against the Wolverines where NU grabbed the momentum to only find ways to hand it right back to Michigan.
Credit Michigan head coach
Brady Hoke
though for his staff's defensive game plan that never allowed NU to get going. Even when the Huskers did get going in short spurts Wolverine players were falling to the ground with mysterious injuries that slowed the pace of the game down.
"Just the turnovers with us and the injuries with them just kept throwing us off," sophomore Nebraska quarterback
Taylor Martinez
said. "It was a weird game. All the turnovers and everything just kind of threw everything out of balance."
What I saw on Saturday
***It's a shame one of
Lavonte David
's best defensive game of his career had to be thrown away like this. David finished with 17 tackles and as everywhere on Saturday. Every time
Denard Robinson
started to run free David was there to catch him from behind.
***Plain and simple
Wil Richards
did not rough the punter. Maybe it was a 5 yard running into the kicker penalty, but by no means was that a roughing. That call swung the momentum when NU was getting the ball back with good field position to possibly cut the lead from 14 to 7 points early in the fourth quarter.
***The fumbles by
Tim Marlowe
and
Kenny Bell
on kickoff returns are inexcusable. Those are literally the worst kind of turnovers you can make because of the sudden change situation they put the defense in.
***Offensive coordinator
Tim Beck
was nowhere to be seen in the postgame interview area and did not speak after Saturday's loss at Michigan.
***The Nebraska secondary continues to struggle with ball skills in the 50-50 situations. Too many times on Saturday when NU's safeties and corners were in position to make plays, a Michigan player was coming down with the big catch.
***When you start to talk about bowl game projections for Nebraska, a lot will depend on if the Big Ten gets two BCS spots. If the Big Ten gets two BCS bowl bids, NU could go to the Outback Bowl with a win over Iowa. If they only get one BCS Bowl bid the Insight Bowl in Tempe could be a likely scenario.
The final grades
Rushing offense: D-
You never saw Nebraska get into a running game rhythm. Martinez also struggled early with the option and
Rex Burkhead
had his lowest rushing output of the season with 36 yards on 10 carries.
Passing offense: D
Martinez threw a great TD pass deep to
Brandon Kinnie
, but there wasn't enough of that on Saturday. The pass protection up front was very inconsistent as Martinez was sacked three times and constantly pressured. There were also some key drops again by NU's wide receivers on money downs.
Rushing defense: D+
Yes Michigan ran the ball for 238 yards, but they only averaged 3.9 yards per carry on 61 attempts. I think you can attribute most of the damage with the rushing defense to the extra plays the defense had to be on the field. The two special teams fumbles and the roughing the punter penalty put the defense on the field for a number of extra plays they shouldn't have been out there. Nothing is more demoralizing when you get the stop on defense, only to have to come right back out for another series. There was too much of that on Saturday and the Wolverines wore the Husker front seven down.
Passing defense: D
Michigan won the 50-50 balls. Too many times this season the ball has hung up in the air for a long time and more often than not the opposing team has come down with the big catch on the Husker secondary. Robinson averaged 16.4 yards per completion and coming into Saturday's game he led the country in that stat at 15.8.
Special teams: F-
There were five huge plays in this category that killed Nebraska - two fumbled kickoffs, a blocked punt, a roughing the punter penalty and an executed fake field goal by Michigan that set up a touchdown. This was far and away the biggest area of the game that hurt the Huskers and the sudden change plays on special teams completely flipped the complexity of this game.
Sean Callahan can be reached at sean@huskeronline.com and he can be heard each day at 6:50 am and 4:50 pm on Big Red Radio 1110 KFAB in Omaha during the football season. He can also be seen on KETV Channel 7 TV in Omaha during the fall and each week he appears on NET's Big Red Wrap Tuesday's at 7 pm.