Final take: A culture-changing afternoon in Columbus
COLUMBUS, Ohio - Call it what you want. A tough loss or a moral victory for Nebraska, but Saturday appeared to be a culture-changing day for Scott Frost's football program.
The Huskers may have fallen short against No. 10 Ohio State, but they sent a message to the rest of the conference what type of team they plan to be under Frost in the future.
When the Huskers hired Frost, the program had reached a point where they were no longer competitive against elite programs like Ohio State. Before Saturday, Urban Meyer's average margin of victory against the Big Red in three meetings was 42 points. They were in a different class than the once proud Nebraska, and it got to the point a year ago only 67,400 fans showed up to Memorial Stadium to watch the Huskers play this very same team because many feared the inevitable - embarrassment.
The Nebraska football brand has been embarrassed all too much the last 15 years, and many expected a similar result going into Saturday. Frost and his football team showed right away it wasn't going to be that type of game.
We saw a team fight. An offense executing in key moments. A defense force turnovers that mattered. An offensive line win the line of scrimmage, and most importantly a franchise level true freshman quarterback in Adrian Martinez. All of that has created about as much optimism as you'll ever see following a 36-31 loss.
"It's culture. This culture is going to be the difference," senior captain Jerald Foster said following Saturday's. "This culture is going to be the reason why Nebraska is going to be back on top in the next couple of years. Quote me every single day on that. I promise you with this coaching staff and the way they run it, they are going to be one of the top 5 teams sooner than later. I promise you that. It's unfortunate that we didn't get this win today, but I believe in the coaches and I believe in the guys out there too."

And now all that's left is three more games against Illinois, Michigan State and Iowa.
You could see this thing turning at Northwestern last month, and Saturday was once again another big step for this football program, despite coming up short.
"I would say coming off the past two weeks we were already confident," cornerback DiCaprio Bootle said. "Then even a loss like this will even make us more confident going forward. We just have to get the things we messed up on cleaned up. I have no doubt we are going to keep making this climb that we've been making over the last couple of weeks."
As for Frost, you could see it in his eyes on Saturday. He knew the step his football team took on Saturday. He knew how close they were to delivering a massive upset in the Horseshoe.
"I think our guys are having fun playing football and more confident than they've been since I've known them," Frost said. "My only message to the team was I was disappointed for them, ticked off but proud of them. The one thing I feel bad about is this thing keeps getting better and it's going to keep getting better. It's going to be really good and really fun and some of the guys that are helping us build it, the (Luke) Gifford's and the (Mick) Stoltenberg's and Stanley (Morgan's) and Tanner (Farmer) and Jerald (Foster), a bunch of these guys that are helping us get everything right aren't going to get to see where it goes because it's their last year.
"So I told the guys we've got to send them out the right way. I think the guys have the mindset that they're going to go back to work and try to win the next game and the next game and the next game. It's building and I would love to see those guys have some success on the way out."

Now on to the breakdown...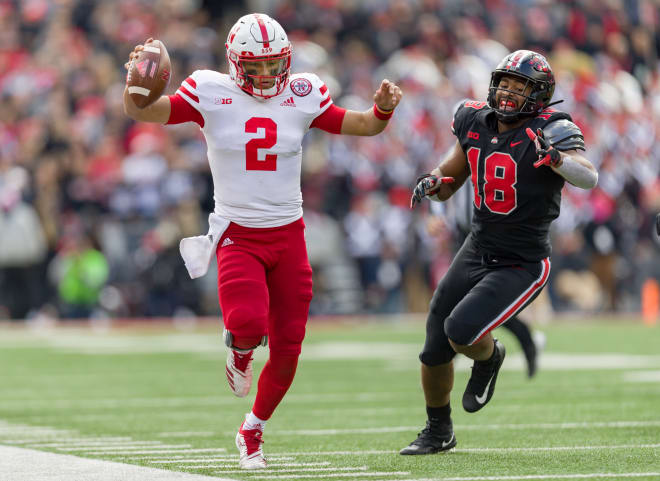 WHAT I SAW ON SATURDAY 
***I love how the offense responded on the first drive Saturday. We saw them overcome a penalty, sack and convert just their second fourth down of the season and finish with a touchdown. That set the tone for the entire day that this was going to be a fight.
***You have to think Urban Meyer and his staff studied Nebraska's punt unit over the bye week to find a weak spot. Luckily for Nebraska, the blocked punt only resulted in a safety. It could've been much worse.
***We saw one formation on Saturday that had right tackle Matt Farniok lined up on the left side of the line next to Brenden Jaimes near the goal line.
***I was amazed at the impact Urban Meyer has on a football game, in terms of working the officials. There were about two or three moments where he got them to review a call or even throw a pass interference flag in a situation that looked questionable.
***Nebraska forced Ohio State to punt four times on Saturday. It was the first time they have punted against the Huskers since 2012.
***JoJo Domann is going to be a great football player in the future. If the Huskers had him at Northwestern earlier this year playing nickel, they probably win that game. Domann forced his third fumble in the last five games on Saturday, dating back to the 2016 Music City Bowl.
***Nebraska turned two Ohio State turnovers into 14 second-quarter points. Ohio State turned three major NU mistakes -- the botched onside kickoff attempt, the blocked punt and Martinez's fumble -- into just two points. This played a big factor in NU leading 21-16 at the half.
***Saturday was the first time since 2014 Nebraska has forced three turnovers in back-to-back games.
THE FINAL GRADE OUT
Rushing offense: B-
Nebraska was able to do some damage with the running game, but the speed of Ohio State's defense shut down a lot of plays that looked like they were going to go for big gains. Devine Ozigbo finished with 86 yards on 20 carries. His long run of the day was just 10 yards. Maurice Washington also looked like he was a little banged up today, as he didn't quite have the same juice as we've seen earlier this season.
Passing offense: B
Adrian Martinez was right at his season average, as he completed 66 percent of his passes for 266 yards. The play the offense would love to have back was the third down throw to JD Spielman that just missed him. If he catches that ball, the Huskers would've gone up 28-16.
Rushing defense: D+
Ohio State's speed on the perimeter was too much, and that eventually softened up the middle of Nebraska's defense in the fourth quarter. The Buckeyes finished with 229 yards rushing on 40 carries, as running backs J.K. Dobbins and Mike Weber averaged 7.9 yards on 32 carries.
Passing defense: C+
Nebraska got to Dwayne Haskins at times, and he looked out of rhythm for portions of this game. Lamar Jackson's interception in the end zone was a big play that kept the Huskers in the game. Haskins was 18-of-32 for 252 yards. He's got an elite arm, but this Ohio State offense sure looks different without having a QB run game.
Special teams: F
A botched onside kick in the first quarter, a blocked punt, balls not fielded in the punt return game that gave away field position and kickoff returns of 12 and 13 yards out of the end zone. Did I miss anything? This was by far Nebraska's most disappointing unit on Saturday. Punter Isaac Armstrong also didn't have a great day.
Sean Callahan can be reached at sean@huskeronline.com and he can be heard each day at 6:45 am and 5:05 pm on Big Red Radio 1110 KFAB in Omaha during the football season. He can also be seen on KETV Channel 7 in Omaha during the fall and each week he appears on NET's Big Red Wrap-Tuesday's at 7 pm.