Final Take: Nebraska gets their work in takes care of Fordham 52-7
Call it what you want, Nebraska came out of the gates on Saturday for FCS Fordham with a bit of a hangover.
Cam Taylor-Britt muffed a punt and there was an exchange issue with quarterback Adrian Martinez and running back Gabe Ervin Jr. on the second play of the game that led to a fumble and a 10-yard loss. NU mustered together their first scoring drive late in the first quarter and Fordham answered to tie the game 7-7.
After that, the Huskers woke up and scored 45 unanswered points en route to a 52-7 win. They made this game look exactly like it was supposed to. The Huskers ran 95 total plays and rushed for 329 yards on 65 carries.
"We needed it. We had such a good camp and going into that first game, we had high hopes, and I think that the kids really believe how much progress they made and how much better of a team they are," head coach Scott Frost said. "Then game one didn't go the way we wanted it to, but that doesn't change the progress that we've made."
"We got a tough slate of games, we got a long season. We have to keep getting better. This team's going to be able to compete with anybody that we go on the field with and then it's a matter of playing clean and making somebody else beat us, not beating ourselves."
NU got a big early spark from sixth-year senior JoJo Domann who picked off a Fordham pass and then followed that play up by sniffing out a double reverse play after Taylor-Britt's muffed punt.
"The most important game is always the next one, so I mean last week was a long weekend for us to come out here and get the job done," Domann said. "We still have a lot of things to correct. Win or lose. We can always look for ways to get better and that is what we are going to do. Glad we are evened back up, and we are on to Buffalo."
Saturday also marked the first time Memorial Stadium has had full attendance since November of 2019.
Nearly 86,000 packed into Memorial Stadium, and in some ways, you almost forgot what a full house felt like.
"Gosh, that felt good," Frost said of having a full Memorial Stadium. "Just walking out to the tunnel, even pregame with the stands half-full in pregame was special and I got a chance to walk through the tunnel at the end of the game with my wife and my son, and he was giving the fans high fives. We missed the fans, I know they missed being here but this was a dismal place without them, so I can't wait till next week."
Now on to the breakdown...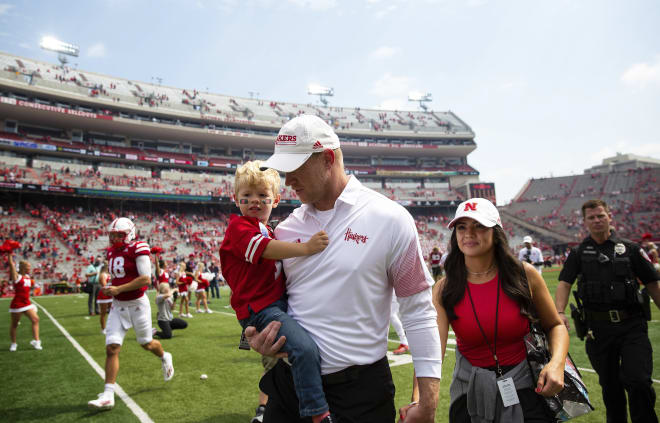 What I saw on Saturday 
***Junior wide receiver Omar Manning got the start on Saturday, as junior Oliver Martin did not play. Manning was targeted three times and had three catches for 54 yards.
***Nebraska's sixth-year seniors came to play on defense. JoJo Domann had his first career interception, Deontai Williams had two picks and Marquel Dismuke blocked a Fordham field goal attempt.
***A total of 88 players saw action on Saturday. That's exactly what a game like this is for. In comparison when the Huskers played 67 guys against Bethune Cookman in 2018 and 70 saw snaps against Maryland in 2019 according to past PFF offensive and defensive snap counts. This was by far the most action the bench has seen in the Scott Frost era.
***I know this staff went with Gabe Ervin as the starter at running back the first two games, but USC transfer Markese Stepp sure looked like the guy today. Stepp had 101 yards on 18 carries.
***Transfer tight end Chancellor Brewington was one of the surprise players who emerged on Saturday. He now has more touchdown catches (1) than Austin Allen and Travis Volkolek combined.
***Nine kickoffs for Nebraska and nine touchbacks. Brendan Franke had five and Kelen Meyer had four. When is the last time we've seen that in a Husker game?
***Yes Logan Smothers had the fumble, but I liked what I saw from him. That was a good start for his Husker career. I also liked to see Matt Masker come in there at the end. He's been here since 2018 and those are the first snaps he has seen.
***Not only did JoJo Domann have a big interception that turned the game early, he also sniffed out a double reverse play after Cam Taylor-Britt's muffed punt. Those were as big as any defensive plays on Saturday for the Huskers.
***It was great to see Frost, his wife Ashley and son R.J. walk off the field together following Saturday's win. It's a side of Frost very few have seen with him being a husband and father. There is much more to life than football.
The final grade out 
Rushing offense: A
65 carries for 329 yards. Nebraska did exactly what they were supposed to do in this one on the ground. The only thing lacking were the home runs.
Passing offense: A
Adrian Martinez was 17-of-23 for 254 yards. It was a very efficient day. He found Samori Toure eight times for 133 yards. Austin Allen had four catches for 61 yards, while Omar Manning had three catches for 54 yards.
Rushing defense: A-
Early on Fordham found a few plays in the running game, but the Blackshirts shut them down to six straight drives of three-and-outs or a turnover on downs in the second half. They ran 19 plays for just 23 yards on those six drives in the second half.
Passing defense: A
Nebraska forced three interceptions and really limited Fordham to nothing in the passing game over the entire second half.
Special teams: B-
A muffed punt by Cam Taylor-Britt and some average kick returns on two attempts that went nowhere near the 25 brought the grade down to a B-. The Huskers need more consistency in the punt return game and they have to find a way to get across the 25 on kickoff returns. They did have nine touchbacks though on nine kickoff attempts and Daniel Cerni looked better on his two punts.
Sean Callahan can be reached at sean@huskeronline.com and he can be heard each day at 6:45 am and 5:05 pm on Big Red Radio 1110 KFAB in Omaha during the football season. He can also be seen on KETV Channel 7 in Omaha during the fall and each week he appears on NET's Big Red Wrap-Tuesday's at 7 pm.