Final take: Nebraska finds another unpredictable way to lose on Saturday
EAST LANSING, Mich. - Nebraska has lost 15 of their last 20 games under Scott Frost by one score or less. That's a lot of different ways to lose a close game. In fact, I thought we had about seen it all in what's been historically the worst stretch of Husker football in the modern era.
Then on Saturday, the Huskers discovered a very unorthodox way to lose to No. 20 ranked Michigan State 23-20 in overtime when they seemingly had complete control of the football game.
Punter Daniel Cerni shanked a punt left and his entire coverage unit ran right. MSU fielded and ran it back for their first punt return touchdown since 2011. I can't make this stuff up. There's really not much Frost can say at this point either.
"That's a punt that we were supposed to kick to the right sideline and we went to the left," Frost said.
"We had a spirited talk in the locker room. I don't want them hanging their heads. We have a really good football team. Little things need to change. I kind of said it at halftime to the guys. I felt like I was watching the same movie again, and I told them they have to change the record."
Frost's talk at halftime clearly worked, as NU controlled the entire second other than that play. The defense even bailed out Adrian Martinez after a fumble. They didn't allow a first down the entire third and fourth quarters. They held the nation's leading rusher to just 61 yards rushing.
"I feel terrible for them because the defense is playing really well right now," Frost said. "We didn't have any business losing that game."
The problem is each one of these 15 losses by one score or less has an impact. You only get 12 of these precious Saturdays to show growth and improvement. The Huskers have burned through five of them and it's only Sept. 25.

There's not much time to fix this season or that much margin for error. The Big Ten right now is also very unpredictable which adds to the intrigue.
"These guys have got to do it," Frost said. "We have a good enough football team to do it. They have got to get sick of this stuff. I'm sick of it. They are sick of it. We've got to be able to count on guys when we need them to do their job."
The players had a similar message as well. Everyone in that post-game press conference was almost at a loss for words.
"We've got more to give," senior linebacker JoJo Domann said. "This whole team has more to give. We are not done, we are not going to role over. This hurts. We want to win the game. We are competitors. Ultimately it's how we are going to respond to these moments that are going to define us."
Now on to the breakdown...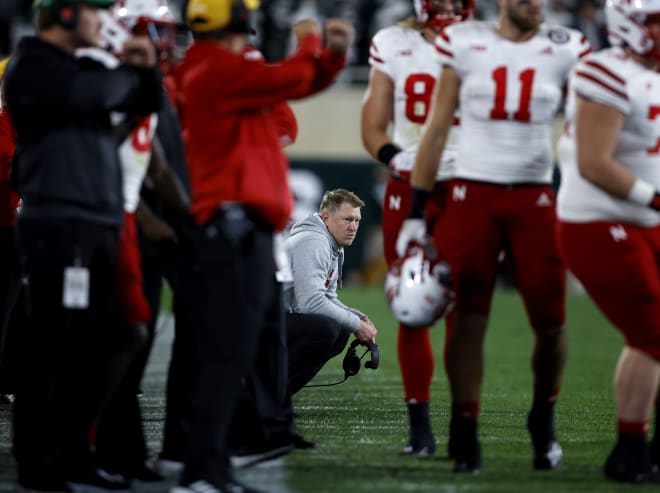 What I saw on Saturday 
***If you are Nebraska how do you fix your special teams and offensive line issues? The Huskers have played five games now and we know what they are. So much of the game on Saturday was decided by these two things.
***It's a shame arguably one of the best halves of football we've seen a defense play at Nebraska was wasted on Saturday night. I'd love to know the last time NU didn't allow a first down over the third and fourth quarters. I'd love to know the data on how many teams have ever lost a game that didn't allow a first down in the second half. It's really incredible when you think about it.
***Frost had a much more honest post-game press conference and was about as open about things as we've seen. He clearly knows he's got to be a strong leader up front after a night like tonight. Once again this team is so close, but yet feels so far away at times. As Trev Alberts said back in July, focusing on the "details" is what Nebraska needs to worry about. Those "details" are making it very hard to get any type of momentum.
***Adrian Martinez left the game for one series after he took a pretty good shot. In his place, Logan Smothers did a solid job of managing the offense. What was disappointing is the offensive line had two false start penalties on his one possession. Frost lit up the entire offensive line as they came back to the sideline.
***Both Cam Taylor-Britt and JoJo Domann made big plays where they set the edge and blew up what could've been big gains if proper discipline and technique weren't shown on their read.
Another guy who played lights out on Saturday was Garrett Nelson. He has really come into his own the last few weeks.
***The last 22 seconds of the first half were about as bizarre as it comes. Nebraska had a 7-yard punt, a 5-yard offside penalty and a no-call targeting penalty on Deontai Williams. It all ended with a blocked field goal. Huskers dodged a huge bullet there to keep the game at 13-10.
***Wide receiver Zavier Betts did not see a snap of action in the second half after leading the Huskers with five catches for 62 yards. Frost said "he was not available" in the second half.
***The most disappointing stat for the offense is they ran 85 total plays compared to 53 for Michigan State. On the ensuing possessions after the Huskers took a 20-13 lead that's when they needed to go into overdrive and finish the game. MSU's defense was running out of gas and they weren't able to finish them.
The final grade out
Rushing offense: B
Nebraska's tailbacks had 23 carries for 93 yards, with Rahmir Johnson leading the way with 19 carries for 76. In total, the Huskers had 222 sack-adjusted rush yards. The only thing they lacked was that four-minute offense drive to finish the game off.
Passing offense: C-
Adrian Martinez had two turnovers in the passing offense, with the second one costing NU the game. Martinez was still very good at times on Saturday, but also missed a few key downfield throws/reads that may have changed the entire game.
Rushing defense: A
Nebraska's rushing defense held the nation's lead rusher to just 61 yards on 19 carries. MSU had just 89 sack-adjusted rush yards.
Passing defense: A
The Blackshirts forced Payton Thorne's first interception of the season and held the Spartans to 1-of-11 on third and fourth downs. MSU did not convert one first down in the third and fourth quarters.
Special teams: F
Just when we thought Nebraska could not find any more ways to lose a game on special teams, they created a new one on Saturday. Between Daniel Cerni and William Przystup, I'm not sure we've seen a game impacted this much at Nebraska by the punter. The pair was off all night, and it cost Nebraska the game. Also, NU failed to field a few punts that rolled and lost valuable field position for the offense. Even when MSU kicked off from the 20-yard line after a 15-yard penalty, the Huskers could only return the ensuing kickoff to the 18-yard line. That's a play you should be able to get to the 35 at minimum. The Spartans had an average starting field position on the 37-yard line compared to the 26-yard line by Nebraska.
Sean Callahan can be reached at sean@huskeronline.com and he can be heard each day at 6:45 am and 5:05 pm on Big Red Radio 1110 KFAB in Omaha during the football season. He can also be seen on KETV Channel 7 in Omaha during the fall and each week he appears on NET's Big Red Wrap-Tuesday's at 7 pm.