Final take: Making a statement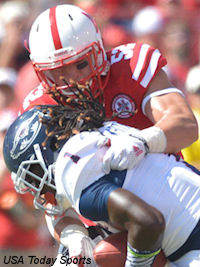 Click
Here
to view this video.
If
Bo Pelini
wanted to make a statement on Week 1 of the college football season he certainly accomplished that.
It would have been hard to script a better season opening performance than Nebraska's 55-7 win over Florida Atlantic. The Huskers racked up 784 yards of total offense - the most since 1991 and the fifth most in school history.
The even more impressive number that came from Saturday was the 784 yards ranked as the most ever in a game by a Big Ten team, topping Purdue's 763 yards from the 2004 season.
Still Pelini thinks we could see more from this offense.
"We did what we should have done," Pelini said. "We won a football game we should have won. We can get a lot more out of it by really looking at it and going through with a fine-tooth comb; evaluating what we need to evaluate. There's a lot more out there. But I thought it was a good start really in every phase."
In some ways you could tell this game meant something to Pelini. Even though he downplayed the way things happened with his brother Carl at Florida Atlantic, he let Owl Athletic Director Patrick Chung know he didn't forget.
FAU and Chung went out of their way to get rid of Carl Pelini last year and in the process did their best to ruin his name in the coaching business. If there's one thing I know about Bo Pelini, he's not going to let something like that go lightly.
That's why you probably saw Pelini keep his foot on the gas pedal all the way up to the game's final play when NU called a pass, or the fact quarterback
Tommy Armstrong
threw one last touchdown late in the third quarter to make the game 45-7.
"We played fast. I know it seemed like that third quarter went on for about eight hours," Pelini said. "That was a long quarter. They threw it 30 times. Once we got up, I'm surprised we saw as many passes from them as we did. At the end of the day, we practiced fast and it was up to us to play fast.
"I really think our schedule through camp helped us a little bit. Our guys were fresh going into this thing and feeling good. That's always a plus."
The interesting thing about Saturday was throughout fall camp most of us thought it was the defense that was going to steal the headlines this season.
In some ways the offense we saw and the numbers we saw on Saturday are what we expected to see last season before quarterback Taylor Martinez went down with injury.
"We were all just on the same page," Armstrong said. "We all knew exactly what we needed to do. We wanted to move the chains. We knew they were going to come out with something different. We just had to be ready for anything. We just had to respond the right way.
"In that first series we went down and we all understood, they pressed and loaded the box and we just had to make plays to move the chains and I think we did a good job of that. Flags killed us here and there and we just have to correct them."
Now on to the post game grade out…
What I saw on Saturday
***Any time you are talking about a potential knee injury to a guy that makes his living rushing the quarterback it's a concern. Hopefully
Randy Gregory
's knee injury isn't serious. I still wouldn't be surprised if NU rested him next week against McNeese State.
***It's hard to imagine a Heisman Trophy campaign getting off to a better start than what
Ameer Abdullah
did on Saturday. The Alabama native finished with a career-high 232 yards on 21 carries. The scary thing is he had a couple of different runs called back on penalties, which would've put his final numbers closer to 300 yards.
***Going into the season we thought
Kenny Bell
was the clear cut No. 1 receiver. After Saturday you could argue
Jordan Westerkamp
and Bell are almost a 1A and 1B. Westerkamp had a great fall camp and his relationship with Armstrong is going to make him a main target all season.
***With Gregory out, I was very impressed with what Nebraska's defensive line was able to do.
Greg McMullen
looked strong and
Jack Gangwish
more than held his own.
***Got a lot of positive feedback about the new in-stadium Wi-Fi internet. I would say 95 percent of the response on got on Twitter was positive. The only negative feedback came from those people underneath the overhangs or high up in the end zone seats.
***Nebraska's offense and defense looked like they were in mid-season form. The new stadium smoke machines and whoever pushes the button for the scoreboard fireworks did not. There was one time on Saturday where the fireworks in the scoreboard went off prematurely, and the smoke machines did not go off properly to match the players entrance on the field.
***There were some concerns about the sellout streak going into this month and possibly seeing empty pockets of seats in Memorial Stadium. I'd say after Saturday let's put that talk to bed. The student section was jam packed at kickoff, as was every other seat in the stadium.
The final grades
Rushing offense: A
After a slow start with some downfield blocking penalties, Nebraska's rushing offense took over. Running back
Ameer Abdullah
got his Heisman Trophy campaign off to a great start by rushing for a career-high 232 yards on 21 carries.
Passing offense: A
Quarterback
Tommy Armstrong
was just 15-of-29 passing, but his deep ball accuracy was deadly, as he finished with 271 yards and two touchdowns. Wide receivers
Jordan Westerkamp
and
Kenny Bell
were also outstanding, coming up with two highlight reel catches.
Rushing defense: A
FAU gave Nebraska some problems early with misdirection, but after a few adjustments they weren't able get anything on the ground. The Owls finished with just 105 yards rushing and didn't have a run longer than 14 yards.
Passing defense: A
The Huskers got consistent pressure on Florida Atlantic when they dropped back to pass, and they tackled well in the open field limiting big plays. Even without All-American
Randy Gregory
for most of the game NU looked like a much improved defense from a year ago. FAU finished with just 95 yards passing and completed only 11-of-30 attempts.
Special teams: C-
This was probably the only area you could be overly critical about. Nebraska struggled with their kickoff coverage and they muffed a punt that they were able to knock out of bounds. Freshman kicker
Drew Brown
looked solid in his Husker debut.
Sean Callahan can be reached at sean@huskeronline.com and he can be heard each day at 6:50 am and 5:05 pm on Big Red Radio 1110 KFAB in Omaha during the football season. He can also be seen on KETV Channel 7 TV in Omaha during the fall and each week he appears on NET's Big Red Wrap Tuesday's at 7 pm.
[rl]