Final take: Just stop trying to figure it out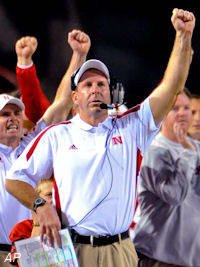 It's almost to the point where I'm done trying to figure out this Nebraska football team.
For the fourth time this season the Huskers made a double digit second half comeback in Big Ten Conference play to beat Penn State 32-23. The four comebacks lead all of Division I FBS football.
You could play the next 100 years of Nebraska football and not see a string of comebacks like this. Whatever it is, something continues to drive this team.
"I'm going to call the Big Ten Conference and we are going to spot them 14 and we are good to go," head coach
Bo Pelini
joked after the win when talking about how he'll approach future games.
When the negative haters are out in full force and ready to count this team out they continue to find a way to overcome the odds.
I wrote last week that the formula Nebraska is using to chase a Big Ten title is unorthodox. In a way Nebraska is sitting at the Blackjack table and they are continuing to hit on 15 and 16's and coming up with the right cards. Sooner or later the house is going to win, but right now the Huskers are on a run of good cards and they keep finding a way to survive each week.
Don't hate this team, because that's who they are. This isn't the 90's. Nebraska has played the six best teams in the Big Ten and most of the point spreads for these games have been 3 to 7 points.
I know everyone wants to see perfect performances and blowouts, but that's not who this team is and realistically you don't see it very much in this conference when the top teams meet.
"I just believe there's still a lot more out there for this football team," Pelini said. "I really do. That's why we practice and why you have to keep going. I love the kids on this team and the approach and the want to and just how they respond. There's never a sense of panic with these guys. They believe in each other and they believe in what we are doing and that at least gives you a chance."
What I saw on Saturday
***Penn State fans are going to gripe about this game for a long time, but the bottom line is they had plenty of chances to win it. PSU was up 20-6 at halftime and it very easily could've been 24-6 or 28-6. Also, look at the second half. Nebraska held the ball for over 19 minutes and they had 57 rushing attempts for 267 yards. Very rarely are you going to win a game when your defense gives up these types of numbers.
***After going 10-of-18 for 160 yards in the first half, Penn State quarterback
Matt McGloin
was just 8-of-19 for 80 yards in the second half. Nebraska's defense did a much better job of getting pressure on McGolin with their front four, which allowed them to keep seven men in coverage.
***When I hear Penn State fans and media ask
Bill O'Brien
about a possible Big Ten conspiracy theory, all I can think about is what Nebraska fans went through in 2010 with the Big 12. It's crazy to even think something like that would come across a refs mind when making a call in the game. Bottom line is if that's called a touchdown on the field it probably stands that way. They called it a fumble and the refs were probably 95 percent sure it crossed the goal line, but it wasn't 100 percent conclusive evidence in their eyes.
***I was a little surprised Nebraska wasn't ready for Penn State's up-tempo no-huddle offense. Nebraska has seen no-huddle offenses all year. One PSU writer after the game told me Penn State has shown plenty of no-huddle hurry-up offense on tape this season.
***To Pelini's credit, he and the staff took the blame for the lack of communication with the first half defensive calls.
"The coaches put that on them. They fessed up to it, which was really cool," senior defensive end
Cameron Meredith
said. "We have to be faster on our part too. If we see them in hurry up we have to go to our adjustments."
***You get the feeling Michigan is not going away and they are going to make this Legend's Division race go all the way down to the final day. Nebraska better just keep winning.
The final grades
Rushing offense: B+
Nebraska rushed for 267 yards on 57 carries and two touchdowns. It was toss right, toss left for most of the game. NU's ground game wore down Penn State, as the Huskers held the ball for over 19 minutes in the second half. Both Ameer Abdullah and
Taylor Martinez
ran for over 100 yards. The only reason I didn't go with an A or an A- was for Martinez's fumble and NU's problem at times with short yardage runs.
Passing offense: B
Martinez was 12-of-20 for 171 yards and most importantly he didn't throw a single interception. Martinez's touchdown pass to
Jamal Turner
ended up being the game winning score for the Huskers and Turner's second game winning catch in as many game. Tight end
Kyler Reed
also came up with a huge third down catch that went for 56 yards and set up Turner's touchdown.
Rushing defense: C
Nebraska struggled with
Zach Zwinak
's physical north-south running style. Zwinak had a 50 yard touchdown run and finished with 141 yards on 21 carries. I almost felt like Penn State went away from the run in the second half when they probably could've kept getting yards.
Passing defense: C+
After a hot start from McGloin in the first half, he finished just 8-of-19 in the second half and ended the day 18-of-37 for 240 yards. I thought
Daimion Stafford
's interception was the biggest play of the day. After Nebraska scored to start the third quarter Stafford made a play the defense desperately needed to set the tone of the second half.
Special teams: C
The return game for Nebraska was an F today as the only punt the Huskers fielded cleanly resulted in a
Tim Marlowe
fumble. I really think NU needs to get two guys back to field punts. They are letting way too many punts hit the ground and losing valuable field position. Kicker/Punter
Brett Maher
brings the grade up to a C with his three made field goals and his 69 yard punt that landed on the 2 yard line and eventually resulted in a safety. The punt was just as big as any play Nebraska had on Saturday.
Sean Callahan can be reached at sean@huskeronline.com and he can be heard each day at 6:50 am and 4:50 pm on Big Red Radio 1110 KFAB in Omaha during the football season. He can also be seen on KETV Channel 7 TV in Omaha during the fall and each week he appears on NET's Big Red Wrap Tuesday's at 7 pm.
[rl]