Final take: It couldnt have been any worse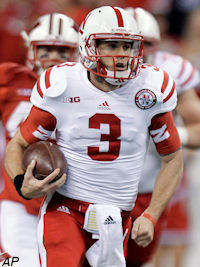 INDIANAPOLIS - You could come up with over 100 words to describe Nebraska's loss to Wisconsin Saturday night in Indianapolis's Lucas Oil Stadium.
The bottom line is the Huskers 70-31 loss to the Badgers is another blown opportunity on the big stage. Chances like Saturday don't come very often. NU may never have a more gift wrapped opportunity again to play a 7-5 team for a conference championship.
This wasn't an undefeated Texas team or a 10 win Oklahoma team. This was a 7 win Wisconsin team starting their third string quarterback that had zero fan interest to travel to Indianapolis to watch them play against the Big Red.
This was a Badger team that made it to Indianapolis on a technicality only because of Ohio State and Penn State's NCAA sanctions.
Wisconsin took the field on Saturday night like the team that's been here before. Meanwhile NU looked nervous and uptight from the get-go.
"I apologize to everybody associated with Nebraska football with how we coached, how we played, and it's not acceptable," NU head coach
Bo Pelini
said following Saturday's loss.
The concerns of losing center
Justin Jackson
and defensive tackle
Baker Steinkuhler
were legitimate and they showed on Saturday with Nebraska's play up front.
Nebraska's defensive line got blown off the line unlike we've ever seen before under Pelini. The Badgers rushed for 539 yards and eight touchdowns - the most a Nebraska defense has ever given up.
The lack of defensive line recruiting and development in previous recruiting classes was never more obvious than Saturday night.
Cameron Meredith
is a serviceable defensive lineman, but by no means can you expect him to fight off double teams against one of the nation's biggest offensive lines at 260 pounds.
"It was like a leaking boat. It was one thing after another," Pelini said when commenting about Nebraska's defensive problems. "One problem after another. You get one fixed and you talk about it. There were some things that we corrected and it happened again. Like I said, I don't know if I've ever I've never been a part of a game like that as a coach.
"Like I said, at the end of the day, it falls on me. It falls directly on my shoulders because I'm responsible for how those kids play."
Another thing that showed on Saturday night was Nebraska's lack of speed at linebacker. Wisconsin's jet sweeps and pre-snap motioning got NU off-balanced and any time a Badger running back got to the edge it was a lost cause.
Nebraska's six game winning streak to get to Indianapolis was special, but all the initial concerns people had with this team after the UCLA and Ohio State losses showed up in Lucas Oil Stadium on Saturday night.
The question now is where does Nebraska go from here? With a trip to either Orlando or Tampa against an elite SEC program the road only gets tougher over the next month.
On to the post game breakdown and grade out….
What I saw on Saturday
***At the time, quarterback
Taylor Martinez
's 76-yard touchdown run looked like it was a game changing moment when he made the score 14-7. It was one of only a few bright spots for the Big Red on Saturday night.
***I thought the play that really set the tone for Saturday night was after Wisconsin marched down the field on their opening drive and then
Kenny Bell
dropped a pass that led to a pick six. From that point on you knew it could be a long night for the Huskers.
***There were moments that you thought maybe Nebraska's offense could get going, but whenever the Huskers got momentum they could never get a defensive stop to go with it.
***Bell's block that led to a 15 yard unsportsmanlike conduct penalty was another play or moment that just summed up the night for Nebraska.
***Before Saturday night you thought a strong showing and a win would be perfect to jumpstart recruiting in December. Now it's going to be a tough month to sell the program with the amount of negativity that's going to follow this loss.
***I feel like most Husker fans could've handled a hard fought loss in Indy, but it was the manner of this one this that's going to be hard to swallow over the next month. It was the type of beat down you saw the 1995 Husker team dish out to people. In a down year of the Big Ten, a loss like this never should happen.
***The announced attendance was 41,260, and I'd say that nearly 30,000 of it were Nebraska fans.
****All signs now point to the Capital One Bowl picking Northwestern over Nebraska and the Huskers falling to the Outback Bowl in Tampa. We won't know anything official though until the bowl representatives have their Sunday meetings.
The final grades
Rushing offense: D
Nebraska rushed for 282 yards on 44 carries, but in the first half if you take away Martinez's 76 yard touchdown run on a broken play the Huskers had just 52 yards on 15 carries. In fact, the Huskers only ran 30 plays in the first half and just 16 were on the ground. That's usually not going to be a winning recipe for the Big Red.
Passing offense: F
Martinez threw two interceptions, one went for a touchdown and the other was returned to the 9 yard line and led to a touchdown on the next play. Martinez was also sacked six times, and hurried countless other times in the pocket.
Rushing defense: F
The Badgers rushed for 539 yards and eight touchdowns. Nothing else really even needs to be said. Both numbers are the most the Big Red has given up in school history.
Passing defense: F
Wisconsin only threw 10 passes, but nearly all of them were pretty significant. The way the Badgers were running the football, there wasn't really even a need to throw.
Special teams: Incomplete
Special teams was really a non-factor in this game. However, Nebraska still didn't get a punt return and nine of the 10 kickoffs from
Kyle French
were touchbacks.
Brett Maher
also shanked an early punt, but it didn't end up being a play that cost the Huskers.
Sean Callahan can be reached at sean@huskeronline.com and he can be heard each day at 6:50 am and 4:50 pm on Big Red Radio 1110 KFAB in Omaha during the football season. He can also be seen on KETV Channel 7 TV in Omaha during the fall and each week he appears on NET's Big Red Wrap Tuesday's at 7 pm.
[rl]