Final take: Huskers turn the tide on Northwestern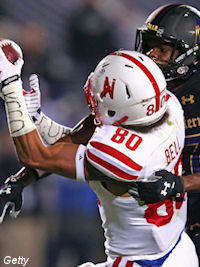 EVANSTON, Ill. - It was literally a tale of two halves for Nebraska on Saturday.
For the first two quarters NU looked like the team we saw struggle at Michigan State, giving up 262 yards on defense, rushing for just 79 yards on the ground and converting only 1-of-6 third downs.
However, in the second half a different team took the field as Nebraska out-gained Northwestern 244 to 28. The Huskers converted 7-of-9 third downs and held the Wildcats to an average of 1.1 yards per play on 26 second half snaps.
Call it what you want - adjustments, better tackling on defense and execution on offense. The bottom line is Nebraska got a 38-17 road victory against a team that's been playing some pretty good football over the last month - a team that's been a nemesis to the Huskers ever since joining the Big Ten. It was a game this football team needed coming off a tough loss at Michigan State- a game that solidified NU's place in the Big Ten West divisional race.
"We just needed to come win a football game and I don't want to read too much into it," head coach
Bo Pelini
said following the win. "We're going to meet a challenge next week. We've gotta keep getting better. There's a lot of things that we need to fix, that we need to get better at, as the year keeps going on. We'll stay with what we're doing."
This was arguably the best we've seen NU's offense and defense look collectively in a half all season.
There were a lot of questions after the loss at Michigan State, and hopefully tonight's performance erases some of them going forward.
"A lot of people changed their mind about us, but we are still the same team," freshman wide receiver De'Mornay Pierson-El said. "Everybody has off weeks and off days, and it just so happened that Michigan State was our off game. We bounced back tonight and everything else is starting to roll."
After five straight night games in which three of them came on the road, the Big Red will finally head home at 6-1 and 2-1 in conference play for the first time in nearly a month next Saturday to take on Rutgers at 11 am.
"I think it was really important," senior corner
Josh Mitchell
said of Saturday's victory. "I think we needed that. A little momentum helps, now we get to go home for two weeks in a row. Just to get back in front of our fans is going to help."
Now on to the post game grade out….
What I saw on Saturday
***It was clear Nebraska spent a lot of time over the bye week to get wide receiver
De'Mornay Pierson-El
more involved in the offense. He's too much of a weapon not to incorporate in the offense. It's crazy to think before tonight he only had three catches for 9 yards on six targeted passes.
***It was a gutsy change up by the defensive coaching staff to go back to sophomore linebacker
Josh Banderas
after senior
Trevor Roach
missed a series of tackles in the first half. Banderas had really struggled in previous games, but it shows you how much the staff believes in him. He stepped in and made a couple of big tackles on run support. It was the best he's looked all season.
***Saturday marked just the third time in the last five years that Nebraska didn't fumble at least once. The Huskers didn't have a single turnover on Saturday.
***I felt like once
Ameer Abdullah
broke off a couple of runs that all he needed to get going. If he could've done that against Michigan State two weeks ago it could've been a different type of game.
***Northwestern head coach
Pat Fitzgerald
said that one of the big runs quarterback
Tommy Armstrong
had on Saturday was a completely new wrinkle the Huskers hadn't shown on film all season.
***I love the fact we saw more guys play both on the offensive and defensive lines on Saturday. It's critical going forward NU continues to establish this kind of depth up front.
***Defensive end
Randy Gregory
didn't have any sacks or tackles for loss, but he did have two pass break-ups and helped free up other guys like
Kevin Williams
and
Maliek Collins
who finished with a combined 3 ½ sacks.
The final grades
Rushing offense: B+
Early on Nebraska struggled to run the ball with consistency, but finished the game with 234 yards on 44 carries, including 146 yards and four touchdowns from Abdullah. Armstrong also added 55 yard on 10 carries, which is big in the grand scheme of things for him to compliment Abdullah.
Passing offense: B
NU had four drops in the first half, including three from
Kenny Bell
. In the second half they got it turned around and Armstrong finished 18-of-29 for 221 yards. Most importantly he didn't throw a single interception or force very many throws into coverage. Armstrong was huge on third downs, as the Huskers converted 7-of-9 in the second half.
Rushing defense: B+
After struggling with making tackles in the first half on running back
Justin Jackson
, the Huskers bottled him up for just 29 yards on 7 carries in the second half. This came after he had 99 yards and two touchdowns in the first half. NU added an extra man in the box, and that forced Northwestern to throw.
Passing defense: A
The Big Red held Northwestern quarterback
Trevor Siemian
to only 173 yards passing, and his long throw of the game was just 23 yards. Siemian was 5-of-16 in the second half for only 25 yards passing overall. The Blackshirts did a great job of getting pressure on him and not letting him get comfortable in the pocket.
Special teams: B
Punter
Sam Foltz
put all five of his punts inside the 20 yard line and the Huskers controlled the field position for most of the game. The only thing to downgrade them on was a missed field goal from 39 yards by
Drew Brown
, but it looked like there were some problems with the hold.
Sean Callahan can be reached at sean@huskeronline.com and he can be heard each day at 6:50 am and 5:05 pm on Big Red Radio 1110 KFAB in Omaha during the football season. He can also be seen on KETV Channel 7 TV in Omaha during the fall and each week he appears on NET's Big Red Wrap Tuesday's at 7 pm.
[rl]