Final take: Huskers survive an unexpected 12-round fight
Nebraska came into Saturday's game with Arkansas State not expecting a 12-round fight, but that's exactly what the Huskers got.
Up 43-29 with 5:52 left on the clock, NU had a chance to close out the game, but a quick three-and-out gave the Red Wolves the ball back and they answered with a scoring drive followed by recovering the ensuing onside kick. From there, ASU had two chances from the 11-yard line to try and tie/win the game.
It was one of those kind of nights in Memorial Stadium. For all the good we saw from Nebraska, it was matched with just as much bad. The Huskers let ASU hang around and they showed why they are a team that many think could end up winning the Sun Belt Conference this year.
"I'm glad we won the game," head coach Mike Riley said. "I'll give a lot of credit to Arkansas State, how they played. We talked about that all along, that this was going to be a darn good football team and they were going to give us fits controlling and moving the football, and they did."
However, I don't think anybody expected the Red Wolves to run 48 first half plays and quarterback Justice Hansen to have one of the best statistical passing performance against Nebraska in school history.
Hansen kept the Huskers defense on their heels, and the pass rush was a non-factor, as NU only sacked him one time.
Unfortunately we did not get to hear from defensive coordinator Bob Diaco following Saturday's game, as he breezed by reporters when he was supposed to do his post game interview.
It's disappointing we couldn't hear from Diaco, as there were obviously a lot of questions that needed answered.
However, we did hear from a handful of Diaco's defenders, and they remain confident they can grow from Saturday's close call.
"This is our first game, it was a lot closer than we expected but we came out, got the win and that's all that matters," sophomore cornerback Lamar Jackson said. "We'll come back in tomorrow and learn from our mistakes, and get ready for next week against Oregon."
If anything, a game like this was probably what Nebraska needed. This team had a lot of guys seeing their first major game experience.
Going through something like this will go a long way in making them better for the future, and it will definitely get their attention as they get ready to travel out to Oregon.
Now on to breakdown...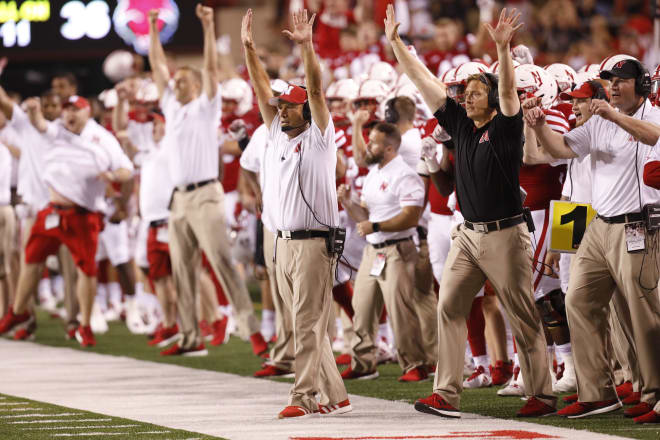 What I saw Saturday 
***The battle at running back on Saturday looked more like a one-man committee, as Tre Bryant had a career night. It looks like he could be the 1,000 yard back the Huskers have been missing since 2014.
***Quarterback Tanner Lee played as advertised. He's got a big time arm, and he makes the hard throws look easy.
***I liked the fact NU went out of their way to find a couple of designed touches for guys like freshman wide receiver Tyjon Lindsey.
***Senior wide receiver De'Mornay Pierson-El looked as fast and explosive as we've ever seen him in a Husker uniform on Saturday.
***Nebraska has a true threat at kick returner. JD Spielman's 99 yard score was the first by a Husker since 2013, and they answer they needed after giving up a punt return for a touchdown.
***The lack of pass rush and pressure by the defense was a real concern on Friday. I felt like the Huskers played too conservatively at times, and that left the secondary as sitting ducks with the lack of pressure up front.
***One of the real positives for the defense was I felt like they got their hands up a lot on Saturday, and deflected a number of passes. That's something we haven't seen in the past.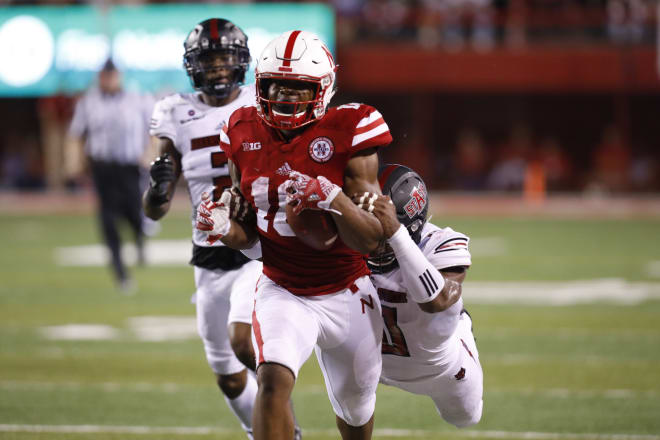 The final grade out
Rushing offense: A-
History tells you if Nebraska rushes for more than 200 yards under Mike Riley, they never lose. That held true on Saturday, as the Huskers had a very impressive 232 rushing yards 37 attempts from their backs and receivers. I would've liked to have seen them finish off the game though with a couple of first downs to kill the clock.
Passing offense: B+
Tanner Lee finished 19-of-32 with 238 yards and two touchdowns. He connected on some beautiful passes to guys like Stanley Morgan and Pierson-El, and he stood tall in the pocket. It's been a long time since we've seen a Husker quarterback stand tall in the pocket and make throws like that.
Rushing defense: B
The Huskers held the Red Wolves to just 82 yards rushing, and they only had one run longer than 10 yards.
Passing defense: D-
This was obviously the issue for the Huskers on Saturday. There is a lot of work to do on Nebraska's back end, and NU also needs to do a better job of getting a pass rush up front to help the defense.
Special teams: C
Special teams played a huge factor on Saturday for both teams. The Huskers ran a kick back and got excellent punting from Caleb Lightbourn, as he placed three of his five kicks inside the 20 yard line. However, they did give up a big punt return for a touchdown that was one of the bigger early moments on Saturday.
Sean Callahan can be reached at sean@huskeronline.com and he can be heard each day at 6:45 am and 5:05 pm on Big Red Radio 1110 KFAB in Omaha during the football season. He can also be seen on KETV Channel 7 in Omaha during the fall and each week he appears on NET's Big Red Wrap-Up Tuesday's at 7 pm.