Final take: Huskers suffer their seventh one-score loss of 2021
MADISON, Wisc. - After Scott Frost parted ways with four of his five full-time offensive assistant coaches two weeks ago, I'm not sure many people gave Nebraska much of a chance to move the ball against one of the nation's best defenses in Wisconsin.
Not only did the Huskers move the ball on the Badgers, they put up the most yards by far against them this season and the most since 2018 when the Big Red went for over 500. Nebraska finished with 452 yards. Coming into Saturday Wisconsin was giving up just 216.3 yards per game.
The problem was some of the same things that have plagued the Huskers all season once again showed up in Madison. Starting down 7-0 after allowing a 91-yard kick return for a touchdown was a disaster way to begin the day. We also saw a very uncharacteristic game from Erik Chinander's crew, after they were down several key faces. The result once again was a loss, as Nebraska suffered an NCAA-record tying seventh one-score defeat falling 35-28. This one though felt different, as the Big Red had a chance in the red zone to tie or win the game in the final seconds.
"There's been a little too much hoping we win I think, and not enough knowing we are going to win and believing we are going to win," Frost said. "I was around the guys all day at the hotel and the guys believed they were going to win today. I think they even believed it on the last drive. I told them on that drive we were going to go for two when we scored and we were heading in that direction."
We saw a "no fear of failure" approach from the Husker offense. NU was 10-of-12 for 174 yards passing on first down alone. They weren't afraid of the Badger defense.
"Going into the game, Coach Frost and some of the other coaches wanted to be aggressive," quarterback Adrain Martinez said. "We were going to throw the ball more this game and we definitely did those things."
Still, this felt just like Oklahoma, Michigan, Michigan State and Ohio State. NU went toe-to-toe with a top-15 level team, but they remain short.
This off-season, that will be Frost's job to fix that. How can they overcome these shortcomings? It's been the story of 2021 and it was once again the story on Saturday.
"There's an attitude around here recognizing we can get this done making one or two more plays," tight end Austin Allen said. "It's not really hope anymore, we have to get the job done and we know we can. There are just one or two more plays across the board we just have to go take. We just can't hope it's going to happen. We have to take it."
Now on to the breakdown...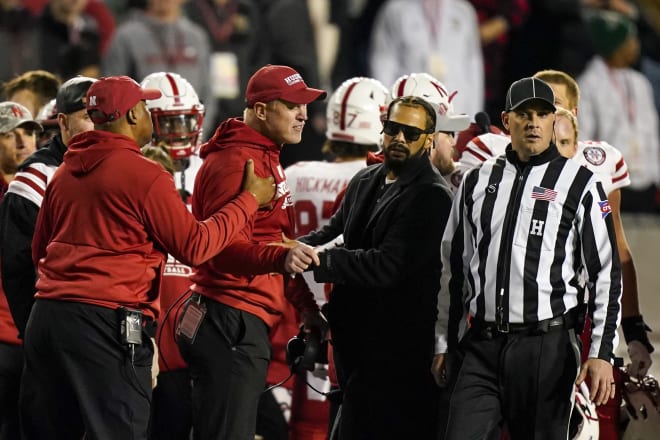 What I saw on Saturday 
***We have seen everything Nebraska's running back room has had to offer in 2021. On Saturday, Rahmir Johnson didn't travel to Madison and Jaquez Yant didn't play a single snap. Instead, we saw a heavy dose of Markese Stepp, Brody Belt and Marvin Scott III. I'm sure the Badgers were even caught off guard with what the Huskers came out with at running back.
***Freshman tight end Thomas Fidone saw his first action of the season. He found out on Tuesday he was going to play on Saturday.
***I asked Isaac Gifford what happened on the 91-yard kick return and he simply said he "missed a tackle."
***Tight end Austin Allen caught seven passes for 143 yards, which broke a single-game record for tight ends at NU. The previous record of 137 yards was held by Johnny Mitchell and set in 1991. Allen now had 36 catches, which is the most ever in a season by a Husker tight end. He needs just 14 more receiving yards to set a new single-season Nebraska tight end record. The current record is 560 and it's held by Junior Miller.
***Martinez moved into the top 10 on the Big Ten career total offense list with his 10,792 yards. He sits in seventh place, moving past Illinois' Juice Williams (10,594 yards), Illinois' Nathan Scheelhaase (10,634), Armstrong (10,690) and Michigan's Denard Robinson (10,745).
***Martinez left the game for a couple of plays in the second quarter for reportedly a shoulder injury. Logan Smothers came in for his fifth game of action this season, meaning he can no longer redshirt.
***It was good to finally see Blaise Gunnerson get some meaningful snaps at NU. He was able to get some pressure on a sack play with Garrett Nelson.
***Caleb Tannor and Damion Daniels both left the game with injuries. JoJo Domann, Deontai Williams and Pheldarious Payne were all out. The Blackshirts were down quite a few key pieces on Saturday and it showed at times.
***Nebraska had 452 total yards on Saturday. It was the most for a team against the Badgers in a regular-season game since 2018, when NU put up 518 yards - they also put up 492 in 2019.
***Badger running back Braelon Allen is a load. Just when you think Wisconsin is down at running back, they find another super-star. Another big game against Minnesota next week, and it's going to be hard to keep him off the All-Big Ten ballots.
***I don't think I've ever seen Frost so upset after the no-call pass interference on Zavier Betts. There was clearly contact on the play and the refs made the decision to swallow the whistle and "let them play."
The final grade out 
Rushing offense: C
Nobody runs the ball on Wisconsin. That is just a fact. The Huskers were able to get 101 yards and averaged 2.9 yards per carry in sack-adjusted rush yards. The trio of Body Belt, Marvin Scott III and Markese Stepp combined for 26 carries for 78 yards and two touchdowns.
Passing offense: B
This was really an A-level performance, but the Huskers get knocked down to a B because of the two interceptions. One was Martinez's fault and on the other, the receiver gave up on the route to allow the pick to happen. Still, 23-of-35 for 351 yards is one of the better stat lines we have seen all year from Martinez. He also had adequate time to make throws most of the game.
Rushing defense: F
Wisconsin was able to get 181 yards rushing on five runs, including 164 from Braelon Allen on just four attempts. Allen finished with 228 yards and the Badgers had 258 sack adjusted rush yards on Saturday. NU was a few men short on Saturday, but it was the worst tackling performance we have seen vs. the run by the Blackshirts.
Passing defense: C
NU really got hurt by the underneath throws to the tight ends for Wisconsin. They did not give up anything deep, but Graham Mertz finished a serviceable 12-of-18 for 145 yards. Nothing was fancy about his game, but it was enough.
Special teams: F
The Huskers gave up a kick return for a touchdown to open the game and misfielded a punt inside the 10-yard line that started a drive on NU's own 6-yard line. Nebraska also failed to pin any punts against the Badgers. Once again special teams were about a 10 to 14 point liability for the Big Red in Madison.
Sean Callahan can be reached at sean@huskeronline.com and he can be heard each day at 6:45 am and 5:05 pm on Big Red Radio 1110 KFAB in Omaha during the football season. He can also be seen on KETV Channel 7 in Omaha during the fall and each week he appears on NET's Big Red Wrap-Tuesday's at 7 pm.