Final take: Huskers find balance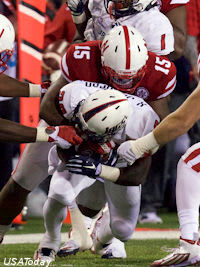 Click
Here
to view this video.
[rl]If you could take anything away from what we learned on Saturday from Nebraska's (1-1) 48-9 victory over South Alabama (1-1), the Huskers did what they were supposed to do.
They went out and stomped a Sun Belt Conference opponent and did whatever they wanted.
NU also found balance on offense, rushing for 258 yards and passing for 303 yards averaging 7.5 yards per play. If you are head coach
Mike Riley
, you have to like the way this group came back after what was a very emotional loss last week to BYU.
"I felt real good about how they practiced from the very beginning of the week. I felt Monday was a good day, and Monday can be a hard day because it's just a couple a days after the ball game and they're still sore, but we have found it very good to give them Sunday off and practice on Monday and get a little bit of that game plan in from one day earlier. I thought they were really good on Monday and then got better as the week went on.
"I was very impressed with that and it's like I told you after the last game even though that was really, in tons of ways, bad and disappointing and couldn't we have found a way to help them get into position to make that play. Even though that all came down like that, I still liked a lot of what I saw, not necessarily just in the football but how they played, competed, listened, I liked all that. That's two good things in a row. They rebounded and practiced well in that first game and at least kept competing."
Finding the ground game was also a big key this week. The Huskers only got 91 yards rushing from their running backs against BYU trying a "committee" approach.
They scraped that idea on Saturday and they turned
Terrell Newby
loose for 28 carries and 198 yards. This was something that need to happen going out to Miami.
"He was the guy that we thought was our first-string back, and we thought one thing that we needed to do better was give him the ball," Riley said of Newby. "And let him stay in the game and maybe find a better rhythm."
This game was more than just Newby on offense though. Six different wide receivers caught passes. It was a team effort across the board.
NU showed an offensive balance that will make opposing teams like Miami have to respect both the run and the pass.
"Honestly that is probably one of the best offensive lines I've played since I've been in college," South Alabama defensive back
Roman Buchanan
said. "We played Mississippi State, Tennessee and South Carolina, and I knew from the beginning just from watching this team that they are fundamentally sound. In some places they weren't as athletic as some of the other teams we've played. But as far as technique and good effort, everywhere, I mean their receivers blocking. They played real team ball.
"(Newby) had a good game because of those 10 guys in front of him. We just have to do our jobs, and we can't just work with one guy we have to fill our gaps. He had a good game because his team played harder than our team. That's what happened with that."
Now on to the post game breakdown….
What I saw on Saturday
***I think you saw the value
Michael Rose-Ivey
brought to the table on Saturday night. He just gives this defense an "it factor" on the front seven.
***I thought Riley made it pretty clear what direction he wants to go with the running back position. Clearly he sees something in
Terrell Newby
and he proved tonight he can be a workhorse back going forward.
***Senior corner
Daniel Davie
had a rough night on Saturday. South Alabama really went after him and found some match-up situations they liked. Offenses are going to continue to go after Davie until he proves he can be more consistent in pass coverage.
***It was a good sign to see punter
Sam Foltz
doing some half speed punts during pregame warm-ups on Saturday. My guess is we'll see him on Saturday at Miami.
***What's great about this offense is there are six wide receivers in it right now that any time they get the ball they can make plays. What's scary is their best guy
De'Mornay Pierson-El
is not one of them right now.
The final grades
Rushing offense: A
Do you think
Danny Langsdorf
and
Mike Riley
got the memo Nebraska fans want to see a commitment to the ground game? The Huskers racked up 258 yards on 37 attempts.
Passing offense: A
This was one of the more complete games we've ever seen out of Armstrong at quarterback. He was 21-of-30 passing for 270 yards and he did an excellent job of distributing the ball to several different receivers.
Rushing defense: A
South Alabama's running game was a non-factor. Their leading rusher had just 28 net yards and they finished overall as a team with only 19 yards on 24 carries. Stopping the run has proven to be a real strength for this defense.
Passing defense: C-
The pass defense was the one area you could be real nitpicky about this performance. South Alabama had 313 yards receiving and wide receiver
Josh Magee
really had his way with Nebraska's secondary finishing with 147 yards on six receptions.
Special teams: A
Kicker
Drew Brown
got back on track today connecting on two field goals, including a 42 yarder. He's struggled in his career from distances of 40 yards and longer.
Tyson Broekemeier
also did a solid job punting.
Sean Callahan can be reached at sean@huskeronline.com and he can be heard each day at 6:50 am and 5:05 pm on Big Red Radio 1110 KFAB in Omaha during the football season. He can also be seen on KETV Channel 7 TV in Omaha during the fall and each week he appears on NET's Big Red Wrap Tuesday's at 7 pm.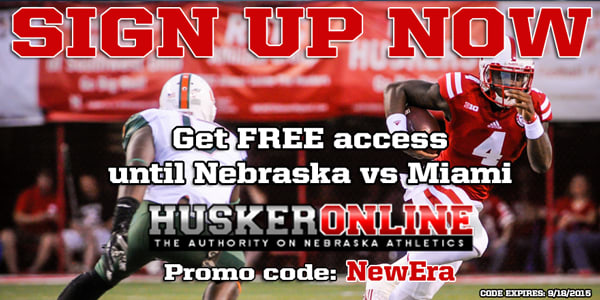 Click
Here
to view this Link.