Final take: Huskers delivered a four quarter show, but still can't close
As Scott Frost said after Nebraska's opening season loss at Illinois, it felt like he's seen this movie before.
On Saturday against Michigan, that movie came on at Memorial Stadium, but it had a much more suspenseful finish. The ending was still the same, but something felt different about NU's 32-29 loss to No. 9 ranked Michigan.
The Wolverines came at the Huskers with haymakers all night, but even down 13-0 in the third quarter, the Huskers managed to take leads of 22-19 and 29-26 in the second half.
The difference on Saturday though was one fumble. NU and UM each had 13 possessions before Adrian Martinez's fourth-quarter fumble that set up a game-winning field goal. Before the fumble, the Huskers were potentially driving to win the game.
"This team loves each other. They love coaches, coaches love them. This is a tightly knit team. And, gosh, I'm proud of them. We've come so far," head coach Scott Frost said. "I thought tonight was the night. In games past, when we have gotten ahead I got the sense that everybody was thinking what is going to go wrong, and I didn't feel that at all tonight. It was different.
"The defense did a great job, and then the offense answers and we're down four and that was a great drive the offense put together to get it down the field and punch it in with seven minutes. You are right there, and you just need to play. We will get there. I am having a lot of fun coaching these guys this year, and I am hurting for them more than anything, but I am so, so happy for them and proud of how far they have come."
Now the challenge is forgetting about this loss. Saturday is the third loss of 7 points or less the Huskers have had vs. a ranked team this season.
This team is close, but the results in these games continue to be the same.
"We do have guys who have a lot of confidence," quarterback Adrian Martinez said. "And we know we are a good football team. Now we need to get some more wins. And we have lost some really close, tough games, but that does not take away from the fact this is a special group of guys. Some older guys, a lot of respect for the leadership, the player-led leadership we have on this team, and I know we are going to bounce back. I know our focus is already on Minnesota."
Next week will be the Husker's eighth game in eight weeks. It will be their fourth road trip of the season as well.
Staying the course will not be easy, but the fire is still burning in this team, even after another emotional loss against Michigan.
"Leadership is how this team is staying together. This team's united, you know what I mean, just losing is hard," linebacker Nick Henrich said. "We just have to figure out where to get these wins with the improvements there, and the unity is there with this team."
Now on to the breakdown...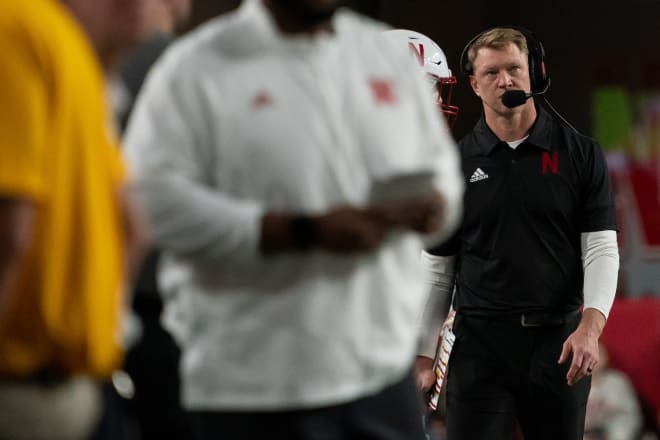 What I saw on Saturday 
***Nebraska did everything right to start this game. They won the toss, forced a three-and-out, and then drove it down all the way inside the 5-yard line. Looking back should Frost have taken the points? Maybe, but he obviously thought his team should have been able to punch it in there.
***I thought wide receiver Oliver Martin really showed up tonight. He only had two catches, but both were in key moments.
***In a losing effort, Memorial Stadium still came up big on Saturday. There were multiple false start penalties and crowd noise-type moments.
***As good as Martinez was on Saturday, his two turnovers were very costly. Michigan kept safeties back all night, so any tipped pass situation had a very good chance of being picked off.
On his fumble at the end of the game, it sure looked like a forward progress situation there, but the refs didn't blow it dead. That's a very tough way to lose a football game.
***We saw several bizarre penalties in this game on Saturday. On a Michigan TD, Frost challenged that the quarterback's knee went down. The crew didn't even consider looking at that until the challenge. Ryan Held told Frost from the box his knee was down. That turned 7 points into 3 by challenging that play.
We also saw a football version of a "jump ball" in basketball when a muffed punt from Michigan happened. The officials didn't know who had possession so they just gave the ball to the Wolverines.
We saw a penalty on NU's defense for clapping to throw off Michigan's cadence. NU accused Iowa of doing that last year, and Kirk Ferentz torched the accusation in his post-game press conference.
On the other end, the Wolverines had some legit moments to be upset at. On Austin Allen's touchdown, the Huskers clearly had five men in the backfield and the play should not have counted. On Deontai Williams's interception of Cade McNamara, the Huskers appeared to be off-sides.
It felt like Nebraska was on the short end of the stick on Saturday, but there were critical blown calls on both ends.
***Jaquez Yant got pulled from the game after he ran the wrong way on a running play that prevented the Huskers from getting a first down.
Rahmir Johnson on the other hand played the best game of his career with 172 scrimmage yards.
***Both Michigan and Nebraska had 13 possessions and the average starting field position for both teams was the 28-yard line. The difference was NU had two turnovers and the Wolverines had just one.
The final grade out
Rushing offense: B-
Nebraska's sack adjusted rush total was 142 yards. It probably needed to be around 200 to really feel good about winning this game.
Passing offense: B
At times Adrian Martinez was spectacular in this game, as he finished 18-of-28 for 291 yards and three touchdowns. There were a few throws though he would like to have back. Obviously the interception and then he missed on a wide-open crossing route on the final drive to Levi Falck that would have gone for a huge play. Saturday was the first time Martinez has thrown three touchdown passes in a game since September of 2019 at Illinois.
Rushing defense: C-
Michigan's two running backs went for 212 yards on 34 carries. That was the key stat of the game. They pounded at NU's brick wall with a sledgehammer for four quarters, and it finally broke through later in the game.
Passing defense: B-
The Huskers got a key interception by Deontai Williams, but Michigan's run game opened up some things in the passing game. The Huskers also got burnt on three delay routes to the tight end on third-and-long that went for first downs. Those were back-breaking plays.
Special teams: B+
The Huskers played very sound on special teams. Michigan's ran three kicks out and failed to get to the 25 on any of them. The only thing you can be critical of was the punt that bounced around the 10 and the Huskers failed to down it inside the 5-yard line when they had guys in position to do so.
Sean Callahan can be reached at sean@huskeronline.com and he can be heard each day at 6:45 am and 5:05 pm on Big Red Radio 1110 KFAB in Omaha during the football season. He can also be seen on KETV Channel 7 in Omaha during the fall and each week he appears on NET's Big Red Wrap-Tuesday's at 7 pm.