Final take: Huskers show fight, but it was little too late on Saturday
UNIVERSITY PARK, Pa. - Nebraska can leave Beaver Stadium on Saturday knowing they didn't pack it in and give up when trailing 42-10 at halftime.
The Huskers fought back with 34 second-half points and put up nearly 400 yards passing, but it wasn't even close to being enough. The same issues we've seen throughout this 2017 season once again showed up in Saturday's 56-44 loss at PSU.
Nebraska was out-rushed 180 to 5 in the first half alone, giving up 439 yards to the Nittany Lions in the first 30 minutes of play. They finished the first half with five straight three-and-outs on offense and Penn State answered that with 35 unanswered points on the Bob Diaco's defense.
The only thing uglier than the first half for Nebraska on Saturday was the weather in State College.
"I'm sorry for these kids," head coach Mike Riley said following Saturday's loss. "We are just a ways or time away. I sure like them. There was some glimmer of good football as we went on in the deal, which was good."
However, the reality is Riley is probably facing his final 7 days in Lincoln as Nebraska's head football coach.
Fair or not, that's how this business works. Nebraska hasn't gotten it done in year three under Riley, and there has been little with the hire of Diaco that leaves you optimistic about the future. You can see some flashes with this offense, but the inability to run the ball and protect also continues to be a major problem.
As Athletic Director Bill Moos walked by the locker room on Saturday he wasn't smiling or saying hi to anyone. He was completely locked in as he walked by a large group of reporters.
I'm sure Moos is thinking about this next week, and how big it will be for him and the future of this football program.
Riley is smart enough to know the conversation out there right now, but he still continues to keep a level of professionalism that you can't help but not respect.
"There is no need talking about the other stuff because that's distracting," Riley said. "Even though we all know they hear it a lot, they need to learn how to come into the building and worry about getting ready to play the next game."
All that's left for Riley and this team now is a Black Friday date with Iowa. If Riley could lead this team to a win over the Hawkeyes, that would at least send this season off on a high note - especially after last year's game in Iowa City.
"We did it for each other, and I'm happy we didn't give up on each other," junior offensive lineman Jerald Foster said. "At least for me losing this many games I didn't see happening, but it's how this season is going. We still have one more game to really send our seniors off right and allow them to say that they beat Iowa at home for their last game, so we are going to prepare well and be ready for them on Friday."

Now on to the breakdown....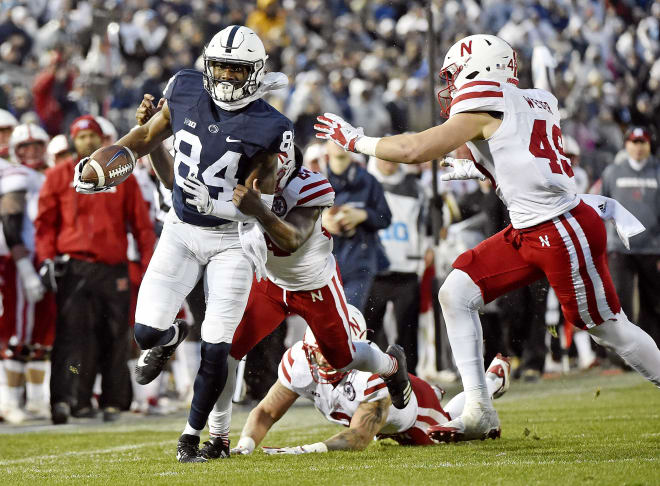 What I saw on Saturday 
***My guess is Mike Riley would like to have back the fourth-and-1 he chose to punt on late in the first quarter when the game was at 14-10. Offensive coordinator Danny Langsdorf told me after the game that last week's inability to convert a fourth-and-1 probably affected their decision to not go for it there. That set the stage for Penn State's 28 point second quarter, as Nebraska finished the half with five straight three-and-outs.
***Penn State is the second team this season to rack up 42 points and over 400 yards of offense in the first half against Nebraska. The other was Oregon in week 2.
***Mikale Wilbon's 24-yard touchdown run was the longest by a Husker back since a 28-yard run at Wisconsin on Oct. 7. That pretty much sums up where this rushing offense is for Nebraska.
***Quarterback Tanner Lee quietly finished with a very impressive stat line on Saturday. After the game, Lee was asked about his future plans after this season, and he said he hasn't put any thought into that, and all his focus is on Iowa going forward. Riley said after the game Lee has all the tanngible things to be a great quarterback, but another year of college football would go a long way for him.
***Stanley Morgan finished with 185 yards receiving and JD Spielman had 96 on Saturday. They were two of the bigger brights spots to come out of the game, along with Lee's second-half performance. Morgan now has 912 receiving yards on the season, while Spielman is at 830 yards. The duo will both have a chance to go after Johnny Rodgers single-game receiving record of 942 yards. Morgan and Spielman also became the first Husker duo to ever have 800 or more receiving yards in the same season.
***Tight end Tyler Hoppes was targeted 10 times on Saturday and finished with six catches for 43 yards. Hoppes needs just two more catches to tie the single-season record for receptions by a tight end of 32.
***The tackling problems for corner Lamar Jackson continue. He missed a big one early on a third down pass that took away any momentum Nebraska had early in the game.
***We saw two different seniors get the nod on Saturday to start. David Knevel at right guard and Kieron Williams at safety.
***With Saturday's loss at Penn State, Nebraska has now been beaten by every one of the original 11 members they joined the Big Ten with other than Indiana. Before today's game, NU held a 3-0 record over Penn State since joining the conference and had won the last four games in the series dating back to 2003.
***The student turnout at Penn State was way down on Saturday because the PSU campus is on its week-long fall break for Thanksgiving. The attendance was announced at 106,000, and I'd say the actual number the stadium was closer to 85,000 to 90,000. It was a pretty impressive showing, considering the fact it was one of the uglier weather days you could draw up.
The final grade out
Rushing offense: F
The rushing woes of 2017 continue for Nebraska, as the Huskers had absolutely zero ground presence on Saturday, which put the offense basically in an obvious passing down on nearly every play. When it's all said and done, this may go down as one of the worst rushing offenses in modern day school history. NU finished with 67 yards on 26 attempts, but a late 24 yard run by Mikale Wilbon really padded those numbers to look better.
Passing offense: B-
Tanner Lee finished 26-of-41 for 399 yards and three touchdowns, but a lot of that came in the second half when the game was put away. The offense had six straight three-and-outs, and that really put things in a whole with the defense's inability to slow down Penn State. You still have to like the fight this team played with, as guys like Lee, Morgan and Spielman fought all the way until the end.
Rushing defense: F
Call Bob Diaco and his defense a slump buster. He took Minnesota's offense out their slump last week, and he did the same for Saquon Barkley and Penn State's rushing offense on Saturday. Barkley finished with 158 yards on 17 carries and three touchdowns. His 65 yard TD run on Penn State's opening possession set the tone for the entire game.
Passing defense: F
Nebraska failed to get consistent pressure on PSU quarterback Trace McSorley, as he really did anything he wanted. McSorley finished 24-of-36 for 325 yards and three touchdowns. He had total control of this game when it matter.
Special teams: A-
This was really the only area where Nebraska was locked in and had control of at times on Saturday. Drew Brown did a great job with his directional kickoffs, and NU recovered a fumble early when Penn State mishandled a Caleb Lightbourn punt. They also got some solid returns from Jaylin Bradley. They even finished the game with a perfect onside kick execution that let the offense score one last touchdown. The only thing you could downgrade them on were some penalties they picked up in the return game.
Sean Callahan can be reached at sean@huskeronline.com and he can be heard each day at 6:45 am and 5:05 pm on Big Red Radio 1110 KFAB in Omaha during the football season. He can also be seen on KETV Channel 7 in Omaha during the fall and each week he appears on NET's Big Red Wrap-Up Tuesday's at 7 pm.