Final take: Hitting rock bottom
MINNEAPOLIS - During the 2007 season I was the sideline reporter for the Husker Sports Network and I had a front row seat to all 7 of Nebraska's blowout losses that season.
What I witnessed on Saturday at Minnesota was arguably as bad or worse than any of those losses. 13 seconds into the game the Huskers showed they weren't ready to play as the Gophers ran the opening kickoff back for a 100 yard touchdown. That play set the tone, as first-year Minnesota head coach P.J. Fleck's Gophers handed Mike Riley a 54-21 beat down - his worst divisional defeat since taking over in 2015. It was a 33 point loss, but it wasn't even that close.
"You guys saw the game, and it started bad and it went from there," Riley said.
"We responded, but we never got our feet on the ground from what I can remember defensively."
On a week where first-year defensive coordinator Bob Diaco stole the headlines with his bizarre press conferences on both Saturday and Tuesday, his defense looked unprepared, off-balanced and lacked the fundamentals and discipline it takes to stop the run.
Minnesota ran for 410 yards, their most since rushing for 411 in 2005. Never once did you feel Diaco's group had an answer to stop the run on Saturday. There's no "reasonable reason" this should've happened.
That may be what's most concerning, and why this loss hurts as bad as any in recent memory. This was not a top 25 team or a top offensive unit carving up the Huskers.
This was a Minnesota team that entered Saturday 1-5 in the Big Ten and 4-5 overall. They were ranked 119th nationally in total offense and were missing Shannon Brooks - one of their top two running backs.
Even with these numbers on their side, the Huskers made Gopher quarterback Demry Croft look like Brad Smith at Missouri in 2005. He faked out NU's defenders like an And1 Mixtape Tour video. They didn't have an answer for anything he was doing in the zone read, and that made Saturday's loss that much more frustrating.
"We couldn't fix the things in the second half that were hurting us in the first," defensive tackle Carlos Davis said. "That played a big factor in the score.

"We had a defensive plan, and it didn't seem to work."
So what's next? Is it as simple as Bill Moos making an announcement on Riley's future in the next 24 hours?
NU's first-year Athletic Director has said countless times he does not believe in making in-season coaching changes. You have to think that means regardless of what happens even next week at Penn State, he's going to hold true to that statement.

I think Moos also had to know there was a chance it could look like this when he made that statement. He knew he wasn't walking into a situation where this team was on track. That's why Shawn Eichorst was fired. Moos will get his opportunity to make a statement, but I still think it won't come until after Iowa. I just don't know what you accomplish at this point by doing it now vs. waiting another 14 days.
Now on to the breakdown....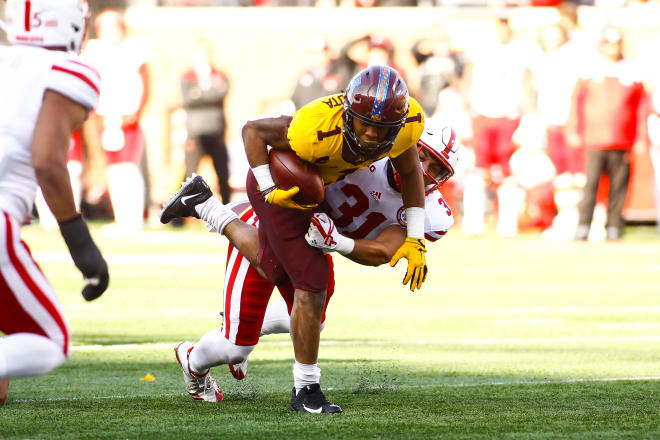 What I saw on Saturday 
***I get that Mike Riley was sending a message to his team they were still competing at the end of the game, but I really don't get the point of calling three straight timeouts in the final 26 seconds of a 54-21 game. It also exposed Patrick O'Brien to potential injury, as he was sacked three out of the four final plays.
Matt Davison of the Husker Sports Network was fuming on the radio about the decision to call the three straight meaningless timeouts. I can't imagine Bill Moos was impressed either.
***The injury to Tanner Lee was a very hard situation to read. Talking to those on the sidelines, O'Brien wasn't warmed up or prepared to go in, and they just sent him out there. After the first series was over, he went back to the sidelines and kept throwing to warm up.
As for Lee, I wish we had more information on the "impact migraine" Riley said he left the game with. He played a fine first half and really showed no signs of injury before he took himself out.
***I liked the early wrinkle using offensive lineman Boe Wilson as a fullback to score NU's first touchdown. It's too bad it was a non-factor in the grand scheme of things.
***Linebacker Chris Weber (neck) arguably should've have been playing, but that's how much he cares for Nebraska and this football program. He was clearly not 100 percent, but still contributed 5 tackles.
***The Gophers had 126 rushing yards alone in the fourth quarter on nine carries. Even when Nebraska knew they were going to run they couldn't stop it. The Gophers threw a total of three passes in the entire second half.
The final grade out 
Rushing offense: F
A week ago Michigan ran for 371 yards against Minnesota's defense. Nebraska didn't even crack 100 yards when that was the emphasis all week. The tone was set early in the game when the Huskers were down 14-7 and couldn't convert a fourth-and-1 from the 6 yard line.

Passing offense: B
The passing offense was one of the only things that worked for the Huskers on Saturday. Before Tanner Lee left the game in the first half, he was 13-of-18 for 174 yards. At the end of the day though, this offense didn't have the balance it needed on Saturday to finish drives when it mattered early.
Rushing defense: F
This was one of the worst rushing defensive performances we've seen in since Nebraska's loss at Wisconsin in 2014 that coincidentally set up the eventual firing of head coach Bo Pelini a few weeks later. You can argue the Wisconsin game this year was just as bad, but lets be real - the talent level of the Gophers is nowhere near the Badgers. Minnesota finished with 411 yards on the ground - the first time they've ran for over 400 in a game since 2005.
Passing Defense: D
Minnesota really didn't need to pass on Saturday, but when they did Demry Croft found open guys and made the Huskers pay.
Special teams: F
You knew it wasn't going to be a good day from the first play when Minnesota ran the opening kickoff back for a touchdown. The Huskers also got some key penalties in the return game that put the offense in a big hole or rewarded the Gophers with 15 free yards.
Sean Callahan can be reached at sean@huskeronline.com and he can be heard each day at 6:45 am and 5:05 pm on Big Red Radio 1110 KFAB in Omaha during the football season. He can also be seen on KETV Channel 7 in Omaha during the fall and each week he appears on NET's Big Red Wrap-Up Tuesday's at 7 pm.