Final take: Hawkeyes deliver a final body blow to Nebraska's 2021 season
As I reflect on Nebraska's 3-9 season in 2021, there are two moments from July and August I go back to.
At Big Ten Media Days in July, NU Athletic Director Trev Alberts said he wants to see the Huskers focus on the "details" in 2021. The little things that matter in close games.
The other thing I go back to is after the Huskers season-opening loss at Illinois, Scott Frost said "he feels like he's seen this same movie before."
Unfortunately, these two things were the story of the 2021 season. Nebraska failed to clean up the details and do the little things that matter, which led us to seemingly watch the same movie every Saturday. It's frustrating as hell for everyone. The coaches, the players, the fans, the media that has to cover it. Friday's 28-21 loss to Iowa was the same movie we have seen just about every week this year.
It was all there. We saw moments of promise once again of what this could be, but then we saw errors in details like fielding a punt on the 7-yard line that led to a safety, a fumble exchange on an option and most notably a blocked punt in special teams that flipped the entire game.
The Huskers were up 21-6 after a 9 play, 94-yard drive with 5:54 left in the third quarter. It almost felt too good to be true. Earlier in the game, they produced 13 and 12 play 75-yard scoring drives. Everything was clicking, but all it took was one big play on special teams to completely change the game.
NU lost an NCAA-record eight one-score games in 2021. Their other was a 9 point loss to Ohio State.
Now Frost faces his most difficult off-season yet. In 2019 he replaced a couple of assistants. In 2020 he managed this team through the pandemic, but what he faces now is his toughest test yet by far.
Very few on the outside like his odds to turn things around in 2022. He doesn't know who his quarterback will be in 2022. He still has to hire four more coaches on his staff and figure out which players are staying and going.
From there, he needs to attack the transfer portal and take a few chances on guys that he thinks can make this football team better in 2022. He also has to sell recruits in 2022 and 2023 about the future direction of this program. He faces several challenges and most of it will play out in the coming weeks.
"This thing has a chance to really take off. Part of that is going to be getting a few guys to stay maybe," Frost said. "Part of that is going to be getting some new blood in the program. Part of that is going to be getting some new coaches and like I said we have a good young core.
"It is criminal that the record is where it is, and I have to do a better job because coming that close in that many football games and not getting any it is a heartbreak.
Now on to the breakdown...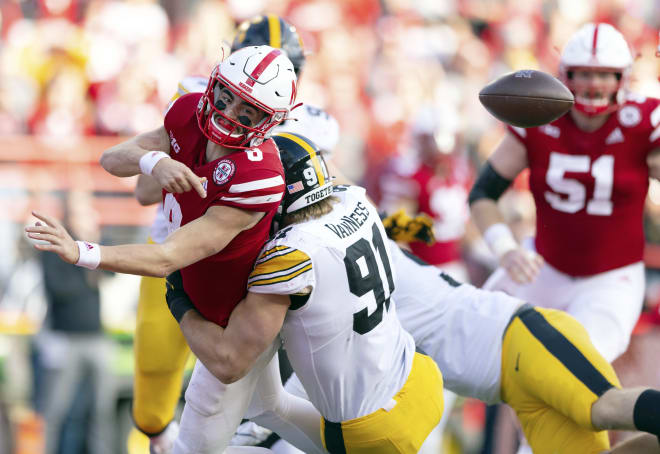 What I saw on Friday 
***The most interesting non-senior players that walked during Senior Day on Saturday were DT Damion Daniels, WR Wyatt Liewer, QB Adrian Martinez, OL Matt Sichterman, DL Deontre Thomas and DL Chris Walker. That's six scholarship players that now have a decision to make about their future.
Defensive lineman Colton Feist was also a surprise guy to see at Senior Day. He played on special teams this year, but I'm told he graduates in December and wants to keep his options open.
Tight end Travis Vokolek not walking on Senior Day I also thought was very telling he's most likely back in 2022.
***2021 was not a good season for Nebraska, but it was equally as bad for Big Ten officiating crews. I saw more blown calls, ball spotting issues, questionable pass interferences, or no calls than I can ever remember.
This is on both sides. NU scored a touchdown on Michigan this year on an illegal formation and one against Wisconsin on a clear pick play. The consistency of these crews has not been there.
One source I talked to on Saturday said they are now in groups of 10 officials per crew, and only seven work each week. So there is more interchanging with crews than in past years. There are also several new officials in the Big Ten that haven't worked in this league before. The league needs to take a deep dive into this and address some of the mistakes that have happened this year in games.
***Evidently Iowa head coach Kirk Ferentz was not happy about Nebraska's PA announcer yelling so loud right up to the snap on Friday. One of my friends listening to the Iowa broadcast on Sirius XM said that was what had Ferentz so upset in the first half.
***Former Bellevue West product was held to just one catch for 11 yards on seven targets. Cam Taylor-Britt did a pretty good job of locking him up in the losing effort. No Hawkeye receiver was targetted more than Johnson.
***Sichterman left the game on Friday with an injury and we saw both Broc Bando and Ethan Piper come in for him.
***We saw punter Daniel Cerni for the first time since the Michigan State game. This happened after Iowa blocked William Przytup's punt.
***Nebraska once again was great on first down. The Husker had 235 yards of offense on 28 total first downplays for an average of 8.4 yards per play. Iowa averaged just 4.8 yards on first down.
***In the second half, NU had just 18 rushing yards on 16 carries. 14 of the Huskers final 15 plays were passes. We didn't see a running back carry the ball in the final 12 minutes of regulation.
***Tight end Austin Allen caught two passes for 55 yards to give him 602 receiving yards this season, a Nebraska record for receiving yardage by a tight end. Junior Miller held the previous record with 560 receiving yards in 1978. Allen also finished with a season record for receptions with 38 catches in 2021. I think it's pretty understandable why Allen will be moving on. There's not much more he can achieve at Nebraska.
The final grade out
Rushing offense: D
Nebraska finished 142 sack adjusted rush yards and averaged 3.5 yards per carry. The different looks NU came at Iowa with kept them off-balanced for three quarters. The game changed though after a blocked punt, then a safety and then a fumble on a zone-read play. The Huskers probably need around 200 sack-adjusted rush yards to win this game. NU ran for just 18 yards on 16 rushing attempts in the second half, compared to 27 for 111 yards in the first half.
Passing offense: B
Logan Smothers was 16-of-22 for 199 yards and one interception. He gave his receivers a chance to go up and make plays. However, when he was forced to be a throw-first quarterback Iowa completely changed how they defended him. Smothers needed the run to set up the pass for this to really work.
Rushing defense: D
Iowa running back Tyler Goodson finished with 156 yards on 23 carries, including a game-long 55-yard run. If Goodson runs for that many yards, the Hawkeyes are pretty tough to beat. Iowa had 196 sack-adjusted rush yards for 5.6 yards per carry. This defense sure missed Deontai Williams, JoJo Domann and Damion Daniels the last few weeks.
Passing defense: C+
Nebraska got good pressure at times on both of Iowa's quarterbacks. The Hawkeyes were 13-of-27 for 178 yards passing. They did manage to hit a couple of back-breaking third-down throws. Iowa was 4-of-5 on third-and-down and short (4 yards or less).
Special teams: F
Iowa won the game with special teams play. They were perfect on all four field goals, blocked a punt that led to a touchdown and an Oliver Martin punt fielded at the 7-yard line led to a safety. All 21 of their points if you are being honest came from a product of their special teams. Let this be the final reminder of 2021 to Nebraska why special teams play matters.
Sean Callahan can be reached at sean@huskeronline.com and he can be heard each day at 6:45 am and 5:05 pm on Big Red Radio 1110 KFAB in Omaha during the football season. He can also be seen on KETV Channel 7 in Omaha during the fall and each week he appears on NET's Big Red Wrap-Tuesday's at 7 pm.