Final take: Concerns come to reality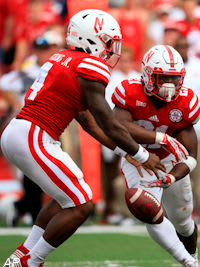 Click
Here
to view this video.
[rl]When I watched Nebraska practice in fall camp two things worried me about this Husker team.
No. 1, I felt like they didn't have a consistent running game or a back they had settled on. No. 2, the lack of pass rush from their defensive line was also a big concern for me.
When you go back and breakdown what happened in Saturday's 33-28 loss to BYU those were arguably the two biggest reasons why the Huskers didn't win this game.
NU's three running backs finished with just a combined 91 yards on 23 carries, and there was not a run longer than 15 yards in the game. In the fourth quarter when the Huskers needed run plays on two third-and-1 and one third-and-3 play calls, they came up short. If they convert one of those three opportunities they probably win the game and run the clock out.
Meanwhile on defense the Huskers failed to get a consistent pass rush with their front four, which allowed BYU's two quarterbacks ample time to find receivers and put NU's secondary in tough one-on-one situations.
"This is the first game. That's kind of what my message was," Quarterback
Tommy Armstrong
said. "We've got to move on. We had a long, long game. It's a long, long season. We've got 10 more games in in a row (before an open date). This is only the first one. We've got nicks and bruises, but I think everybody's going to be fine. Everybody's going to come back and work as hard as they did this week just to prepare.
"Nobody likes to lose. We're looking forward to next Saturday, kind of coming in and preparing like we did this week, and just be able to go out there and have fun with my teammates."
I think you also have to tip your hat to BYU. This was a team that overcame a lot of adversity and when things mattered they made plays and Nebraska did not.
On that final drive they called two consecutive run plays on second-and-10 and first-and-10 with no timeouts. They got gains of 11 and 16 yards when nobody in the building expected them to run.
If they don't convert first downs on those runs the clock runs out and the game is over. They also tried a pass play with 6 seconds left to set up a field goal and the ball hit the ground with 1 second on the clock.
You could probably simulate that final drive several times and very few times that's going to happen. They needed about five things to go perfect and they did.
"There was a discussion amongst the coaching staff, with about six seconds on whether we take the shot now or do we try to get 10 yards closer with an out-cut to the sideline," BYU head coach
Bronco Mendenhall
said. "Our quarterback coach, Jason Beck, he and I communicated and then we decided if we throw it on time we might get 10 yards closer. So the last thing I said to Tanner (Mangum) was actually the play before, and I said to make sure that you throw it on time so we can have one more shot."
Coincidentally the Hail Mary from BYU happened in the same exact end zone we saw
Jordan Westerkamp
's catch from Ron Kellogg back in 2013.
"Once we saw his hands on the ball we knew it was kind of over," Armstrong said. "It was kind of upsetting, but it happens. That's probably a 50/50 chance you're going to catch that ball. We've had our shares of catching Hail Mary's, two years ago we had one, this year we had one against us. We're on the opposite side of it, but we've just got to let it go now and just drive on and try to have a better week next week."
Now on to the post game breakdown….
What I saw on Saturday
***I loved the new feature on the Tunnel Walk with the live camera in the locker room capturing the pre-game Husker creed before they took the field. I'm told this is something Husker Vision wanted to do in the past, but they weren't allowed in to capture the moment until this year.
***Say what you want about Armstrong, he's gotten better. When he had time to throw and the protection didn't breakdown he was much improved from a year ago.
***It's week's like this where Nebraska's highly paid special teams coordinator
Bruce Read
will earn his pay check. His starting kicker that was nearly perfect in Fall Camp
Drew Brown
missed field goals from 41 and 40 yards. His All-American candidate punter and holder
Sam Foltz
went down with what looked like a bad ankle injury. There are some major questions going forward about the stability of this Husker kicking game.
***I still think long term
Mikale Wilbon
gives NU the most at running back. However,
Terrell Newby
showed some flashes as well. I probably liked what Wilbon gave NU in the screen game the best, as he provided 28 yards on two catches.
***I thought
Brandon Reilly
,
Jordan Westerkamp
and
Alonzo Moore
all gave NU a lot today. Westerkamp's touchdown was a thing of beauty, while Moore was utilized to feature his strengths. It was also good to see Reilly finally do what we've seen from him in practice.
***Very rarely would you say having the wind in your face could help you. For BYU that's exactly what happened on the Hail Mary pass to win the game. The 15 to 20 mph winds blowing out of the Southwest actually held the ball in the air longer and allowed
Mitch Mathews
more time to get set up on the play to make the catch. I still would've like to have seen Nebraska bring one linebacker at Mangum to pressure him on that throw more.
***When Nebraska's defense needed a play to get back in the game it was good to see
Nate Gerry
step up. They will need more of that this season going forward.
***I'd love to know how things played out when Nebraska set this game up with BYU. NU paid quite a bit of money for this game to play the Cougars. This is the ultimate trap type of game to open a season with, and my guess is you won't see very many big time programs signing up to play the Cougars in a season opener. I tip my hat to Nebraska, but how will they come out of this week both emotionally and physically?
The final grades
Rushing offense: D-
Nebraska averaged just 3.4 yards per carry on 37 rushing attempts and when your leading rusher has just 43 yards it's not a very good day at the office. The interior of NU's offensive line really struggled against BYU's front and the Cougars controlled the line of scrimmage up front.
Passing offense: B
Armstrong completed 24-of-41 passes for 319 yards and three touchdowns. The only thing lacking was the big play they needed down the stretch. I thought Westerkamp, Reilly and Moore all had good games. I'd like to see more of
Stanley Morgan Jr.
in the offense going forward.
Rushing defense: C
BYU's running backs were a non-factor most of the day, but the Huskers had no answer for the Cougars quarterback scrambles by
Taysom Hill
and Mangum. The Cougars also had two big runs up the middle on their final drive that won them the game.
Passing defense: F
BYU finished with 379 yards passing and they had too much time to throw the football. The struggles with Nebraska's passing defense start with the lack of pass rush, but there were also lots of bad moments for the linebackers and secondary in passing coverage.
Special teams: D
Brown's two missed field goals from 41 and 40 yards were just two of many factors that cost the Huskers this game. The punting was good all day, and I thought
Tyson Broekemeier
made the most out of a tough situation at punter when
Sam Foltz
went down. The return game was a non-factor for both teams.
Sean Callahan can be reached at sean@huskeronline.com and he can be heard each day at 6:50 am and 5:05 pm on Big Red Radio 1110 KFAB in Omaha during the football season. He can also be seen on KETV Channel 7 TV in Omaha during the fall and each week he appears on NET's Big Red Wrap Tuesday's at 7 pm.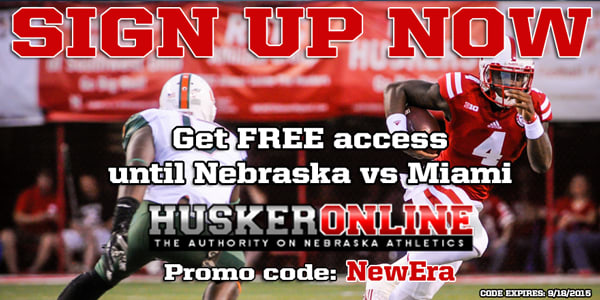 Click
Here
to view this Link.