Final take: Close losses to top 10 teams continue to define NU's season
In our HuskerOnline Saturday picks, KFAB's Jim Rose had an interesting take before making his score prediction.
"Why in my wildest dreams do I think Nebraska will make this a four-quarter game? I have no earthly idea. But I do. I just do."
Rose was the only one of our experts that picked a score within 17 points, as he had Ohio State winning 35-31. The Huskers lost 26-17 and held the Buckeyes and their No.1 nationally ranked offense without a touchdown in the second half.
It was another chapter of the "we're close, but not close enough" 2021 Nebraska football season. NU has now played four teams ranked inside the current College Football Playoff top 10 within 3 to 9 points.
For the record, I'm not sure there was one person anywhere that thought the Huskers could beat the No. 5 Buckeyes, especially with the way they have played as of late. That's why Saturday's 26-17 loss felt different than a week ago.
People expected Nebraska to beat Purdue in Lincoln. They expected them to beat Minnesota and Illinois on the road. Good teams win those games. The Huskers have a lot of qualities of a good team, but they continue to have this unique trait to play to the level of their competition which has added to the madness of this 2021 season.
Nothing about this year has been predictable, as very few people could have predicted the Huskers would have the ball in the fourth quarter down 23-17 with the chance to take the lead on Ohio State. Very few also predicted bad losses to Purdue and Minnesota.
"The one thing that I'll be critical of myself and the team, is if we play with that much spirit every game, I think we have a couple more wins," Frost said following his team's loss on Saturday. "Now you go through a grind of a season and it's tough to play your absolute best every single game. But I never want us to look back. There were guys jumping around on the benches and on the sideline and that, that's the passion that Nebraska fans want to see. That's the passion that I want to see."
I'll also say this, there is a lot of speculation about the future of Frost. We all can agree the win-loss record is not where it needs to be at the four-year mark, but I saw a team Saturday still fighting for their coach.
We've seen this Ohio State vs. Nebraska game late in the season go the other way. I think of 2007 Bill Callahan at Kansas, 2014 Bo Pelini at Wisconsin and 2017 Mike Riley vs. Ohio State and Penn State. Those were November games where you knew it was over. You knew the team had quit on the coaching staff.
This team has not quit. They continue to play hard, and I just can't see Athletic Director Trev Alberts sitting there today saying, "yep, that's it." This also shouldn't be about one game either, but I sure didn't see a stadium today full of people wanting to blow everything up.
"Listen, I bleed for Nebraska. I've lived in O'Neill and Lincoln and McCook and Wood River and was born in Crete," Frost said. "And I bleed for this. We're giving everything and are pouring everything we have into this and nobody's more disappointed than me that has happened yet."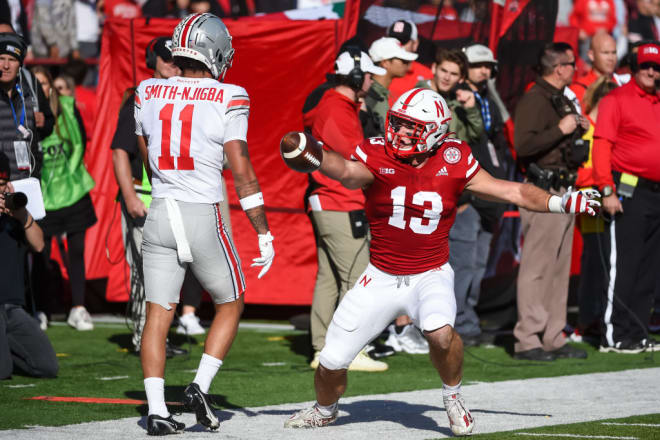 What I saw on Saturday 
***Linebacker JoJo Domann most likely played his last game at Nebraska on Saturday. Scott Frost said Domann has "a decision" to make about his future, but all signs point to Saturday being it.
Domann's entire family was on the field in tears, giving him hugs and taking pictures after the game. It's been a hell of a six-year run for Domann, and he arguably played his best game as a Husker on Saturday.
***Speaking of surgeries, Frost said that quarterback Adrian Martinez could easily have shut things down this season, but he's chosen to play through. Martinez was clearly bothered by his ankle at times but still was the most effective we've seen running the football since the Michigan game.
***The most surprising stat of the game is Nebraska outgained OSU 144-110 in sack adjusted rushing yards. Coming into the game, the Buckeyes had been averaging over 200 rushing yards per game. The Huskers have now held the best two running backs in the league to under 100 yards rushing - Michigan State's Kenneth Walker and Ohio State's TreyBeyon Henderson.
***After Memorial Stadium let the Big Ten officiating crew have it when they called Nebraska for a kick-catch interference call, the Buckeyes got flagged seven times in the third quarter. It was the most flags we've seen on a Big Ten foe vs. NU in quite some time.
***I thought the fourth-down pass break-up on Ohio State's opening drive by Luke Reimer set the tone for the Blackshirts.
***One break I thought coming into this game for Nebraska was playing Ohio State at 11 a.m. after the Buckeyes had a night game the week before. That is a quick turn around and your body almost loses an entire day of recovery.
***We saw guys make plays today, which is another reason the Huskers had a chance. Domann had the early pick, Reimer the early break-up, Myles Farmer had an interception and Garrett Nelson had a strip-sack, while on offense Samori Toure played arguably his best game as a Husker. To have a chance in games like this, you need to make plays.
The final grade out 
Rushing offense: B-
Nebraska had 144 sack adjusted rush yards and 109 yards rushing on 16 first down rushing attempts. Martinez also was the most effective he's been as a runner since the Michigan game.
Passing offense: C
Martinez was 16-of-31 for 248 yards and he threw a late interception. He found a few big plays to Samori Toure, but the protection was an issue and it forced NU to max protect more in order to give him a chance to get throws off.
Rushing defense: A
Ohio State finished with just 90 total rushing yards, as Henderson had 92 yards on 21 carries. This phase of the game more than showed up. There was a point in this game where it felt like the Buckeyes abandoned their ground game.
Passing defense: D
Yes NU forced two interceptions on Saturday, but C.J. Stroud still threw for 405 yards. NU had no answer for Buckeye wide receiver Jaxson Smith-Njigba who had 15 catches for 240 yards. That was the second-best wide receiver game ever against the Huskers, as Troy Edwards 1998 gem for Louisiana Tech still has the lead.
Special teams: F
Two missed field goals and a shanked punt for 13 yards. Nebraska's margin for error each week is not much. The Buckeyes scored a touchdown on the short field that resulted from the shanked punt, and obviously, the 6 points were big in the final outcome.
Sean Callahan can be reached at sean@huskeronline.com and he can be heard each day at 6:45 am and 5:05 pm on Big Red Radio 1110 KFAB in Omaha during the football season. He can also be seen on KETV Channel 7 in Omaha during the fall and each week he appears on NET's Big Red Wrap-Tuesday's at 7 pm.