Final take: An empty feeling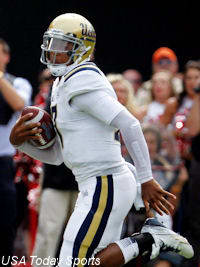 Click
Here
to view this video.
With 7:12 left in the second quarter the table was set for Nebraska to get a meaningful win at home over No. 16 ranked UCLA.
The Huskers were up 21-3. The defense was clicking.
Brett Hundley
was not himself and a Memorial Stadium record crowd of 91,471 smelled blood in the water.
Then a critical third-and-12 play happened where Husker defensive end
Avery Moss
missed a sack on Hundley and he scrambled for a 13 yard gain to set up UCLA's first touchdown drive of the day. That play started a 38-0 run by the Bruins as a shocked Memorial Stadium watched the Huskers come unraveled in 41-21 defeat.
"We had an opportunity in my opinion to put this game away in the first half, or at least make it where it would've been very difficult on UCLA, and we didn't take advantage of that opportunity," NU head coach
Bo Pelini
said. "We let them hang around, hang around, hang around, and eventually they got the momentum and we couldn't get it flipped. They flipped the momentum on us. Somebody made a play, and that didn't happen on our side."
Nebraska had UCLA hanging from the cliff with one hand. All they needed to do was make one or two more big plays and it was going to be hard for the Bruins to generate the kind of momentum we saw after Hundley's third down scramble.
One could point the blame towards the Nebraska defense, but in all reality it was the Husker offense that may have been the biggest problem on Saturday.
After putting up 21 points and 196 yards of total offense in the first half, the Huskers had just 135 yards and eight first downs in the second half. There was a point where NU's offense produced three-and-outs on four out of five possessions. On the ground NU only rushed for 134 yards, their lowest total since 2011 when they rushed for just 122 yards against Northwestern.
When UCLA's offense started to generate momentum in the third quarter Nebraska's offense needed to answer. They needed to give their defense a break, but instead we saw a bevy of fumbles, penalties and dropped passes.
"You've got to burry people when you have them down," NU offensive coordinator
Tim Beck
said. "Sometimes when things start going well young kids have the tendency to feel 'we've got this' and they start losing concentration."
It's well known that the Husker defense is young and if this team is going to do anything big in 2013 the offense has to carry the load.
On Saturday they were needed badly and a veteran group of players led by quarterback
Taylor Martinez
could not produce a second half scoring drive.
"I'm probably more concerned about all the little things that happened through the course of the game, particularly in the second half, but some happened in the first half - communications and line-ups and formations and that stuff," Beck said. "We had an awful lot of those holdings and dropped balls and guys not on the line of scrimmage.
"I've been the coordinator for three years now, I don't remember coaching in a game where we've had all of that happen like we did today. It was constant - one thing after another. We'd have something good happen, then something bad would happen, and usually it was self-inflicting."
It's going to be a bumpy ride folks, but the good thing is Nebraska may not see an offense like UCLA's again all season. They should be able to rebound over the next four game stretch, but will it be enough to get over the hump going into the meat of the Big Ten schedule? Wins over teams like South Dakota State, Purdue, Illinois and Minnesota aren't going to quiet any of Pelini's critics. We may not know what type of season this is going to be until the calendar turns to November.
On to the post game breakdown and grade out….

What I saw on Saturday
***Something is clearly wrong with Martinez's left foot. After the game he was wearing a protective boot on his foot and he doesn't have the same speed and explosiveness like we've seen before. There tends to be hesitancy when he runs the football.
***These numbers were very telling about Nebraska's running game problems. The Huskers averaged just 3 yards per carry and their long run of the game was just 12 yards. Running back
Ameer Abdullah
had just 98 yards on 23 carries, with a long run of only 11 yards. Without the big play element in the running game, this offense becomes pretty ordinary.
***The punt return woes for Nebraska continue.
Jamal Turner
has had a hard time tracking balls in the air and it's badly hurt the offense's starting field position.
***Besides Moss's missed sack on Hundley, the Huskers had two critical roughing penalties on third down by
Corey Cooper
and
Greg McMullen
that gave UCLA a fresh set of downs.
***Very few defensive players talked after Saturday's loss. However, three that did step up and face the music were freshmen linebackers
Josh Banderas
and
Nathan Gerry
and sophomore defensive end
Randy Gregory
. This defense doesn't have a lot of leadership right now, but I feel like some of these younger guys are doing their best to step up in those roles. Gregory said he has no problem being a vocal leader on this defense, and I feel like that's going to be needed going forward.
***There were so many missed tackles in the second half it was hard to keep track. I felt like once the pressure mounted the defense had a hard time keeping their composure. Credit Hundley, he's one of the best quarterbacks to come through this stadium in a long time.
The final grades
Rushing offense: F
The longest run of the day by Nebraska was just 12 yards. The Huskers averaged just 3.0 yards per carry on 42 attempts. Running back
Ameer Abdullah
has not been able to make people miss once he gets to the second level and the line didn't give him much to work with on Saturday.
Passing offense: C
Martinez was 21-of-35 for 203 yards and three touchdowns, but there were far too many critical drops and errant throws when the Huskers needed a big play in the passing game.
Rushing defense: D
Up until Hundley's 13 yard scramble Nebraska's rushing defense was sound. The Huskers needed to keep the Bruins under 150 yards rushing if they wanted to win. UCLA finished with 210 yards on 53 carries.
Passing defense: D
There were far too many coverage busts and missed tackles by NU's pass defense. Hundley was 16-of-24 for three touchdowns, including a third quarter where he went 8-of-8 and threw three touchdown passes.
Special teams: D-
The only thing that keeps this grade from an F is the fact NU was able to take advantage of UCLA's bobbled snap on a punt and turn it into a touchdown. Other than that special teams really set the Huskers back on Saturday. Tuner has become a huge liability fielding punts,
Kenny Bell
struggled with his kick returns, NU got a penalty for having 12 men on the field on one punt and they actually fielded a punt with just 10 men on the field. Lastly, NU failed to execute a fake punt where they chose to run the ball with defensive tackle
Brodrick Nickens
. It was an interesting call to say the least to put the ball in the hands of a defensive tackle when the game was on the line.
Sean Callahan can be reached at sean@huskeronline.com and he can be heard each day at 6:50 am and 4:50 pm on Big Red Radio 1110 KFAB in Omaha during the football season. He can also be seen on KETV Channel 7 TV in Omaha during the fall and each week he appears on NET's Big Red Wrap Tuesday's at 7 pm.
[rl]