Final take: A stress reliever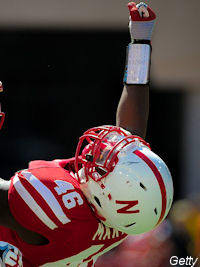 I don't think anybody on Nebraska's coaching staff would argue with you that it was a stressful week around North Stadium.
After giving up 653 yards of offense to UCLA last week the heat was turned up big time on head coach
Bo Pelini
and his coaching staff. The "anti Pelini crowd" was out in full force, questioning the direction of the program and which way this season might turn. You heard things like maybe Pelini's defensive scheme was too complicated or the recruiting misses in 2009 and 2010 are really starting to show up on the field right now.
You couple that with another four-star player leaving the program and defensive coordinator
John Papuchis
's spirited debate with a fan on Friday, to me it's pretty obvious what type of week this has been. For me personally it was tough dealing with some of the questions at my Husker lunch talks in Kearney and Beatrice or even reading our very own Red Sea Scrolls message board. I can't even imagine what it would be like as a coach dealing with the amount of negativity we saw and heard throughout the week.
Then the ultimate sign of adversity happened on Saturday. Pelini left the stadium in the ambulance with an unknown medical condition at halftime. During the second quarter NU's medical staff began checking his pulse on the sidelines, before he eventually left the stadium at the start of the third quarter.
In my time covering Nebraska football I have seen very few weeks like this, and Saturday's health scare with Pelini could very easily have been something caused by the mounting stress of this entire week.
"It's been a very trying and emotional week and I'm glad to see the way our team fought today," Papuchis said following Nebraska's 42-13 win over Arkansas State on Saturday.
When Pelini went down on Saturday, it was Papuchis who took over the sideline head coaching duties, while offensive coordinator
Tim Beck
managed the game from the press box.
For Beck and Papuchis talking about Pelini's absence from the stadium on Saturday was emotional in itself. Papuchis has been with Pelini since 2005 at LSU, while Beck and Pelini grew up together in Youngstown at Cardinal Mooney High School.
When you see the toughest dude you know go down like that it's naturally going to have an effect on you. I imagine it's like going to war and seeing your general or platoon leader go down.
"He's fighter and he's one of the toughest guys I've ever met," Beck said of Pelini. "It wouldn't surprise me if he's up there watching film tonight."
With Pelini absent from the sidelines, it was Papuchis who took over the role as NU's emotional leader. After a key three-and-out stop Papuchis jumped up and down and threw his hands up. For some it's a side of Papuchis they've never seen before, however the Papuchis we saw at the Big Red Breakfast on Friday morning is exactly the guy he is, even though apparently one Husker fan was offended by it. Thankfully that guy doesn't play defense.
"Yesterday I was fired up," Papuchis joked. "I think the truth is Bo (Pelini) is the emotional leader of this football team. The players feed off of his energy and his determination. I do believe players reflect the leadership of their coaches. When you are excited and confident, they are excited and confident. That was the time show that and I thought our guys responded well."
What I saw on Saturday
***Happy 22nd birthday to quarterback
Taylor Martinez
, who finished an effortless 13-of-14 for 180 yards and two touchdowns. Martinez's only incompletion was a near interception, but other than that it was a perfect throwing day.
***You have to love the energy sophomore wide receiver
Kenny Bell
brings to the field. Besides his two electrifying touchdown receptions, Bell leapfrogged a four-foot tall fence when chased out of bounds on a kickoff. After his leap, Bell landed perfectly on his feet and ignited the crowd by encouraging them to cheer with his hands. It was a great moment and very few players have a flair for the dramatic to pull that off like Bell.
***Maybe the thing that impressed the most about running back
Ameer Abdullah
's day was he got stronger as the game went on.
***I love what defensive end
Eric Martin
brought off the edge. Martin finished the game with one quarterback sack, a forced fumble, a fumble recovery and three quarterback hurries. Going into today Arkansas State had not allowed a sack on the season.
***Senior safety
P.J. Smith
perhaps played one of the best games of his career on Saturday. Smith finished with nine tackles, one sack, two tackles for loss and an interception.
The final grades
Rushing offense: B+
It was a solid day for Nebraska on the ground, finishing with 347 yard rushing on 59 attempts for an average of 5.9 yards per carry and four touchdowns. Abdullah finished with a career best 30 carries for 167 yards and two scores, while
Braylon Heard
had 10 carries for 54 yards and
Imani Cross
had seven carries for 66 yards and one touchdown.
Passing offense: A-
It was a 13-of-14 day for 180 yards and two touchdowns for Martinez and the passing offense. However, two protection breakdowns on pass plays led to two fumbles by Martinez. I won't downgrade them too bad for those plays, because the rest of the passing offense was nearly flawless.
Rushing defense: B
Arkansas State ran the ball 37 times for 148 yards. For the most part NU kept the Red Wolves in check and forced them into several obvious passing downs by shutting down their running game.
Passing defense: B+
Heading into the game Arkansas State had not allowed a single quarterback sack all year. Nebraska got to
Ryan Aplin
three times on Saturday and hurried him another four. Aplin was clearly rattled, as he finished just 16-of-30 for 138 yards. He was averaging 303 per game coming into today.
Special teams: B+
Kicker
Brett Maher
put four of his seven kicks into the end zone for touchbacks, while the longest kick return of the day allowed by the Huskers was 27 yards. Maher also had two punts that went for 58 and 57 yards respectively. Abdullah did have his "phantom fumble" on a punt return on a ball that he claims wasn't touched by his foot.
Sean Callahan can be reached at sean@huskeronline.com and he can be heard each day at 6:50 am and 4:50 pm on Big Red Radio 1110 KFAB in Omaha during the football season. He can also be seen on KETV Channel 7 TV in Omaha during the fall and each week he appears on NET's Big Red Wrap Tuesday's at 7 pm.
[rl]